Warmlaufen
Unfortunately again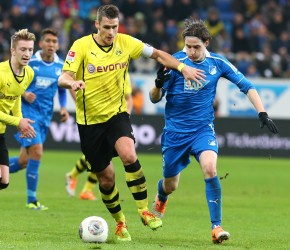 Last match day of season 2012/13, we had it all in our hands to end the annoying trips down south and having to welcome the boys of Hopp in our beautiful stadium again and again. But it was not meant to be. Instead of reaching at least a draw we got beaten out of our own stadium, helping Hopps boys to stay in the Bundesliga. So instead of playing teams such as Kaiserslautern we have to make do with Hoffenheim again.
Our past weeks have been brilliant. A Cup Final ahead, Championsleague guaranteed even before we had secured the second spot of the table for sure, Ruhrgebietmeisterschaft checked, cracking games against Madrid and Munich, the BVB hearts surely had a good time in April. So now we are proceeding towards the end of a, what I would call, memorable season. What haven't we gone through? Drama at the beginning of the season, terrible injuries during the season, and a furious final at the end of the season. It was not enough to stay stable in every competition this season but it was surely more than enough to consider ourselves lucky to be BVB fans once again. Or as Watzke has pointed out a few days ago: Behind us lie the three plus one most successful years of BVBs history: two Championship titles in a row, one Cup victory, twice the second table spot, and a Championsleague final. And what he forgot to point out: 3 + 1 years in front of our unwanted blue neighbors. What more could one ask for? These good days probably won't last forever, we will always have to witness players who leave, players who join the wrong teams, eliminations from competitions and disappointing games, but what will always stay in our minds is that together we can achieve the greatest things even if others have already written us off before hand, even if situations feel hopeless, and even more important: we can celebrate even if things did not go the way we had wished them to go. These are the things we should all keep in mind when looking back on this season. And these are the things that will always separate us from teams such as Hoffenheim.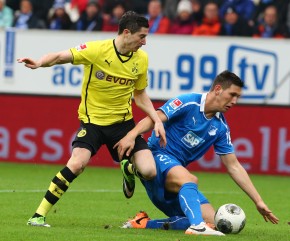 With 41 points our opponent for this weekend has secured its position in the Bundesliga. Not enough points for qualifying for international contests, but yet too many to go down to the second Bundesliga again. So for Hoffenheim tomorrow's game is more of a symbolic one just as it is for us. The teams' officials had gotten to hear enough from Dortmund's fans and officials of what they think of their team and will always be eager to prove to us that they can beat us. And for us? For us this game always has a meaning. It is the meaning of football. It is about tradition and emotions, fighting and losing at the worst points. It is about all we have in football and all we want to keep in football.
So once again dear Borussia, we have two more games in this season, let's round it up to be a pretty much perfect one by showing Hoffenheim once again what we think of them. Show them what football really is about and we will prove that there are things that no money in the world can buy. Fans that will support you till the very end!
Possible line- up
Borussia Dortmund: Weidenfeller – Pisczcek, Hummels, Sokratis, Schmelzer – Sahin, Großkreutz – Mkhitaryan, Reus, Jojic – Lewandowski
Hoffenheim: Grahl – Beck, Abraham, Süle, Johnson – Polanski, Rudy – Salihovic, Firminio, Elyounoussi – Volland
Referee: Welz (Wiesbaden)
Westfalenstadion: sold out
Ida, 02.05.2014
[[$facebook]] [[$flattr]]
[[$comments]]