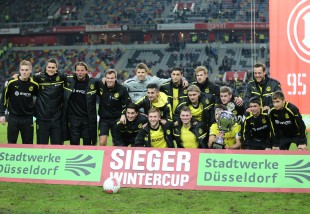 Hi everybody in Borussialand,
we are currently surviving the last week of the winter break and this weekend, our Borussia will start into the second leg of Bundesliga season 2012/13. Our match in Bremen against Werder's team will be the start for the next weeks or months of truth. Maybe, the win of the so called "Winter Cup" in Düsseldorf last Sunday against teams like Standard Liege, Mainz 05 and Fortuna Düsseldorf has been a good overture for the second half of this season.
As we all know, Borussia finished the winter break with a bomb! Nuri Sahin, who moved to Real Madrid in 2011 and was on loan for FC Liverpool returned to the club to which he belongs. Up to now, the return of our Turkish midfielder was the biggest sensation regarding transfers in 2013. Nearly a minor point that Marcel Schmelzer extended his contract in Dortmund until 2017 and Ivan Perisic and Chris Loewe changed to Wolfsburg and Kaiserslautern. So let's all cross our fingers for a successful comeback of Nuri! We all know his extraordinary strengths and when we think back to 2011, he was one of the chief characters of Borussia's Deutscher Meister team.
The return of Nuri will not be the only highlight in the second half of the current season. A lot of events will wait for us: The chance to gain a Champions League position for the season 2013/2014, in the current Champions League competition the matches against Ukrainian team FC Shakhtar Donetsk and at the end of next month, our Cup match in Munich against Bayern. What an impressive to do list for our club beside all these regular matches in the league. And before I forget - among these Bundesliga matches there's also an appointment in a suburb of Gelsenkirchen, named Sch...e. on March 9th.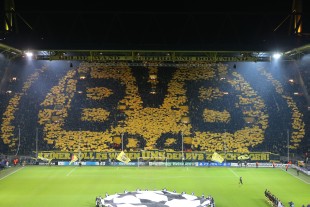 A lot of challenges Borussia Dortmund has to meet and let us all be realistic: A defeat against Donetsk in the first match and our Champions League dreams would be endangered and a defeat against Bayern in the quarter final of the Cup would be the end of all our dreams about a possible Cup final in June in Berlin again. And in the Bundesliga? Bayern's advantage is currently 9 points against Bayer Leverkusen at position "2" and even 12 against Borussia Dortmund. We all know in football nothing is impossible and during the last season Bayern's advantage had been 9 points and the story ended with Borussia Dortmund as "Deutscher Meister 2012". But to catch up 12 points in 17 remaining matches and to overtake Bayern's star ensemble will only be possible if Bayern will lose some matches during the second leg. That's not out of the question but also every defeat of Borussia Dortmund will reduce our chances to improve our position in the table. But is it a "must" for Borussia Dortmund and Borussia fans to win the "Schale" for the third time in a row? I think the answer is "no". For sure we would not refuse becoming "Deutscher Meister 2013" but we all will not be disappointed being "only" on position "2" or "3" at the end of this season. There is a big chance for our young guns to join the Champions league next season again with enjoyable football and a team spirit which is hard to find in other clubs in the Bundesliga or even in any other European countries.
So come on Borussia, a lot of Dortmund fans will accompany the team to Bremen and we hopefully will see a good start into the second leg of season 2012/2013. Let's make the "13" to a lucky number in Borussia's chronicle!
Henry, 14.01.2013
[[$comments]]