Archiv
Powerful but goalless draw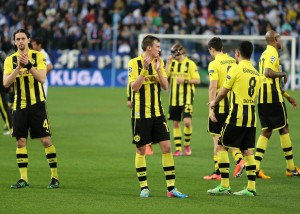 Borussia Dortmund got back from Malaga with a 0-0 and still has every option to procede to the semi finals of this season's Champions League. While the black-yellow boys showed a good performance they lacked coolness in front of the goal. Mario Götze could have scored twice at least.
To get it right. We are playing Champions League quarter finals and are seen as the favourites to make it to the round of the last four. Sounds somehow incredible. But let's have a look into the details. Borussia Dortmund have still the horrible last Champions League season in mind. And looking at the group drawings there was somehow the feeling that this season could be similar. But in contrast BVB made a fantastic run through the group, leaving Real Madrid CF, Manchester City FC and Ajax Amsterdam behind. In the round of the last sixteen Shakthar Donestzk was in our way, but was beaten with two fantastic performances.
And having in mind that the likes of FC Barcelona, FC Bayern Munich and so on were available, Borussia Dortmund was somehow lucky to draw Malaga CF. The club from Southern Spain was a minor first league side until a billionaire from Qatar poured his wealth over them. His ambitions were not only focused on football. He also wanted to build a new posh harbour, new hotels and so on. When these plans collapsed a while ago, he stopped supporting Malaga CF. The club wasn't able anymore to afford top class players like Santi Cazorla, who now plays for Arsenal FC. UEFA even pushed the club out of all UEFA competitions next season, as the club wasn't able to pay tax fees.
Anyway, Malaga's team somehow created their own spirit, that made them move through the group stage and past FC Porto in the last round. Including the Champions League qualification Malaga won 4 out of 5 matches at home and secured one draw - an astonishing record.
Borussia Dortmund had some injury problems. Mats Hummels hadn't recovered yet from his knee injury. Poland right winger Kuba was also not available. Schmelzer, who got his nose broken last weekend, was playing with a mask, while Sven Bender had recovered but took his place on the bench. So Subotic and Santana started in central defence, Piszczek as right back and Schmelzer as left back. Ilkay Gündogan and Sebastian Kehl took the holding midfield, Reus started as right winger and Großkreutz as left winger. Mario Götze played as attacking midfielder behind sole striker Lewandowski. Malaga coach Pellegrini made only one change. Javier "El conechito" Saviola started instead of Morales.
First half
In front of a capacity crowd of 28.963 in La Rosaleda Malaga CF had the first approach. A cut-in by Antunes was saved by Borussia Dortmund goalie Roman Weidenfeller. Malaga was more pressing in the beginning of the match and so they had the next chance in minute 6. Fortunately a pass by Spanish young starlet Isco didn't find Baptista in the box. Only seconds later Saviola missed the goal by half a meter only. But about 10 minutes into the match Borussia Dortmund more and more took over. In minute 14 Lewandowski deflected a ball perfectly into Götze's way. The young midfielder was up and away heading into Malaga's box. But he didn't manage to hit the goal. His lousy shot was cleared by Malaga goalie Willy. Minutes later Kevin Großkreutz was booked for fouling Gamez.
And only seconds later Marco Reus was fouled by Antunes during a counter-attack but BVB's midfield player managed to find Gündogan, who stormed direction Malaga's box. His fine pass found Götze on the right side, who was unmarked. Again his shot was cleared by Willy - that should have been the lead! Referee Eriksson then booked Antunes for his foul on Reus. And it was now really an intense match with many hard tacklings on both sides. In minute 25 Götze hit the net but unfortunately 3 Dortmund players were offside. Only seconds later Marco Reus fired a long distance shot that needed Willy's best to save. In return Javier Saviola had an approach on the other side of the pitch but was denied by Weidenfeller. Half an hour played Malaga skipper Weligton was booked for holding Lewandowski. As this was his third yellow card in this competition he will miss the return leg in Dortmund. The following freekick taken by Reus was again saved by Willy. In minute 37 Lewandowski stormed into the box and nearly outpaced Willy. Malaga's kepper somehow managed to get his hand on the ball and cleared. Three minutes before halftime break a corner kick found Weligton's heads. Roman Weidenfeller's deflection was used by Toulalan. His header was cleared on the goalline by Mario Götze. And in the dying seconds of the first half Sebastian Kehl had a last approach. His long distance hammer was superbly saved by Willy.
Second half
There weren't any changes during halftime break. And Borussia Dortmund started with another fantastic chance. Götze paced into Malaga's box left side. His fine cut-in found Lewandowski completely unmarked in front of the goal. The Polish top striker managed to miss the empty goal! In minute 55 Kevin Großkreutz tanked down the left side and tried to pass to Lewandowski who was waiting in front of the goal. Former Bayern Munich player Martin Demichelis pushed Lewandowski so that he wasn't able to convert - that could have been a penalty but referre Eriksson didn't blow the whistle. 10 minutes later it was again Mario Götze who tried his luck. Ilkay Gündogan with a fine pass that found our young starlet. Götze's shot from narrow angle finally missed the goal. On the other side of the pitch Isco fired a powerful shot from 14 meters that needed a nice save by Roman Weidenfeller.
Jürgen Klopp made his first substitution in minute 69. Striker Julian Schieber entered the pitch while Marco Reus had to leave. Somehow the match now lost drive. Both teams weren't able to raise pressure anymore. Malaga holding midfielder Iturra commited a foul in minute 78 that resulted in his 5 (!) booking this season. He will also miss the return leg. Jürgen Klopp then gave Sven Bender some minutes on the pitch and took Sebsatian Kehl out. In the dying seconds Oliver Kirch was brought in, giving Mario Götze the chance to leave the pitch. Finally referee Eriksson made an end to this goalless draw.
Summary
Borussia Dortmund showed a good performances but missed the chance to score one or two goals. Götze and Lewandowski alone had 4 superb chances. Nonetheless we have all options to beat Malaga CF at home. Especially as skipper Weligton and holding midfielder Irruta will be missing due to yellow cards. In addition Mats Hummels and Kuba might be back in action for BVB. In Bundesliga Borussia Drormtund will face FC Augsburg at home this weekend.
Voices:
Roque Santa Cruz: "The are still 90 minutes to go. Not allowing a goal at home is important - even more important than to score. I believe now is everything possible. The team believes that."
Jürgen Klopp: "I can live with a 0-0. It was a good match against a tough opponent. We made evertything right until the last shot. But that will be the next step. Even if we would have scored Malaga wouldn't have been shocked. We know what we have to do in Dortmund."
Statistics
Malaga CF: Willy - Gamez, Demichelis, Weligton, Antunes - Iturra, Toulalan - Joaquin, Isco (87. Duda) - Baptista (76. Santa Cruz), Saviola (68. Portillo)
Coach: Manuel Luis Pellegrini
Borussia Dortmund: Weidenfeller (3) - Piszczek (3), Subotic (2), Santana (2), Schmelzer (3) - Gündogan (2), Kehl (4) (80. Bender) - Reus (4) (69. Schieber), Götze (3) (90. Kirch), Großkreutz (3) - Lewandowski (2)
Coach: Jürgen Klopp
Goals: -
Yellow cards: Großkreutz / Weligton (suspended), Antunes, Irruta (suspended)
Referee: Eriksson
Attendance: 28.963 (La Rosaleda, sold-out)
jonam, 05.04.2013

[[$facebook]]
[[$comments]]