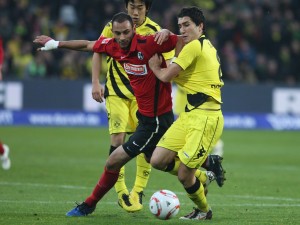 It's crunch time, guys! This coming Sunday may find a final answer for this season's title race. While second-placed Bayer Leverkusen make the away trip to Bayern Munich, Borussia Dortmund host surprisingly strong SC Freiburg. The black-yellows hope to keep or even enlarge their 5 point lead. But don't be fooled, Robin Dutt's side is a massive team.
Have a short glance back to the Hamburg match last week, we again saw our problem at the moment. We are dominating the midfield and create a couple of chances, but waste them too easily. Nonetheless....at least we are still able to create chances.
Borussia Dortmund have to cope with the injury of Lucas Barrios, who misses ut due to an torn muscle fibre. Our top striker might be back for the Gladbach clash next week. Then their are our long-term missing, Shinji Kagawa and Sebastian Kehl. Having an eye on our midfield star, there is hope that he will still make the one or other game this season. Apart from those 3 players Jürgen Klopp has a wide area of choice, how to put the line-up together. Anywa, it is widely expected, that he won't do many changes. Polish national striker Robert Lewandoswki will replace Barrios up front, while Mario Götze might move to centre midfield, accompanied by Kuba and Großkreutz on the wings. Bender and Sahin are probably the best holding midfield in Bundesliga and are back up by our flat four consisting of Schmelzer, Subotic, Hummels and Piczczek.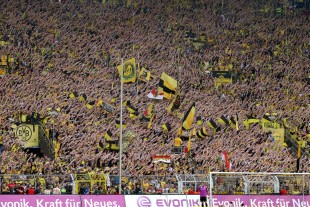 Let's have a look at SC Freiburg. The Breisgau team is one of the minor teams in Bundesliga. "Minor" only in respect of their financial power. Deep in Southern Germany in a region called Schwarzwald "("black forest") the club established a well working concept. Developing own youth players and offering them a warm atmosphere with a fantastic spirit. Oliver Baumann is one of these hot prospects. Add a superb coach like Robin Dutt, a top striker like Papiss Demba Cissé....and voilà, there you have a surprising 8th spot and chance to even qualify for next season's Euro League.
Robin Dutt has to cope with 4 missing player. Krmas is banned due to a sent off. Abdessadki, Bastians and Bechmann are missing due to injury. Freiburg might operate with a 4-1-4-1 lineup. Especially Cissé can really cause some problems, so Subotic and Hummels should be warned.
As mentioned above, Leverkusen will playe in Munich earlier that Sunday, so maybe our black-yellow lads might get a boost, if Bayern manages took earn 1 or even 3 points. For sure all Borussen will have an eye on this clash.
Prematch issues:
BVB: Weidenfeller - Schmelzer, Hummels, Subotic, Piczczek - Sahin, Bender - Großkreutz, Götze, Kuba - Lewandowski
Coach: Jürgen Klopp
SC Freiburg: Baumann - Butcher, Toprak, Barth, Mujdza - Schuster - Putsila, Makiadi, Flum, Caligiuri - Cissé
Coach: Robin Dutt
Referees: Zwayer - Schalk, Emmer - Assmuth
Venue: Westfalenstadion, Dortmund
Kick off: 5.30 pm CET, 04/17/2011
[[$Comments]]