Archiv
Ha, ho, he - Borussia BVB!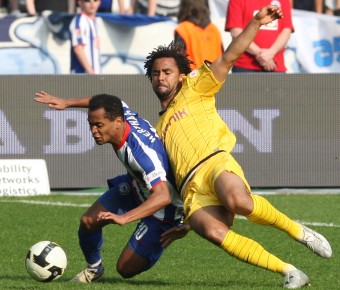 A capacity crowd saw how Borussia Dortmund bombed Hertha BSC Berlin down from Bundesliga's top spot. The black-yellows showed an impressive performance and beat the capital club 3-1. As Hertha's chances to earn their first championship since more than 70 years are vanishing, Borussia is still chasing an UEFA Cup spot.
Scenario/Line up
Both teams had to cope with injuries midweek. While Hertha's Arne Friedrich and Andrey Woronin were available, Dortmund had to do without Kringe and Boateng due to injuries and without Tinga, who was suspended due to a fifth booking. So in midfield Sahin, Kehl, Kuba and Hajnal started behind Valdez and Frei.
First Half
Beautiful weather, 74.244 spectators in a sold out Olympiastadion and about 10.000 of them in black and yellow - can life be any better? Of course...with three pointer! So, let's get into the match. BVB started strong and gave Hertha BSC little space in midfield. Nonetheless they had the first chance of the match. In minute 4 Nicu escapes Subotic but the pass he was trailing was to sharp and Weidenfeller was able to clear. Borussia Dortmund was still in control of midfield and had in minute 8 their first approach. Hajnal was up and away down the right side of Hertha's box. Unfortunately his shot was half a meter wide. And Dortmund raised the pressure. In the 20th minute Drobny needed all his skills to clear a header by Dortmund central defender Santana. But in minute 25 he was left without a chance. Hajnal served a beautiful pass for Alexander Frei. Borussia's top striker hit a powerful low shot that found the right corner - 1-0 for Borussia Dortmund. While Dortmund dominated the first half hour it was now Berlin's time to set the pace. With 15 minutes they had 3 nice approaches, one which could have resulted in a penalty when Weidenfeller hit Woronin in the box. Whatsoever, our boys took the lead into the cabin.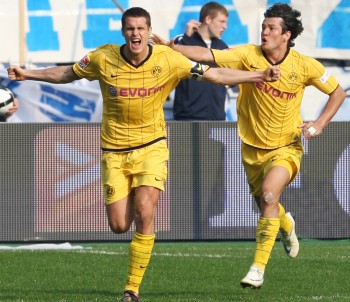 Second half
Hertha BSC Berlin started like they ended the first half. And it took only 9 minutes into the second half when Raffael started a furious solo down Dortmund's half. 4 (!) BVB defenders weren't able to stop him and so he no problem netting for the equaliser. But unlike some other matches, when BVB started to go for at least one point, this time the black-yellows raised their effort. And it really paid off! A nice high pass by left back Dede found Sebastian Kehl's head and then the goal - 2-1 for Borussia! In minute 63. Hertha's coach Lucien Favre reacted with a triple substitution. Pantelic, Kacar and Domovchiyski entered the pitch while Dardai, Nicu and Ebert left. But that didn't help at all. Borussia Dortmund was still in control and so consequently hit another one. In minute 83 Sahin fired a powerful shot from about 25 metres. Drobny wasn't able to save the ball so that the deflection found Nelson Valdez. Our striker didn't hesitate and scored - 3-1 for Borussia. Hertha wasn't able to set any more pressure on Dortmund's defence and so the match ended with a win for 11 BVB players and more than 10.000 black-yellows on the stands.
Summary
At all it was a really deserved win for Borussia Dortmund. While Hertha BSC suffered a major setback in their title ambitions, BVB has still slight chances to qualify for next season UEFA Euro League.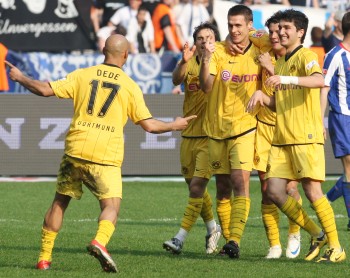 Statistics
Hertha: Drobny - von Bergen, A. Friedrich, Simunic, Rodnei - Dardai [67. Kacar], Cicero - Ebert [67. Domovchiyski], Nicu [67. Pantelic] - Raffael - Voronin
Coach: Lucien Favre
BVB: Weidenfeller (2) - Owomoyela (3), Subotic (3), Felipe Santana (3), Dede (3) - Kehl (2) - Kuba (4) [76. Lee], Sahin (3) - Hajnal (2) - Frei (3) [73. Zidan], Valdez (3) [83. Kullmann]
Coach: Jürgen Klopp
(Marks: 1=world class, 2=did very well, 3=performance was ok, 4=not enough but not too bad at all, 5=not worth the money, 6=should pay money for playing football)
Goals: 0:1 Frei (25., left-footed, assist Hajnal), 1:1 Raffael (54., right-footed), 1:2 Kehl (63., header, Dede), 1:3 Valdez (82., right-footed, Sahin)
Yellow cards: Woronin / Hajnal
Referee: Weiner
Attendance: 74.244 (Olympiastadion, sold out)