Archiv
Prematch report: Whatever happened to René Schneider?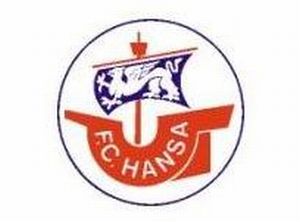 Hansa Rostock has been a good team for us in the last few years. Not a point given away at home in the past 12 years. Will the run last for another season? And how some things change and some things stay the same....
A decade ago I would board to the train on Saturday morning and go all the way up to Rostock every second weekend or so. A 11 hour ride passing the cities of Minden, Hannover, Uelzen, Hamburg, Lübeck. Finally arriving in Rostock. A knee injury had forced me out off playing football and there was this girl up in Rostock. She lived right next to the then called Ostseestadion. While passing it after arriving in Rostock meant seeing a bunch of happy football-fans crawling out of the gates. I would get on the phone before to find out how Borussia played. Usually they had lost. Scala had just taken over and we were not doing OK at all. We had already jumped onto the downward spiral. Hansa Rostock however played the season of their lives. They qualified for the UI-Cup - where they later got knocked out by Hungarians VSC Debrecen. Kicker named them "Best Team To Watch" at the end of 97/98 season. Hansa Rostock had become a household name to Germany and a trademark for the old Hanse-Town. Ewald Lienen had just taken over the job from Frank Pagelsdorf. With René Schneider we bought their best defender the season before. Schneider never made an impact on our game as he was fighting with several injuries and later was transferred back to Rostock. A risting star called Sergej Barbarez played an impressive season that year. Borussia Dortmund advised 1.1 Million Deutschmarks and got Barbarez in return. He, like Schneider two seasons before, would not be the same player in Black'n'Yellow. Michael Skibbe took over the job from Nevio Scala that year but had no prestige. He was hired and fired some 20 months later. The story that now unfolded should be known to most of you readers.
A few years later I jumped on the train to Rostock for the very last time. A friend and me crashed in a shed, woke up with rain pouring down on us. We got up and took the walk past Ostseestadion where madmen were beating up cars in the middle of the night. I remembered how Hansa Rostock in their very first season in Bundesliga-football put an end to Teddy De Beer's days in our goal with beating Borussia 5-1. This win still stands tall for Rostock. Never did they manage to beat another club higher than on that August-Day in 91. And never did Teddy De Beer get back between the posts. A young guy called Stefan Klos - who later became the "Hero of Auxerre" and won the Champions League with Dortmund - took over from him. We somehow made it to Rostock Hauptbahnhof and got out off Rostock as quick as we could. I never set a foot inside of Rostock again. Stefan Klos retired in a strange silence at the end of last season after keeping goal for Glasgow Rangers for the past few years. Michael Skibbe now coaches Bayer Leverkusen and has re-united with 36year-old Barbarez. Ewald Lienen writes his notes in Greece and god knows what happened to poor René Schneider.
Frank Pagelsdorf is back in Rostock after a 11year-hiatus. He still chews on his chocolate-bars and gets bigger everyday. However he still is THE coach for Hansa Rostock. With a team full of no-names Rostock have already achieved a lot this season. Their defence with names like Dexter Langen, Tim Sebastian, Marc Stein and Orestes ranks among the best in Bundesliga-Soccer - if you have a look at the stats. They so far have conceded 29 goals only which is nothing compared to our 36. Tim Sebastian, whose contract expires by the end of this season, has been linked with several Bundesliga-Clubs. One of them - of course - Borussia Dortmund. Mainly because every defender is linked with Borussia these days. Dexter Langen however picked up a knee injury in midweek-training and will be replaced by Lense. René Rydlewicz and Paule Beinlich, the aging co-leaders, have both been benched and replaced by players like skipper Enrico Kern - who on a good day can be of threat to any given defence - and four-time German International Christian Rahn, who had been down and out before this season but made an impressive comeback being fielded 18 times and scoring in their last two matches. Completing the line of names one might know is Victor Agali. The gawky Nigerian forward has not scored a single goal this season and could be replaced by Amir Shapourzadeh. Hansa Rostock is currently ranked just two positions behind us on #14. After beating arrogant eagles Eintracht Frankfurt last week they've got a five point cushion to the drop-zone. With all of the four teams ranked behind them facing each other in a relegation-battle-weekend.
Borussia beat Rostock 1-0 in the first leg last summer. Giovanni Federico scored one of his only two goals during the first round. Since the winter break he earned himself a new name: "Mr. Real". He took active part in five of the nine goals we scored. "Statistics look fine for me", the Half-Italian explains but admits "I can do better than that". And this is true. He is known for his single magic moments but also to hide for the rest of the match. Let's see if he can do better against Rostock. Helping him out will be Frei's and Petric' job, who have proven against Cottbus to be a great duo upfront. "Mladen will be Bundesliga-Top-Scorer by the end of this season", says newly-recovered Alex Frei. The Swiss national skipper already collected 3 assists and now looks for his first goal of the season. Rukavina will be back in the starting 11 after a cold last week, replacing 19year-old Mats Hummels as right-back. Delron Buckley after an astonishing debut replacing Dede will be covering the left again. Dortmund have not given away a point at home to Rostock since 1995/1996 season and has so far kept a clean sheet against the East this season - 6-0 goals and 9 points out of three matches against Cottbus and Rostock. A win should see us out of any relegation-trauma this season and boost the confidence for Tuesday's cup match against TSG Hoffenheim.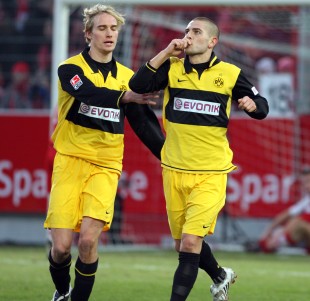 Borussia: Ziegler - Rukavina, Amedick, Kovac, Buckley - Kehl, Tinga, Kringa, Federico - Frei, Petric
Hansa: Wächter - Lense, Sebastian, Orestres, Stein - Bartels, Bülow, Rathgeb, Rahn - Agali, Kern
Kick Off: Westfalenstadion, Dortmund 3.30pm / Saturday, Feb 23rd
Referee: Herbert Fandel

Team-Talk:
Michael Zorc has asked Sebastian Kehl to make a decision on his future by early March. His contract expires and there are rumours that Kehl will follow his friend Christoph Metzelder to Spain this summer
Lars Ricken has decided to stay with Borussia Dortmund. After a week at Columbus Crew in Ohio he opted against the American-Club and for Borussia II. Amateur Ötzekin is delighted: "Lars is like a coach on the pitch for us. He gives advise, he conducts and plays very good passes. It couldn't be better. He is a very important player for us". Borussia II drew to Union Berlin last weekend and now travel to Hafenstraße in Essen. The local team Rot Weiß Essen is struggling to qualify for next years 3rd - League. Currently they are one point behind the pack and five points behind Borussia who are still on position # 6.
steph - 21.02.2008