Archiv
Angie, Angie, where will it lead us from here?

Getting back from Cottbus with a 2-0 win is not really bad. Though it was a match on really low technical level, later nobody will ask how this result was produced. To sum up the day: the main difference today was Mladen Petric, who scored twice.
Scenario/Line up
Thomas Doll had only 2 weeks with few injured players and many options. In the aftermath of the derby, we had to compensate some injuries and a suspension. While Rukavina, Kuba, Klimowicz, Weidefeller, Degen were missing due to injuries, Dede was banned for 4 matches because of his hard tackle against Ivan Rakitic last Sunday. So last season top scorer Alexander Frei accompanied Mladen Petric, Dede was replaced by striker Delron Buckley (!) and young defender Mats Hummels played as right back. So there were really some changes and especially the defence hadn't ever played in this constellation. Keeping in mind, that we received a bunch full of goals the last couple of games, many BVB supporters weren't that confident, that this would work out.
FC Energie Cottbus had its most prominent signing sitting on the stands: Angela "Angie" Merkel, reigning chancellor of Germany and born in Eastern Germany, got Energie's honorary membership just before kick off. On the pitch there was only one change compared to last week's 3-3 draw in Bochum. Radeljic replaced Ipsa as right back. Both teams played in 4-4-2 formations with diamond midfield configurations.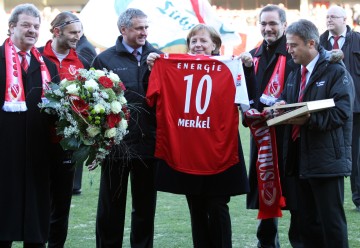 First Half
The surroundings were like you expect a winter trip to the Lausitz. Temperatures around 0°C, a more or less frozen pitch, a small stadium with the wind blowing through the stands.
Within the first couple of minutes there were only minor highlights. A free kick by Erwin Skela and a corner kick by Alexander Frei weren't any threat. But already in minute 8 the spectators saw some action on the pitch. Cottbus' left back Ziebig tanked into Dortmund's box. He was hit by Sebastian Kehl in a hard but fair way. While Ziebig was still demanding a penalty, the BVB counter attack was on its way. The ball found Giovanni Federico in midfield and the Italo-German playmaker with a nice pass into the left side of Energie's penalty area. Mladen Petric paced into the box, let the ball bounce in front of him for tenths of seconds and then fired a rocket onto Tremmel's goal. The ball hit the net in the upper left corner and left Cottbus' goalie no chance to save - 1-0 for Borussia!
It was now Energie Cottbus' turn to start attacks. But to the astonishment of the 2.500 black-yellow supporters in the "Stadion der Freundschaft" (stadium of friendship) Borussia's defence looked more or less stable. Though Cottbus was dominating the midfield, there was no feeling of being in danger. There was only one nice combination that found Sörensen in the box. Sörensen, who was unmarked by Amedick in Kovac in this situation, would have been in a perfect position to score, but Delron Buckley appeared from the left side and cleared the situation with a spectacular tackle. But all in all both teams hadn't any more chances as both suffered from inaccurate passing and lost duels in midfield.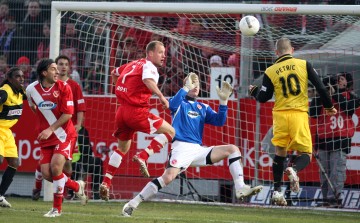 Second half
Thomas Doll had to do a change on the central defender position as Robert Kovac was slightly injured. Veteran Christian Wörns enter the pitch instead. And the second 45 minutes began more or less like the first half. Neither Energie Cottbus nor Borussia Dortmund weren't able to set up an effective offensive game play. Borussia now won some more tackles in midfield and thus won a slight domination. Still they were far from scoring another goal. On the other hand FC Energie had also only minor approaches. A shot by Mitreski in minute 63 and a header by Jelic just a minute later weren't really that dangerous. But with Jelic, who came in after 59 minutes for Bassila, home coach Prasnikar changed tactics to a 3-man-attack. With this substitution they got some more creativity into their play and started to have some more dangerous attacks. And so in minute 73 consequently they had their by far biggest chance. A nice high cut-in by Jelic found Timo Rost totally unmarked on the left side of Borussia's box. The former Nuremberg and Stuttgart midfielder fired a nice header from 8 metres distance that left goalie Marc Ziegler just stunning. Fortunately the ball touched just the outside of the left post. That could have been the equalizer. Thomas Doll realized that this match was surely not won yet and brought Marc-Andre Kruska for Federico to strengthen the holding midfield. And while the BVB supporters in the guest section and all the black-yellow fans throughout Germany were hoping not to receive a goal, it was again top scorer Mladen Petric, who did what he does best. A corner kick by Alexander Frei in minute 84 sailed over the keeper and defence and perfectly found Petric on the far post. The Croatian with a nice header that left Tremmel again no chance. This second goal really appeared from nowhere. And even the die-hard Cottbus supporters now realized that this match was lost and so the 22 players on the pitch didn't do anything to initiate any attacks. There were only 2 shots, that were blocked and wide, by Alexander Frei, who was eager to score his first goal of the season. And so the match ended 2-0 in favour of Borussia Dortmund.
Summary
It was surely not fine football on technical high level. Both teams concentrated on destroying the opponent's game play. The frosty pitch did also its part and prevented any combinations. At least our defence seems to get their things together as they played really well and ended with a shut-out. Maybe this was the turn around into a brighter future. Especially as we host Hansa Rostock next week. Normally an easy match, but with our team you never know.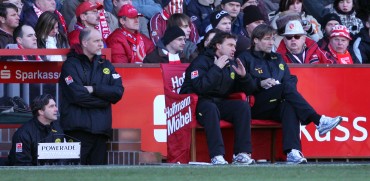 Voices
Bojan Prasnikar: "We wanted to make chancellor Merkel a present, but we played weaker than the matches before. Because of the early goal we got into a difficult situation. So we had to do the game play and that really didn't work out well. We had too few creativity up front and lost too many balls. In the end I fielded a 3-man-attack, but that was also not enough."
Thomas Doll: " I am really satisfied with these 3 points and the way, how our defence performed. Finally we ended without receiving a goal. We knew that it would be difficult in Cottbus and that the opponent would play really physical. But we did, what we've planned and trained. We played concentrated and didn't run into any counter attacks. It surely wasn't a good football match, but that was partly due to the miserable pitch. I hope, that we now finally find our rhythm and start collecting some more points."
Statistics
FC Energie Cottbus: Tremmel - Radeljic, Mitreski, Cvitanovic, Ziebig - Bassila (59. Jelic) - Angelov, Rost - Skela (73. Vasiljevic) - Papadopulos, Sörensen (81. Aloneftis)
Coach: Bojan Prasnikar
BVB: Ziegler [3] - Hummels [4], Amedick [3], Kovac [3] (46. Wörns [3]), Buckley [2] - Kehl [2] - Kringe [4] (85. Brzenska), Tinga [2] - Federico [4] (73. Kruska) - Frei [3], Petric [2]
Coach: Thomas Doll
(Marks: 1=world class, 2=did very well, 3=performance was ok, 4=not enough but not too bad at all, 5=not worth the money, 6=should pay money for playing football)
Goals: 0-1 Petric (8., left-footed, assist: Federico), 0-2 Petric (84., head, Frei)
Yellow cards: - / Petric, Kehl
Referee: Sippel
Attendance: 17.842 (Stadion der Freundschaft)


jonam - 17.02.2008