Archiv
3 Shoulders & 1 Referee
It looked like yet another Derby. 131 and counting. None of the Bundesliga-Derbies had seen a reigning Champions Schlacke 04. And while this is gonna stay like this for a few more decades, Ref Gagelmann and Dortmund defense did their best to give away a game which should have at least been a draw.
The week leading towards the big game was coined by a strange silence and even a few advances towards the Blue Scum by our management. Strange times. After May, 12th and Schwabbelschwein-Gate in August officals tried to strangle the rivalry. Asamoah and Dede had a small fight but nothing compared to things we've seen in the past. A false silence it turned out to be. More of that later on. When the misled Gelsenkids arrived at Dortmund Hauptbahnhof, Suedtribuene had already marched of towards our home. A Derby-March reminding of the one that took place in May started off at Friedensplatz - home of so many Championship-Parties in the past. A group of 5.000 marched through the streets of Dortmund, sadly some of them aimlessly and drunk having a go at parked cars and bars they passed on the way. What a shame. But the rest demonstrated unity and entered the stadium just in time to hear the comeback of 90s-Borussia-Legends Bums & Die Jungs. They played their hit "Schwarz-Gelbe Borussia" and were followed some 40 minutes later by local boy Andi Schade performing his pathetic yet much liked song "Am Borsigplatz Geboren".
And then the game kicked off.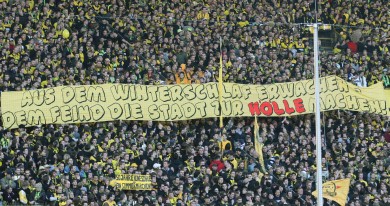 It saw us w/ the same line-up as vs. Duisburg and Schalke missing out on Math-Professor Kevin Kuranyi (4+1 = 4) who sat out his fifth booking. After a slow start with a lot of swearing and going at Asamoh from the South Stand. After six minutes a pass found Klimowicz inside the box but before finishing off, the in-form Argentinian was taken down by Manuel Neuer, who had also touched the ball. Klimowicz landed on his shoulder and was subsituted only a few minutes afterwards. He will be out for some two weeks with an injured shoulder joint. Before Frei made his way on the pitch in minute 17, Dortmund again proved why they have the best defense in Bundesliga. Confusion led to an offside-goal by Schlacke after 10, a Kovac/Ziegler misunderstanding saw Schlacke missing the goal just wide. And then disaster unfolded for the first time on that sunny Sunday afternoon. Amedick lost the ball at the half-way line, Ziegler trying to have a chat with Thomas Doll ran towards the Coaching Zone and Asamoah just touched the ball from 20m. While it rolled towards the empty net, Kovac slowly made his way but stopped before he could reach the ball. "An old man isn't a high-speed train", we have a saying in Germany but Kovac proved that Dortmund defense is as reliable as German Rail.
But here comes Alex Frei a minute later. In his first match in front of a home crowd for 9 months, the Swiss-Skipper played one-two with Federico. Rafinha was of help as well. Federico with his solemn magic moment of the match put the ball past astonished Neuer to make it 1-1. Up and down the exciting match went. Kringe, on one of his not-so-perfect-days, shot wide after a brillant Petric-ball. And only a few minutes later Ref Gagelmann overruled his assistant, who had seen the ball passing the contour. Gagelboy had seen a foul by Amedick. Asamoah was down again. The free-kick turned out to be a good opportunity to play into Schlackes hand. Marc Ziegler again looked bad when the ball crossed past him. At the far post Amedick jumped in and with his shoulder deflected it past Ziegler. His first safe after 34 minutes saw him down on the ground. The shoulder! The Weidenfeller-replacement made it into half-time but was unfit to come back onto the pitch afterwards. Alexander Bade, the former Paderborn-Second-Keeper, all of a sudden found himself in the midst of this clash. Meanwhile Sebastian Kehl was booked for playing the ball and nearly booked for a second time after Bordon took him down in the box a few minutes before half-time. A Penalty everyone but G thought. Half-time. Time to relax and have a Bratwurst. A game still in our hands.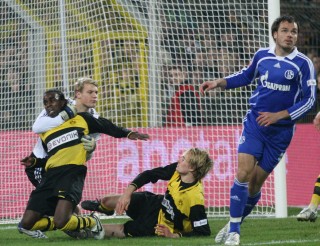 And how we started that second half. Attack over attack rolled towards Neuer. Just four minutes into the second half, Tinga won a ball in midfield, had the game wide open before him. He passed it to Alex Frei. He waited until it had reached the box and crossed the ball over to Petric who headed it home from 5m. One of the best goals we got to see in Westfalenstadium for a long time. Alex Frei / Mladen Petric. A combination we had dreamed of for soo long. Here they were. Magic! Finally: Derbytime! And for a few minutes Dortmund took command of the game. A great Kehl pass found Federico who was just denied by Neuer. Rukavina having the best minutes but most of the attacks shattered in front of the box. Within that period Mr.Gaggelmann booked Frei for speaking to ever provoking Asamoah, who for the duration of the game was under a kind of witness protection! And when after 70min both sides had settled for a draw, Gagelmann showed some skills. Dede jumped into a ball and also hit Raktic, who took off whining. The conclusion: Red card for Dede for something that might have been a foul but nothing else. The blokes on the Press-Stands were shouting "For us this was a red-card". There must have been something in their beers they were having. Anyway. Dede will be out for four matches after a DFL-Ruling yesterday. Ludicrous! "This was the turning point. What he (Gagelmann) delivered throughout the match was sad. He should question himself. I did not like that. He laughed into our players faces once they started to talk to him. Every situation was judged against us. And that's nothing to do with Schlacke winning", Thomas Doll later on explained in the press-conference.
Now the blacknyellows were a fair game. Rafinha hit Frei into the face. And Frei nearly got booked again for stating his point. And of course we still had our defense to rely on as well. Asamoah dribbled past Kovac, passed the ball to Ernst who scored. 3-2. A few minutes and an offside-goal by Frei later the Derby was over after no more than one minute of extra-time. Time for Gagelmann to take a shower. Hidden away under umbrellas he entered the cabins where he should stay for a long time. A too long time for us to ask him about what he was doing.
Where does it leave Borussia in the early days of 08? Exactly six points ahead of the #16 and 12 behind UEFA-Cup. Borussia's a strange team with a lot of passion, a great attack but a defense that could at times be replaced by Wacker Obercastrop's defense. A midfield that sees Kehl having a tough comeback. He misses out on attacking power. Federico being the player he is often hides but still shows a great consistence in scoring and assisting. Still he is no one to take command of a match. All hopes are on April, 19th and the Cup-Final in Berlin. The next two games will see us playing vs. Cottbus (away) and Rostock (home). We will need at least four points to not get into relegation trouble again.
Our team
Marc Ziegler: Showed his bad side. The first two goals were at least to parts his fault. Shoulder injury. Substituted at half time.
Alexander Bade: First game for Dortmund. Only a few chances to show his skills. No chance to deny Ernst
Antonio Rukavina: Solid performance. Good period between min 46 - 70.
Martin Amedick: First derby for him. Turned out to be a nightmare. Played a vital role in every Schlacke-Goal
Robert Kovac: What did he think he was doing when he stopped before the 0-1?
Dede: Good performance. Great fighting spirit. Gagelmann did not like his face
Sebastian Kehl: A lot of possession with no offensive-power. One great pass to Federico
Florian Kringe: The 25year old is having some trouble these days. Replaced by Buckley after 71minutes
Tinga: A fighter! Great lay-up for Frei. Lost too many balls
Giovanni Federico: One for the magic moments. Not seen for the rest of the game. Unlucky when Neuer denied him.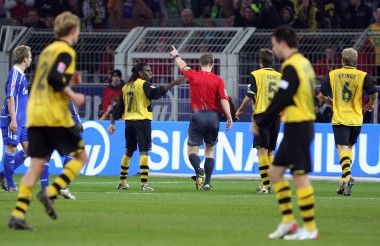 Mladen Petric: One goal and a few good passes.
Alex Frei: Great comeback. Two assists, one offside-goal.
Delron Buckley: Doll-Sweetheart replaced Kringe and had to take over Dede's position.
Diego Klimowicz: Early end for the Argentinian
And whom did Schlacke field? Neuer, Westermann, Kobiashvilli, Bordon, Ernst, Rakitic, Jones, Asamoah, Rafinha, Altintop, Krstajic (and a few others came in as well)
12th Player for Schlacke: Gagelmann assisted by Anklam, Thielert and Dress
Goals:
0-1 Asamoah (19)
1-1 Federico (21)
1-2 Amedick (31 - own goal)
2-2 Petric (49)
2-3 Ernst (82)

Attendance: 80.700 (sold-out)

steph - 12.02.2008