Unsa Senf
The Start - The expert's analysis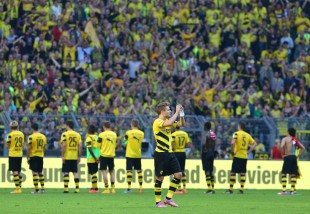 It always looks different from the outside. So let's do just that, and look at Borussia Dortmund from the outside.
We have brought in a few experts to discuss the 7 points in 7 games start, and have asked them what went wrong, where it went wrong, what would happen if Klopp's XI were to fail to secure Champions League football for a fifth consecutive season, and in order to avoid that how BVB can turn the season around into a successful one, maybe even ending on a high with a week in Berlin in late May and early June 2015.
You never know. Not even the experts, with some of them believing that for this side only the sky is the limit, despite a false start, which might even have been a blessing in disguise.
Our experts are:
Ross Dunbar, who covers Bundesliga football and much more for Deutsche Welle.
Ciarán Fahey, who has said that covering the BVB vs Malaga match was the most difficult moment of his career as an AP correspondent, just because he did not see anything with journalists jumping up and down following the 3-2.
Stefan Buczko. The Dortmund native writes the BVB blog on ESPN FC.
Stefan Bienkowksi. A Bundesliga expert before it was hip to follow German football. He works for the New York Times and other outlets.
Thomas Hautmann. Bundesliga is about to hit it big time in the United States, when a new TV contract kicks in next season. FOX will cover the German league, and Thomas Hautmann is one of their Bundesliga experts.
Andy Brassell. Far-travelled writer, broadcaster, and even TV producer on European Football for BBC, Guardian, ESPN, BT Sport and many more. Was on the bill for the 2013 Borussia Hearts Club in London, but never appeared on stage. Too many Dortmund fans, and no more beer supply.
Raphael Honigstein. He is an expert writing for the Guardian, the Süddeutsche Zeitung as England correspondant, ESPN FC and many others.
And here is what they say.
What have been the reasons for the false start?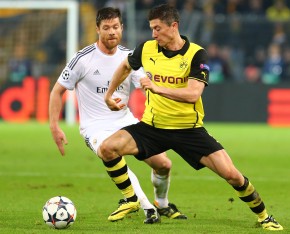 Ross Dunbar: There are several reasons; some big and some small, and they've come together at the one time. Injuries, of course, are the biggest problem. Klopp had found a 4-4-2 diamond system that had been thriving, with Mkhitaryan in the '8' and Reus just off Aubameyang. Then. Bang. Two of them get injured. Elsewhere, there's a real issue in midfield because there's not a solid base for the back-four, which tends to get exposed when Dortmund push high. Normally, a player like Nuri Sahin could drop deep, or Gundogan - even Bender! - but all of them have been injured, as well.
Then there has been poor performances in defence from Ginter and others. I don't think you can really compensate for those isses - but still, performances haven't been good. Players are losing concentration at such important times, as we've seen in Mainz and Hamburg.
Ciarán Fahey: Injuries have played their part obviously, but I think there's more to it than that – in recent times it seems Dortmund have always had more than their fair share of injuries though it didn't seem to affect them as much before. The loss of Lewandowski was a big blow – perhaps the biggest after the losses of Sahin, Kagawa and then Goetze in successive years – and much as Klopp would like to pretend otherwise, it's impossible to replace one player with three (Immobile, Ramos, and Aubameyang, who was bought in anticipation of Lewandowski's departure).
Even if he plays all three, he's sacrificing other positions, and they all need time to fulfill expectations. The pressure on Immobile and Ramos to make an immediate impact is much higher than that faced by Lewandowski, who took his time before showing his true worth to the side. The problems up front are forgivable though – those at back are not. Dortmund has failed to keep a clean sheet in any of its domestic games this season. I think concentration, or a lack of it, is to blame.
Stefan Buczko: Of course it is a mixture of factors that explain the bad start to the season. First of the world cup, or the consequences of which take the blame. BVB hardly had a fulfilling preseason. Not only was it too short in general, but it was a great patchwork of players arriving in different stints and on different fitness levels, meaning there was hardly any synchronicity. In essence this means there was simply no time for the squad to build any sort of team chemistry. New signings hadn't had the time to get used to their new surroundings and vice versa. Since Borussia Dortmund is still heavily relying on their collective to function, albeit the amount of individual skill, incoherency was the logical consequence.
The next problem for Klopp and Buvac is that they had hardly any time to train the pressing sequences on the training ground, as there was hardly any time. And we don't really have to mention the injuries of key players who more often than not simply make the difference… although many can argue that the team on the pitch still could have done better and yes, they are right.
Of course the 'English weeks' are straining, but still the ways some goals were conceded are absolutely ridiculous. Sometimes it was simply stupidity, or to put it in a sportive term "lack of concentration".
Then there is the approach to some games. It is probably a harshly unfair critique now, as it is not easy to just throw the footballing philosophy, identity - or whatever you want to call it - away. BUT a bit more cautious approach could have saved a point or two. If you are struggling and have a highly inconsistent backline - in personnel and form - shifting so high up the pitch as BVB did left the backline exposed too often.
Maybe it would have been less exciting to watch, but more cover and caution is necessary, when things are patchy. Twelve goals conceded in seven Bundesliga games speak for themselves. And if you cannot create the danger to score two or three goals per game, defense must be the first priority. BVB never came back to win a game after going behind this season. Some would also the poor efficiency in front of goal for the poor start, but that would truly be beating a dead horse.
Raphael Honigstein: The answer is in the question. There are reasons, not a single reason. Injuries, new players settling in… etc. I also wonder if the 4-4-2 system puts even more pressure on the strikers and midfielders to work hard without the ball, and whether that has a knock-on effect when it comes to scoring and defending. I remember that Klopp threatened a more "extreme" pressing style this season. Maybe it's too extreme - or it takes more time to work properly.
How has Borussia's start been perceived abroad? Did anyone take notice?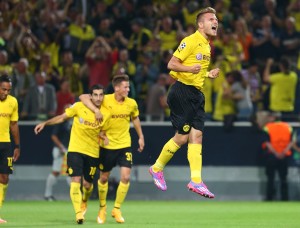 Stefan Bienkowski: Yeah, it's been received quite poorly by the British press. Dortmund made a lot of fans when they were winning the Bundesliga, so there's naturally a lot of ill-feeling towards Bayern walking to another league title. Competitiveness is what sells football games and Germany doesn't seem to have much of it at the moment.
Thomas Hautmann: The Champions League still garners significantly more attention than the Bundesliga, and as we know, BVB have started that competition pretty well. So to the U.S. audience, that has probably served as a smokescreen for their troubles in Germany.
From my standpoint, I thought Dortmund would be a deeper team than the past few years with the guys they brought in this summer, and that they would be better equipped to deal with any string of injuries. However, that obviously hasn't been the case, and I've been pretty surprised Klopp hasn't been able to get them out of their slump in the Bundesliga. They really have been hit hard by injuries, but there's no excuse to be this far back in the middle of October.
Andy Brassell: People definitely take notice. Dortmund are undeniably a big deal across the continent -as is Jürgen Klopp, of course - and with the Bundesliga probably at some sort of pinnacle in terms of international popularity, there is a real disappointment at their poor start. Anyone who even vaguely follows it knows Dortmund offer the only possibility of a good title race, which is what neutrals want. The feeling (as in Germany) is that chance has probably gone for this season now.
Raphael Honigstein: Dortmund doing badly is always big news abroad because it feeds into the idea - or perhaps I should say: fantasy - that Jürgen Klopp will be soon off to pastures new and green along with half of his squad.

How can the differences between Bundesliga and Champions League performances be explained?
Ross Dunbar: Hard to say. For me, I think BVB look more threatening with two direct frontmen. Immobile and Aubameyang have looked sharp in the Champions League. Unless, of course, there's a mental aspect that they really want to avenge the Wembley defeat this time out. I'm not sure it's as simple to say that BVB have been outstanding in CL, but mince in Bundesliga because the intensity of the competitions is different.
Ciarán Fahey: The difference is attitude, combined with a little bit of luck. Against Arsenal, Dortmund were far superior and really should have won by more than 2-0. Their attitude was exemplary. Arsenal were not allowed any time on the ball at all. It was the perfect Dortmund game, albeit with that niggling lack of efficiency considering the side's dominance.
If that was Dortmund playing at 100 percent, in the Bundesliga the side has been trying to get away with 95 percent. Other sides will always give 100 against Dortmund and have been reaping the reward.
You get the impression the players were listening to Guardiola when he said the Bundesliga is pizza and hamburger while the Champions League is a fine restaurant. They should listen to Klopp.
Stefan Bienkowski: I actually think much of it is down to incentive. We continue to see the same old sloppy mistakes from Dortmund in the league, against lesser sides who they clearly make assumptions about before each game, while the Champions League is still a new frontier to even the most experienced in this squad. Complacency is evidently a problem in the league, but the players seem to continuously get themselves up for the big European games.
Stefan Buczko: It is hard to explain, as the performance against Arsenal was so close to perfection, that the question is obvious. Is the Bundesliga not good enough to give a 100%? Are the new signings only have eyes for the elite European competition? The discrepancy between domestic form and European form leaves a lot of space for cynical thoughts, but it is probably none of the above. It is probably a matter of form, maybe the late kick off leaves more time for preparation, but then again so would have the game against VfB Stuttgart.
In the case of Anderlecht it was dumb luck, of course BVB had a good game, but they could have easily conceded a goal or, you know, three. While the black and yellows got punished for almost every defensive error in the league, they were left off the hook in CL.
What do Borussia need to change to rescue their season?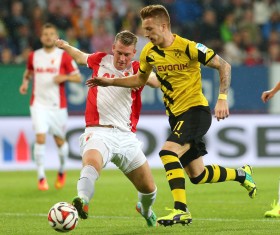 Ross Dunbar: Go back to 4-4-2 diamond. Forget 4-2-3-1. Kagawa in the hole, at least, makes up for Mkhitaryan's loss, if he's injured. But when he returns, you've got the dilemma of who plays where in the team. Aubameyang needs a partner, for now, in my opinion - and I like Immobile: he's really aggressive with his play, he's quick and can score. Or Ramos, who has surprised me this season.
Reus' return will be a huge boost. I think he could excel further up the pitch as an advanced forward. But let's not get ahead of ourselves when it comes to Dortmund and fitness!
Ciarán Fahey: I think the current international break will do them a lot of good. They've had so many players injured that few were involved with their national sides this time. But it looks like key players are working their way back – Gundogan, Mkhitaryan and Reus played in a friendly on Tuesday.
The current slump – I certainly wouldn't call it a crisis – will do the side good in the long run. It gives Klopp the authority (not that he needed it) to bark at his players and force them into line. It also focuses attention, raises concentration, and even dampened expectations will ultimately help the side. This is the best time of year for a slump.
Stefan Buczko: Buy a time machine. No, unless you think this is a bad season unless BVB finish first, there is not too much to worry about. It will all work itself out, as important players return from injury, the team will gain rhythm and stability with time. Form will come with time, as the aftermaths of the bad preseason will be over eventually.
Raphael Honigstein: I don't think their season needs rescuing. There's too much quality in the squad for them to be in mid-table for too much longer. We'll see improved results quickly.
Did Borussia bring in the wrong players?
Stefan Bienkowski: No, I don't think they did. There are still some question marks over Aubameyang, but Mkhitaryan will eventually become undroppable in this side. To an extent I still think he was worth that huge transfer fee. Adrian Ramos and Ciro Immobile are two strikers that can and will thrive in the Bundesliga and Ginter will eventually carve his way into this side and prove himself as a Bundesliga leading defender. To an extent I think Klopp actually got his transfers spot on this summer, he just unfortunately couldn't have predicted the rest of the squad getting injured!
Thomas Hautmann: It's a little too early to tell, but I don't think so. It was always going to be tough to replace Lewandowski up front, but how much better could they have done than signing Serie A's leading scorer and the Bundesliga's second-leading scorer last season?
Immobile and Ramos haven't had great starts, but neither did Aubameyang last season, and he's performing at a high level now. The return of Kagawa made too much sense and should he get back to his old form, will pay off in spades. Ginter has been a disappointment surely, but he's a Germany international and hasn't just lost all his talent after moving from Freiburg. It's not what BVB fans will want to hear, but the new players need time to fully integrate and once they do, they will be better.
Andy Brassell: I'm not sure I'd blame the signings, though I struggle to see how Klopp can regularly fit Immobile and Ramos in the same XI. Some cover at full-back would have been good too.
Would missing out on Champions League qualification damage Klopp's and Borussia's reputation in Europe and in the United States?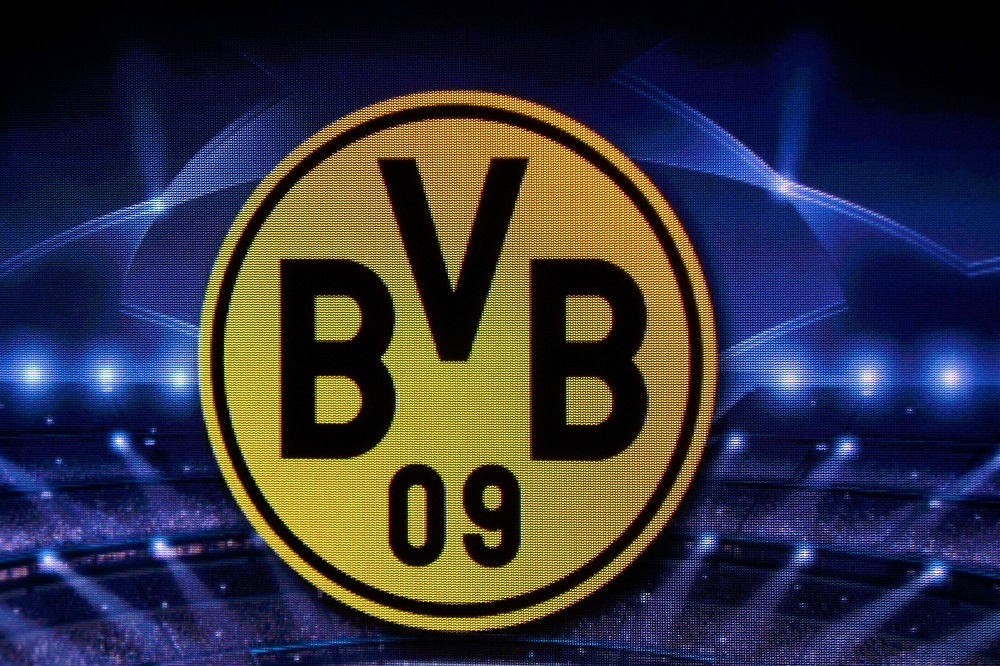 Ross Dunbar: For a lot of people, it'll be a surprise. Many forget where Dortmund have come from over the last 10 years. They've been challenging for the Bundesliga in the last five, but before that, there were serious problems, elsewhere in the club. There's clearly been enough progress in the squad and behind the scenes for Dortmund to continue at the top, regardless of what happens, but I don't really forsee a lack of CL football next season. I'm pretty certain that Dortmund will finish the season in the top-three.
Stefan Bienkowski: Oh, absolutely. Not just in terms of perception across Europe, but also in simply keeping up with Bayern in a financial sense. I think what we'll slowly see happening is a more notable group of clubs pushing for CL each season and becoming content with that. England can cope with a top four and there's no reason why Germany can't either. Dortmund must be one of those four each season or they could simply drop out.
Thomas Hautmann: There's no question it would damage Borussia's status. Klopp has done enough the past few years to keep his good name - should they fail to qualify for the CL, I expect several top teams to try and pry him away next summer. As for the team, without Champions League football you simply lose exposure to the U.S. audience, and thus, some of the respect. Out of sight, out of mind. Many pundits here have felt that Dortmund peaked a couple years ago, and they'll be quick to dismiss BVB altogether should they not even qualify for next season, fair or not.
Andy Brassell: It would certainly set them back in terms of building the international brand (for the lack of a less ugly term). The drop off in interest between the Champions a League and the Europa League is still significant, though I think Dortmund have excited enough people in the past few years that they'd be missed from the CL, rather than quickly forgotten. One season out of it wouldn't be a disaster.
Raphael Honigstein: It would damage the image abroad but the financial consequences and fall-out for the club would be more severe than that. It doesn't bear thinking about. But I don't believe there's any danger of that happening.
What can be expected from BVB this season? In Bundesliga and Champions League.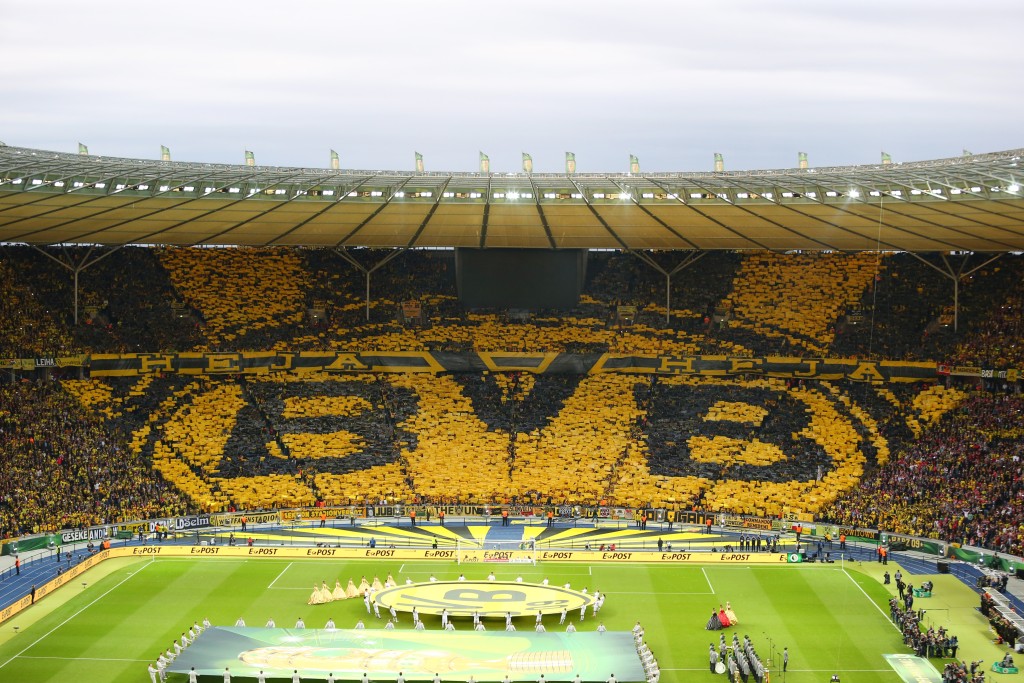 Ross Dunbar: Dortmund should still be aiming for as high as possible. Second isn't miles away from them right now. If you beat Gladbach in the Sunday fixture coming up soon, then you're within a few points. After that? You can peg Bayern back. A lot of people want to jump on the bandwagon, but football is a crazy. If Dortmund - and maybe Gladbach and Leverkusen - were to take points from Bayern, the dynamics would change incredibly. You can't really predict what will happen.
Ciarán Fahey: I think the Bundesliga may be beyond them, but it was always going to be a tall ask, slump or no slump, with Bayern assuming control without even playing particularly well. That's probably what will grate with Dortmund fans the most. I expect they'll recover and finish credibly in among the Champions League qualification places.
In the Champions League anything is possible. They've shown that before and their form in the competition so far indicates they are focused on showing it again.
Stefan Bienkowski: I think they'll get their act together and end up pulling off a strong second place finish again. Players will begin to return and there's already an understanding that something has to change if they hope to salvage anything from the game. So far in the Champions League they've looked great and with a fit squad they could really beat anyone on their day. Quarter Finals at least in my opinion.
Stefan Buczko: (Form will come with time)….hence results will come naturally and since the Bundesliga seems to be pretty even this season, apart of Bayern who are already running away with it, second place should not be too hard to obtain. I hate using the phrase, but the season is still long.
For the Champions League, everything is possible. I'm pretty sure that Dortmund will survive the group and it chances are good that BVB are closer to unfolding their full potential after the winter break - and they have a lot of potential. Semi finals isn't an unrealistic shout, as I'm sure BVB will have a chance to beat any team in Europe this season. They surely don't have to hide.
Thomas Hautmann: Dortmund will turn it around and qualify for at least the Champions League qualification spot. Unfortunately, they've played their way out of the title race already, but I don't see anyone besides Bayern that they can't catch, especially once all their key players are fit. The key will be fixing up the defense and the return of Gundogan, who was so important to the team two seasons ago. With a healthy axis of Hummels, Gundogan, Kagawa and Reus, and an improvement from the new guys, I just can't see BVB fall out of the top four when it's all said and done. As for the Champions League, I expect them to reach the quarterfinals, and depending on the KO stage matchups, maybe even another surprise run to the semis.
Andy Brassell: I still think second place is gettable, and in fact I'd expect BVB to do so. The other possibles just aren't credible enough; we have to see if Leverkusen can last the whole season playing at the tempo with which they've started, Wolfsburg and Gladbach are still growing and Schalke, well, they're Schalke. As for Champions League, maybe the fact that league seems gone already could help. The squad is adaptable, there are some huge players still to come back and the opening performances have been very convincing. Quarter-finals shouldn't be a problem and even semis aren't out of the question.
Raphael Honigstein: In the Champions League, they will be once again one of the most awkward team to play against. Quarter-finals are a realistic target. Bundesliga: I expected them to push Bayern much closer this season but that might be difficult after the poor start. They should still come second comfortably though - and keep growing as a club and as a team.
16.10.2014
Follow them on Twitter. Ross Dunbar (@rossdunbar93) / Stefan Bienkowksi (@SBienkowski) / Ciarán Fahey (@cfaheyAP) / Stefan Buczko (@bvbawesome) / Thomas Hautmann (@HautmannOnFox) / Andy Brassell (@andybrassell) / Raphael Honigstein (@honigstein)