Spielbericht Profis
Zero points and two players less for a Quarter Final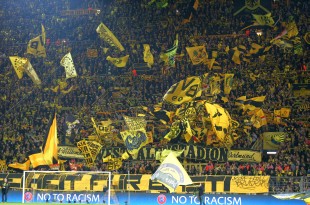 Spring was almost there, the temperatures offered a wonderful football evening and everything was set for yet another great step in our BVB history. It wasn't necessarily great what we got to witness last night- our team struggled to find a balance between not doing too much due to the great result we achieved in the away game and doing just enough to not let all this work go straight down the drain. In the end it was just enough to qualify for the top eight (TOP EIGHT) of Europe, but not enough to break out into ecstasy.
Before the game
It surprises me every week that Jürgen Klopp still manages to come up with eleven players for the first squad and still have enough players for the bench as well. But somehow he manages and so the eleven players that played in yellow were almost the same ones that lost against Gladbach on Saturday. Only Mkhitaryan jumped in for Hofmann again after he had to watch Saturday's game from the seats due to his fifth yellow card. Some of our players could actually also clearly do with a break and it pains me to realize that there is almost no possible way for them to actually have a break because injuries have been a monster this season.
Zenit St. Petersburg, on the other hand, had just come back from their winter break and were determined to turn this game around after having sacked their coach a couple of weeks ago.
First Half
It was the predicted difficult game- whether it was due to an eager St. Petersburg or Dortmund's flabby game- I don't know, but it was obvious from the very start that this would not be no- brainer. Some of our fans had criticized Dortmund for not giving it all during Bundesliga games when those are played the weekend before a Championsleague match. However, this time it felt as if a rather secure starting position led to a lack of concentration and passion as well. It didn't start out too bad. After only a few minutes Schmelzer was sent down the left side of the pitch and played a wonderful cross into Zenit's penalty area where Aubameyang waited without being guarded at all, heading the ball half a meter next to the goal. Bad luck. St. Petersburg didn't wait too long with their answer. After losing the ball close to the penalty area, Hulk got the ball and without being attacked by anyone nearby he circled around the penalty area and shot a brilliant ball from 25 meters straight into the upper corner of our goal. 1:0 Zenit. And the problem was, it didn't even feel undeserved. Zenit played more openly, more eagerly, not waiting for Dortmund to do their thing but taking charge of the game and the minor chance they still had. Only a few more minutes the next downer for us. After a duel in the air in Zenit's penalty area Lewandowski hit the ball with his hand while being pushed by one of the blue ones. Referee Mallenco took this for an imitation of Maradona and showed Lewandowski his third yellow card. Not only was this a ridiculous decision, it also means that Lewandowski will miss out the first game of the Quarter Finals for sure, something we definitely do not need at the moment.
After that Dortmund tried to somehow get back into the game and Großkreutz did his best to equalize the game with a shot from the distant that Malafeev parried, but Zenit had not given up yet either. Only a few inches did Shatov's ball from the left hand side of the penalty area miss and almost resulted in a 2:0 lead for St. Petersburg.
After 38 minutes of the game it was again a great Schmelzer cross that found its way into the penalty area and this time our captain Kehl completed what Aubameyang had missed to do earlier in the game. His header went straight into Zenit's goal. 1:1 (for us- one could say) and a few calmer heartbeats were the result of a hard fought for goal.
With this sedative in our heads it was time for a break.
Second half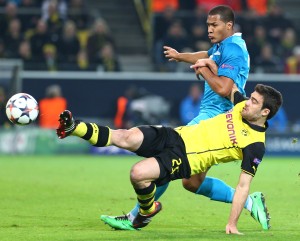 The following 45 minutes offered one of the most boring and yet nerve wracking second halves of this year since nothing truly happened during the first thirty minutes. Dortmund tried very hard to keep control of the game by not running more than they had to and Zenit obviously lacked creative ideas to use the lack of enthusiasm that Dortmund provided on this pleasant Wednesday evening. Zenit's coach seemed to have enough of this skirmish as well and brought in Rondon for a bit more creativity. It helped in so far that he simply scored a few minutes after entering the pitch. Out of nowhere Criscito crossed the ball into our penalty area where Rondon escaped Hummels and headed the ball into our net. 2:1 for Zenit after 75 minutes. Now, with everything that Zenit St. Petersburg had to offer on this evening, there was little reason to actually truly be scared of losing this by three goals and dismiss the Championsleague for good this season, however, Dortmund didn't have you feel to secure either. Keeping the ball away from our own penalty area seemed to be the solely determination for the last 15 minutes, however, attacking was not a means to actually do so. Rather than pushing forward Dortmund stood shut in their own half of the pitch. Luckily enough St. Petersburg had no answer for that either and so the referee called it a day after 92,5 minutes.
Thoughts
There was a lot to talk about on this evening and not only us fans but also the players analyzed quite a few issues during the interviews afterwards.
The main problem seemed to have been the expectations of some fans in the stadium. This was certainly not a glorious day for our BVB. What stroke me the most what the inability to play an unchallenged three meter pass more than just once. Furthermore it has to be noted that our players are tired. And who can actually blame them? Some of our boys have been running up and down the pitch every game of this season plus pretty much every game of last season as well. Like I said at the beginning, it is surprising that some of them still find the strength to do so for more than 90 minutes. However, there are also some players that don't feel like running too much even though that haven't played close to as many games as a Keving Großkreutz, for example has. To me it is quite understandable that some people are not too happy about last night's performance. I wasn't. And by that I don't mean the fact that we have actually lost a game, but one has to wonder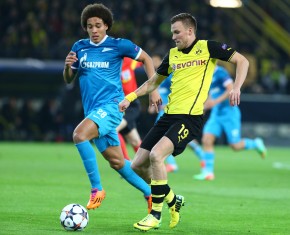 where this lack of concentration and effort (at times) comes from. If players want to criticize fans for high expectations it is their right to do so. And we all need to cherish the fact that we have come this far despite all the injuries we had to suffer during the season. Unfortunately enough another shocking news came today: Schmelzer will be out for the following four weeks again- it seems as if this mess will never end. Dortmund needs to focus now. With Bayern lightyears ahead, the direct CL qualification spots will not be a no brainer this season as well. We have, at least, with Derby, Quarterfinals, and the Cup Semi Final ahead, four more tough weeks ahead of us and we all need to focus and support our team to the upmost we can. Those guys have done a fantastic job this season, and despite all the nerve wrecking, painful and at times really terrible games we have all witnessed this season, we should be proud beyond all means: It is March and we are amongst the top eight of Europe, on the second position of the table in Germany and have a Semi Final in the Cup ahead of us. Tomorrow we will find out where the next step of our journey will take us, and where ever that may be, we will of course be there with you! Go Ballspielverein!
Stats:
Borussia Dortmund: Weidenfeller – Piszczek, Sokratis, Hummels, Schmelzer – Sahin, Kehl – Aubameyang, Mkhitaryan, Großkreutz - Lewandowski
Zenit St. Petersburg: Malafeev – Anyukov, Hubocan, Lombaerts, Criscito – Witsel, Fayzulin – Hulk, Shatov, Danny - Kerzhakov
Substitutions 68. Jojic for Sahin, 76. Durm for Schmelzer, 90. Hofmann for Aubameyang - 46. Neto for Lombaerts, 62. Rondon for Kerzhakov, 83. Smolnikov for Fayzulin
GOals: 0:1 Hulk (16.), 1:1 Kehl (36., Schmelzer), 1:2 Rondon (73., Criscito)
Referee: Mallenco (ESP)
Westfalenstadion: 65.829 (sold out)
Ida, 20.03.2014