Archiv
Comeback at the Village People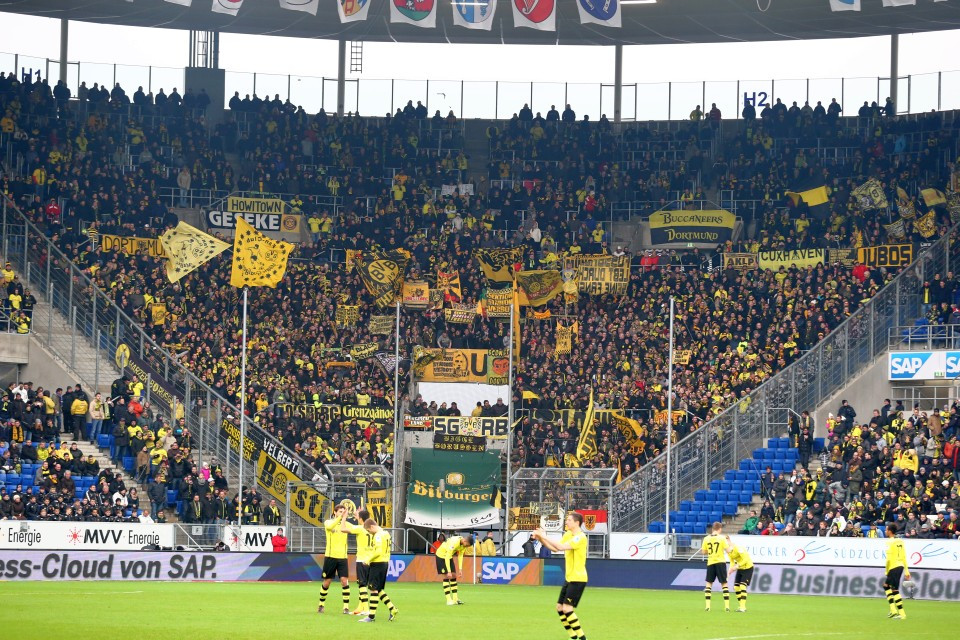 We had to go back to the village. It was our own fault and that's the bitter part of it. We could have finished them off in the last game of last season, send them to the second division and avoid this trip. But we didn't and that's why we had to come back. It didn't make it any easier that we usually don't perform that well against the plastic project of Hopp and that we came with not only our first, but also our second defence missing. Sokratis was out because of a really stupid second yellow card against Leverkusen and none of the injured came back so far. At least there was one good news: we didn't suffer any new injuries in the game against Marseille – wow! And there was the boost from winning this tough Champions League group, of course.
Klopp came up with some surprises, bringing Langerak for Weidenfeller, Piszczek for CL-hero Grosskreutz and also Aubameyang for Mkhitaryan so that Reus moved to the centre midfield. Sarr, who played a great game against Marseille, made his Bundesliga debut. There haven't been a lot of alternatives anyway, but he also deserved it after having played an incredible first game in a decisive Champions League game. Friedrich was fit on time and played the part of the experienced defender. He probably would have laughed at the thought of it 5 weeks ago...
Just before the match started, we could witness a very funny interview. Some functionary (I forgot his name and what he exactly did for the project) had his last home game because he leaves for a not further explained reason and was asked how he felt about leaving. He honestly said the following (quoted from my mind): "It is more difficult than I thought, being in this great stadium with this incredible atmosphere." and in the background one could hear very clearly "Borussia Dortmund, BVB, BVB 09!" He most certainly had the laughs on his side! Or as a friend of mine had put it: "The 'T' in Hoffenheim stands for 'tradition'."
1st half
We started quite good, the players were eager and created some chances right in the beginning. On the other hand it also showed quite soon that the strengths of Hoppenheim are in the offence (34 goals scored, 35 conceded) and that our defence would have problems with them. But first of all, there were two big chances for our Borussia. After 10 minutes and a nice combination Reus scored. After all the missed chances at Marseille, it was great to see that we used the first real chance in this game. Unfortunately, the referee considered Lewandowski's off-side position to be active and he probably was right. But we continued like that and only seconds later, Reus had a huge chance to score after Lewandowski played a nice pass, but he wasn't fighting enough to be ahead of the defender and lost control over the ball only two meters before the empty goal. The attack another few minutes later was countered by Hoppenheim and there it showed that Marian Sarr may not yet be on the level of a real Bundesliga-pro as he couldn't follow Schipplock after a lost ball of Reus and a mistimed tackling of Durm which left him alone with the attacker of the plastic club. It was 1:0 out of nowhere. And it gave Hoppenheim the confidence to take over the game. They played hard, didn't give us any room and seemed to play with the fear of our players for more injuries. And they have a very dangerous offence which gave our defence more trouble than we could have wished for. In minute 25 Polanski hammered the ball onto the crossbar after he wasn't really attacked at the edge of the box. All seemed to be in favour of Hoppenheim, especially after the 2:0 of Volland. We could have been awarded a penalty only seconds before they finished yet another counter attack with the second goal, but the referee saw it differently. Some bad luck it was, but not really undeserved as we didn't really make the impression to be able to create danger despite more ball possession than the opponent. In minute 44 we were awarded a corner kick, but Reus played it really poor, directly to the arms of the goalkeeper who had no issues catching it. But it almost seemed too easy as for no reason at all he dropped it, Lewandowski was at the right place at the right time and shot it towards the goal where Aubameyang didn't take any risk and shot it over the line. We were back in the game again!
2nd half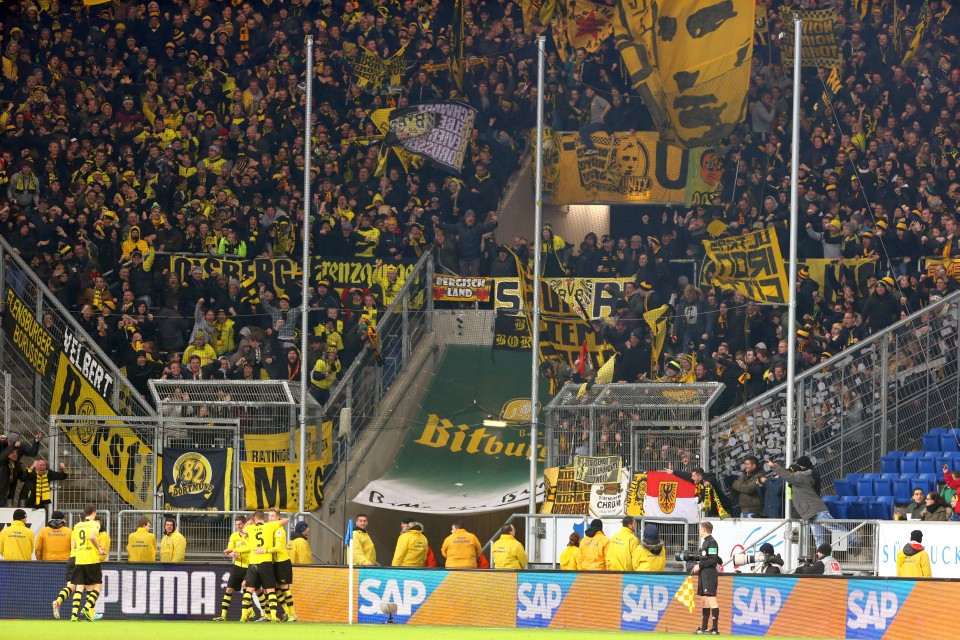 The goal gave us the energy to take over the control again. It still wasn't the best games of all, but our offence could – also with the kind help of Hoppenheim who refused to attack almost completely in the second half – help stabilizing our defence and the continuous smell of danger before our goal became less and less. Our own attacking lacked the last pass, but was getting stronger in the course of the second half. Mkhitaryan had a big chance only seconds after entering the pitch for Kuba, but missed in minute 66. One minute later we finally had our equalizer and no one could have deserved it more than the scorer. Sahin with a nice cross into the box where Piszczek headed the ball towards the goal, but the goalkeeper could only drop it and the Pole scored. He is really back! This was too much for Hoppenheim, they couldn't find their game anymore and the goalkeeper got worse by the minute. A 15 meter shot of Lewandowski landed on the post after the keeper had let it slip under his arms. There were some more big chances, the three biggest were missed in the last three minutes of the game by Reus and Schieber on our and Volland on the other side. First Reus missed the right post by inches (87.), then Volland failed to score ten meters in front of the empty goal (88.) and in the end, Schieber managed to slip when he had only the empty goal two meters in front of him (89.). None of them scored and that was it.
Unnecessary to say that it was a home game concerning the support. And even though this is quite usual at the plastics, it was a strong performance by the away stand that was heard throughout the complete game. Also in times it seemed we would lose the game, "supergirl" noisily resounded in the soulless widths of the stadium...
Aftermath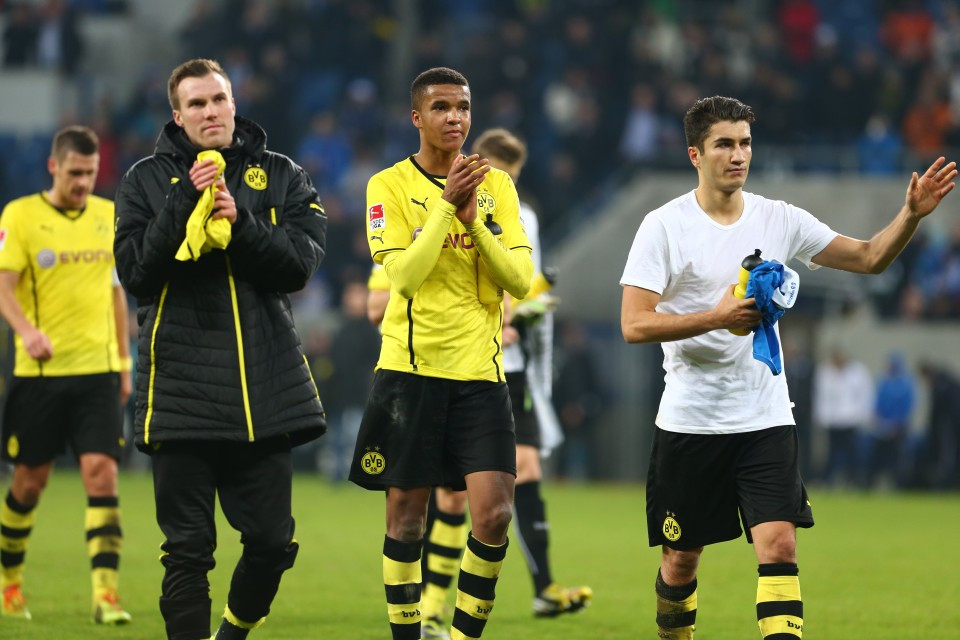 We would have deserved to win this game after a good second half. On the other hand it was more than obvious that our defence needs a rest better sooner than later and that we won't be able to keep it up for much longer. Luckily it's only one more game to go until the winter stop and it will be at home. Sokratis will be back then and even though Hertha is a tough opponent this season, we should be able to beat them with the strength of the mighty Westfalenstadion to support us. And then we have the time to rest, to lick our wounds, to train with (almost) all the squad, to prepare us for the second half of the season. A season that is not as bad as one may think at the moment. Sure, we are 12 points behind Bayern and it doesn't seem that there will be a chance to play for the championship this season – but then again: we are not them, we don't have to! That's the good part of it. Leverkusen with 8 points ahead (assuming that they will win today) are also far away, but they will have their bad moments and we can still get them. And even if we don't, to defend the 3rd place where we are right now would also mean qualification for the Champions League and that should be good enough for us! And talking about Champions League: we are in the round of the last 16, facing one of the "weaker" runner-ups. We are also in the quarter final of the German cup where we face Frankfurt away which is not easy but still doable. We should not forget what we achieved so far and what we can achieve with our great team once everyone is back again and Klopp had some more time to tell Aubameyang and Mkhitaryan how to integrate in our game. But first of all, let's all give the last bit of energy that we have left and beat Hertha the hell out of our stadium!
Stats
Hoppenheim: Grahl - Beck, Sühle, Vestergaard, Toljan - Rudy, Polanski - Volland, Firminio, Herdling – Schipplock
Subs: Salihovic for Schipplock (69th), Johnson for Herdling (71st), Strobl for Rudy (91st)

Borussia Dortmund: Langerak – Piszczek, Friedrich, Sarr, Durm – Sahin, Kehl – Blaszczykowski, Reus, Aubameyang – Lewandowski
Subs: Hofmann for Aubameyang and Mkhitaryan for Blaszczykowski (67th), Schieber for Reus (87th)

Goals: 1-0 Schipplock (17th), 2-0 Volland (37th), 2-1 Aubameyang (44th), 2-2 Piszczek (67th)
Referee: Zwayer (Berlin)
Bookings: Volland, Polanski – Reus, Friedrich, Sahin
Attendance: 30.150 (sold-out Rhein-Neckar-Arena)