Archiv
Echte Liebe from Finland!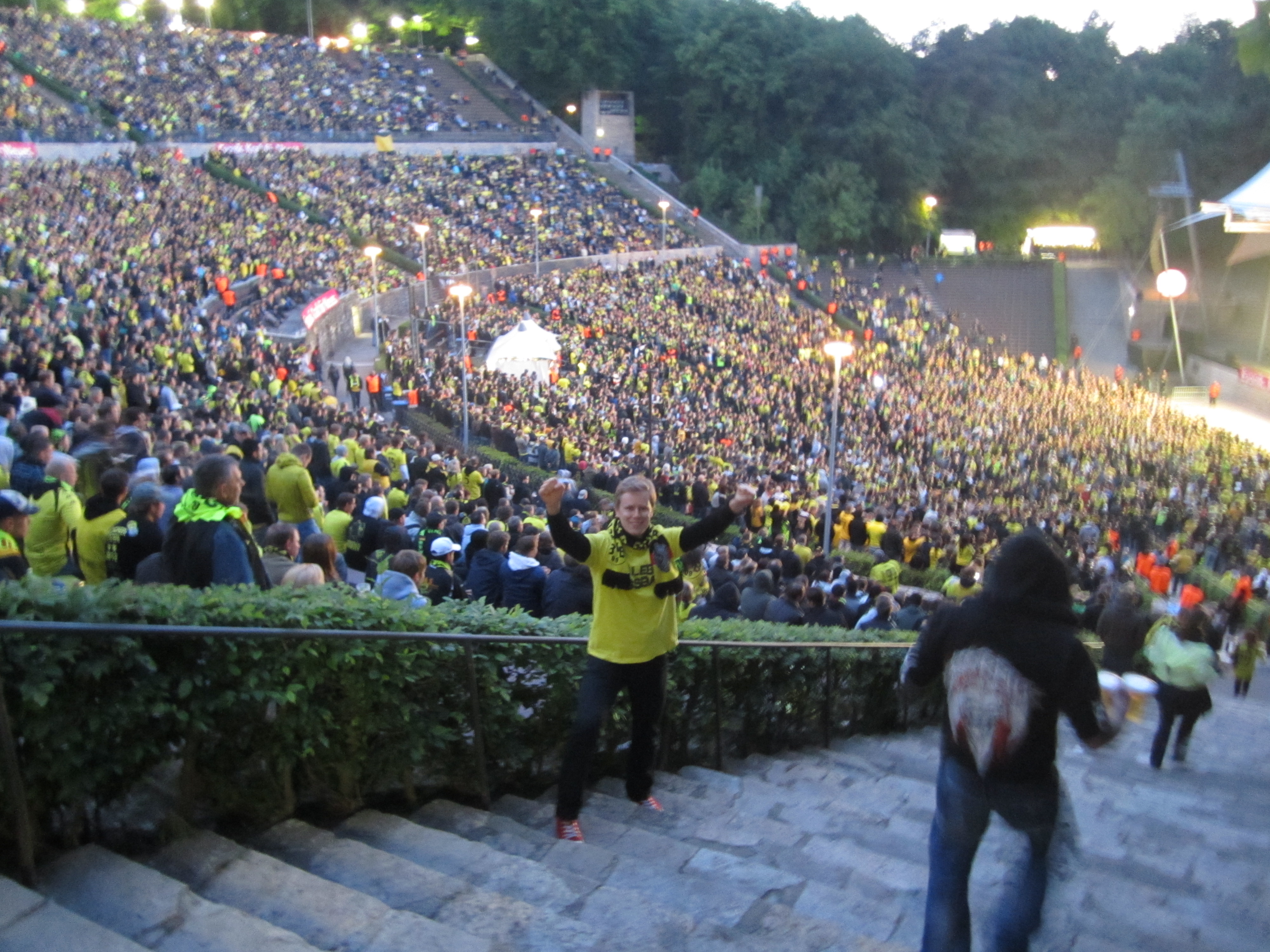 This was already my third time this season when I traveled to Germany for a match between Borussia Dortmund and Bayern München. I saw both Bundesliga matches live inside Arroganz Arena and Westfalenstadion but I had to settle for the public viewing event in Waldbühne when I traveled to Berlin. The planning of this Pokalfinale trip started immediately after the last BVB-Bayern match when I realized that I have to come and enjoy that great BVB-atmosphere one last time this season. I actually had a couple of tickets for the match against SC Freiburg but unfortunately I had to skip that trip and sell the tickets due to some non-cancellable engagements Finland. When I realized that I can't make the trip to Dortmund I knew that I had to fly to Berlin and see BVB play "live".
I have to give some credit for my fellow traveler Lauri who was able to arrange things so that he could come with me to Berlin on such short notice. Lauri is studying as an exchange student in the city of Utrecht in the Netherlands at the moment so we made plans to meet each other directly in Berlin. My flight from my hometown Turku departed at 06.30 on Saturday morning and I flew via Copenhagen to Berlin. I met couple of guys who were also taking the flight from Copenhagen to Berlin and going to see the Pokalfinale.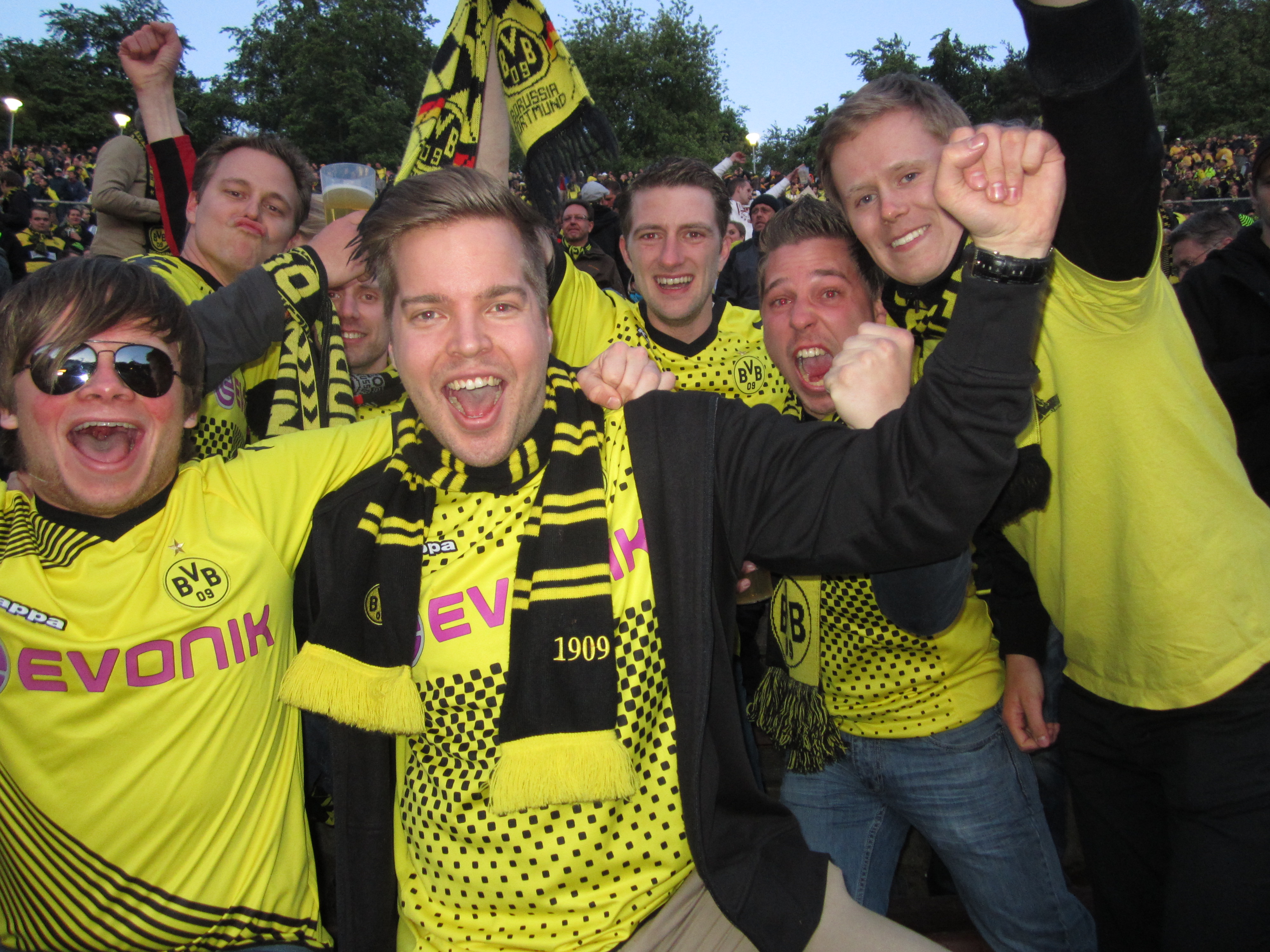 The guys were from Norway, Sweden and Denmark so we had a good representation of Scandinavia departing towards Berlin. We had a friendly discussion about which team was going to win the final since two of us were Borussia fans and the other two were supporters of Bayern. Obviously, we didn't reach a mutual understanding and so we simply decided that may the best team win!
I arrived in Berlin approximately at 13.00 and took myself to our hostel where I would meet Lauri. Since the match would start in about 6 hours we decided to quickly change BVB-gear on and start heading towards Brandenburger Tor and after that to Gedächtniskirche. Before we started our stroll from the hostel I "unfortunately" made a promise to the receptionist that the drinks would be on me if BVB would win the Pokalfinale. We all know how that wager ended up. This was actually my first time in Berlin so I had made some preliminary plans of how we were going to take ourselves around the city and so on. Although we didn't have that much time to explore the city I have to praise Berlin for being a really nice and especially untroubled city, when you take into account the size of it. We wanted to be in good time at the Waldbühne so we didn't have that much time to spend around the Gedächtniskirche but otherwise everything went just fine before the match.
It's pretty obvious that all the railway stations and just the whole city was packed with people and especially fans wearing black and yellow! We had many nice chats with fans of both teams and I noticed that every single one of Bayern fans were going to the Olympiastadion while there were a lot of Dortmund fans who hadn't got a ticket for the actual match. We took ourselves in through the gates of Waldbühne circa one hour before the match and it's easy to say that the place was packed. There were some seats left on the side of the stands but we wanted to get a clear view of the screen and started looking for some free seats in the middle of the crowd. Luckily we found just enough room for two guys like us and the waiting for the starting whistle could begin.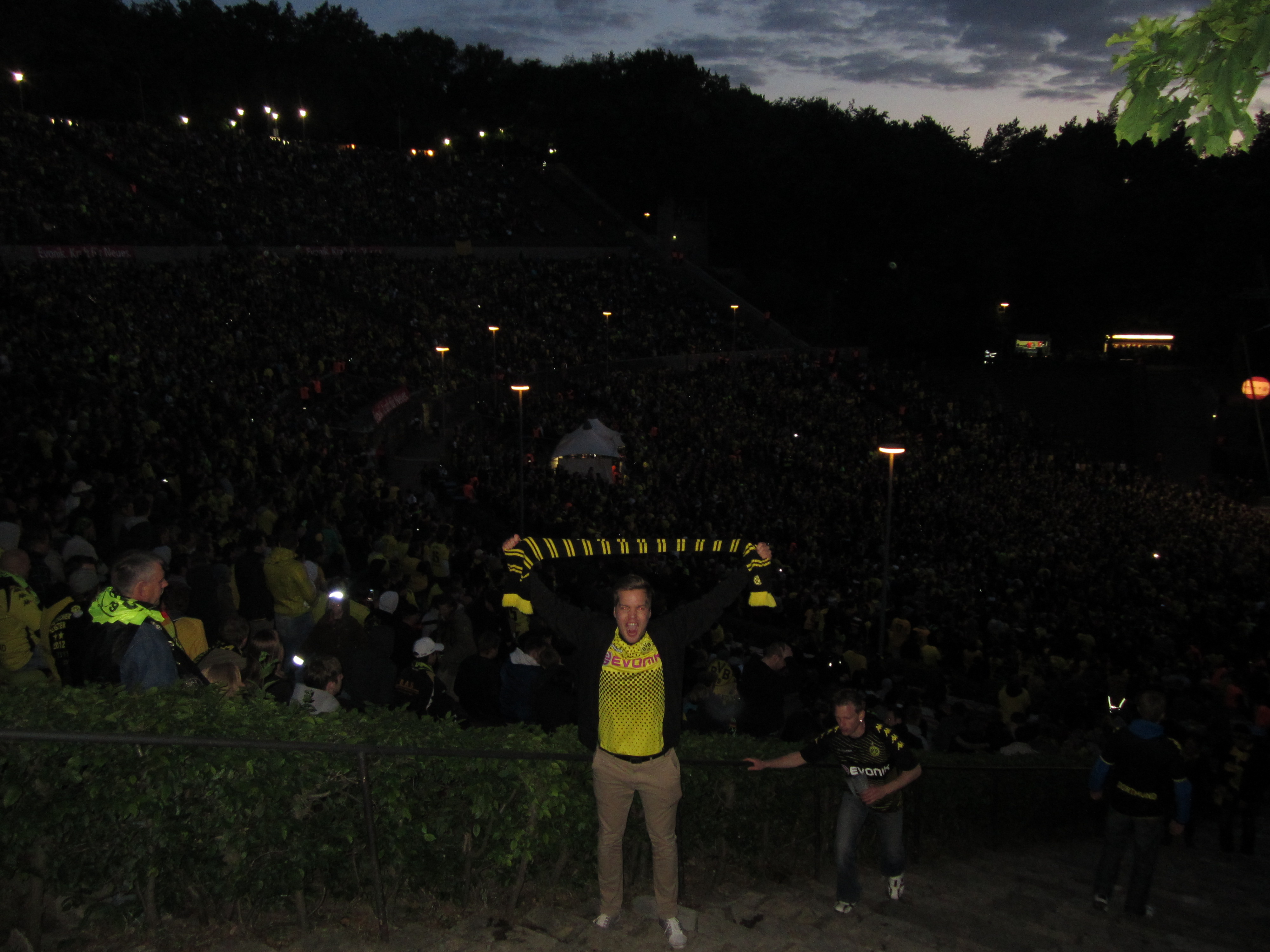 We started chitchatting with all of the guys around us and made friends with lots of people who were wondering why some guys from Finland would take themselves to the Waldbühne. I have had that same question asked of me many times and I can't come up with a short answer. I decided just to say that it must be "Echte Liebe aus Finnland" (Real love from Finland). The guys who we made most contact with were from Essen and they were really eager to know what is "cheers" called in Finnish. The outcome was that we were hearing "kippis!" shouts every other second and especially if Borussia Dortmund was playing well. As we all know BVB was in fact playing so well that we almost didn't hear anything else than "kippis!" all night long! The atmosphere at the Waldbühne was of course simply fantastic and we were enjoying ourselves quite a bit. This public viewing event was Lauris first BVB experience for quite a long time so I can imagine that it was a really great experience for him in every aspect. Lauri got the hang of all the BVB songs we were singing and the Essen guys were still wondering how I and later on Lauri could the lyrics of all the songs and could sing along or even start some of the songs. The highly fashionable "Ein Schuss, Kein Tor, die Bayern, DIE BAYERN!!!" song was naturally a popular one also in the Waldbühne and we were singing it numerous times during the evening.
I won't go into details regarding the match since it has been done here at Schwartzgelb.de already. I must admit that I probably couldn't even remember everything that happened during the game. I don't know if it was the excitement or the few beers that we had been drinking the reason for my forgetfulness.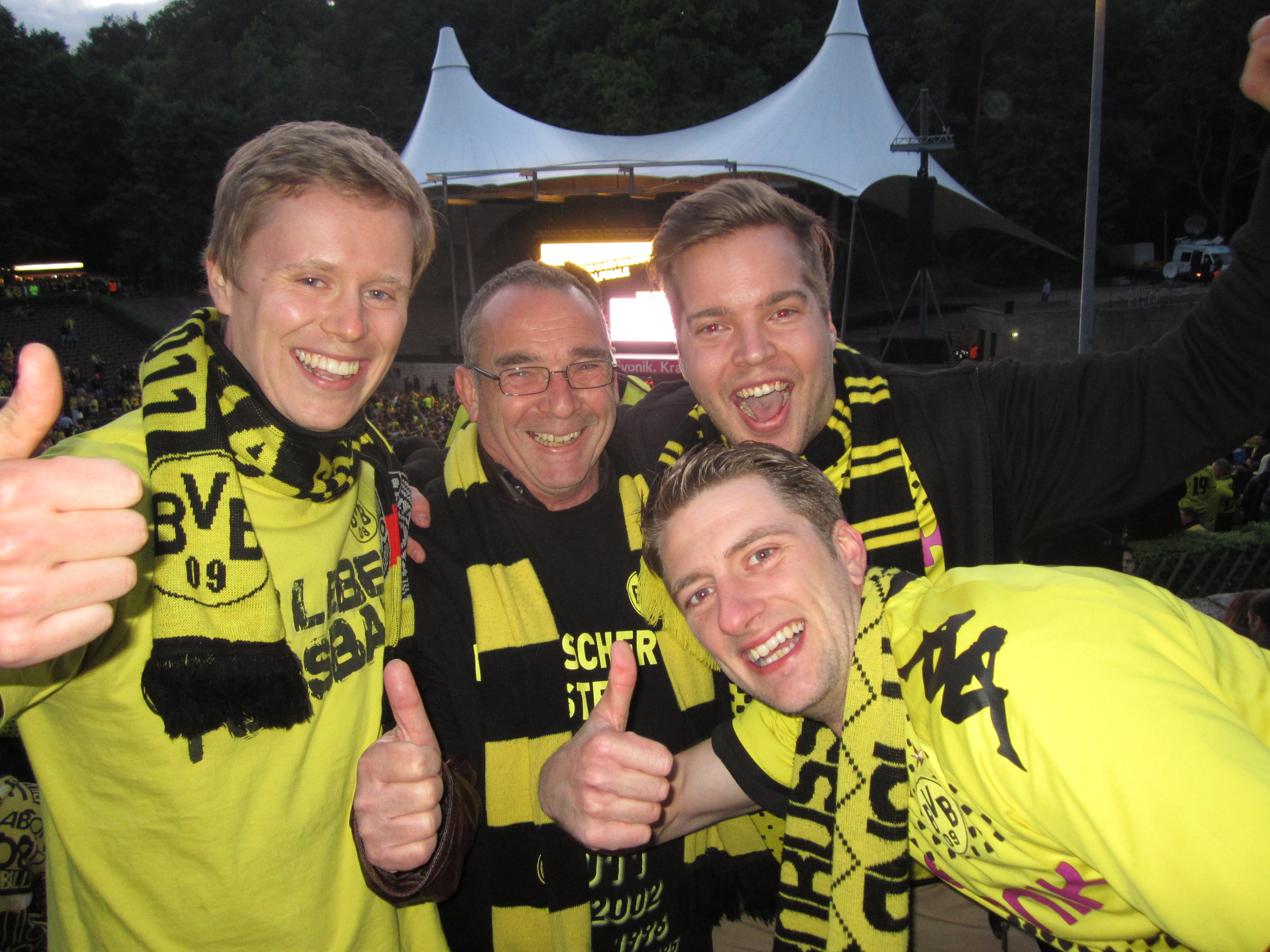 Needless to say that everybody was going crazy after the match and I even got a Deutscher Meister 2012 t-shirt as a gift from a true gentleman who was appreciating the fact the we had made the trip there all the way from Finland. All in all the public viewing event was to my mind a great success and it was certainly the best time I've ever had watching a football game without actually going to the stadium.
We stayed in Berlin for one more day before I had to fly back to Finland and Lauri back to the Netherlands. As a whole, the trip to Berlin was simply amazing and I must say that it was one of the best football related trips I have ever had. Of course every trip that includes a game of Borussia Dortmund is really great in its own way but this was naturally something special. This Pokalfinale was like a cherry on top of the cake after a historical Bundesliga season, especially considering the fact that this final was played against Bayern and that this is the first Double in the history of Borussia Dortmund. BVB played themselves in the history books in many ways this season but the Double is of course most significant for the fans of Borussia Dortmund. Quite simply just the perfect way to end a wonderful season from a wonderful club with some great fans!
A big 'Thank you' for everybody who has been involved in this great season and hopefully we will have the chance to again enjoy the same kind of performance next season! Echte Liebe!
Mika (+Lauri), 01.06.2012
[[$comments]]