Report
The birth of Robert Lewangoalski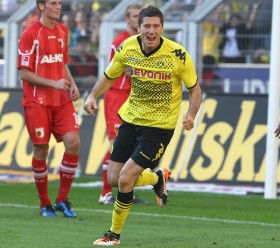 Saturday marked the birth of a new player of German champion Borussia Dortmund. During the 4-0 victory against FC Augsburg, a new forward appeared and decided the match on his own because of his three goals and one assist. Our new striker comes directly from Poland and is the replacement of another Pole who became successful with Borussia last year. The name of this young striker is Robert Lewangoalski. This is the story of his best performance in black and yellow so far.
Before the match
After the painful 0-3 defeat in Marseille, Borussia needed to get back on track with the match against newbie FC Augsburg who was promoted to Bundesliga for the first time in the club's history. Augsburg came to Dortmund without a victory, four draws and the same amount of losses as Borussia. Surprisingly, Klopp made five changes to the starting line-up in comparison to the match on Wednesday. Marcel Schmelzer could not compete due to an injury and was replaced by Chris Löwe on the left defensive side. For the first time ever, Neven Subotic did not start for Borussia and found himself on the bench, being replaced by "Tele" Santana. The midfield was mixed as well with Perisic, Gündogan and Kuba coming in for Großkreutz, Kehl and Kagawa. And of course, you found that new Pole named Lewangoalski as the forward of BVB. Augsburg missed several players, namely Verhaegh, Bah, Ndjeng, Hain, Mayer and Oehrl. However, these names are not very known around the globe.
First half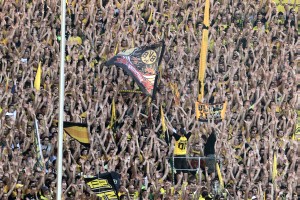 On a warm Saturday afternoon, the atmosphere in Westfalenstadion (which was sold-out once again) was quite good and got even better when Lewangoalski gave the assist for the first opportunity of Borussia. Perisic's shot from the left side out of a sharp angle, however, only hit the right post after three minutes had been played in the city of the championship winner 2011. Next up was a big opportunity for Mats Hummels whose header was cleared closely before the goal line after Chris Löwe brought in a corner kick from the right (11th). However, seconds later, Augsburg had the biggest opportunity of the match so far when Weidenfeller stormed out of his goal for no reason. After a misunderstanding with Hummels, our goalie punched the ball to Mölders who lifted the ball above Weidenfeller with a header and thanks to Felipe Santana who rescued the ball inches before the goal line, the match remained without any goals. However, Weidenfeller would get the opportunity to erase his fault out of the people's mind later on.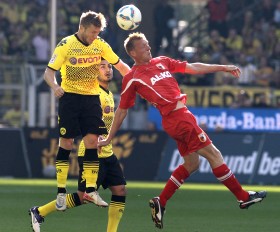 In minute 30, the ball found its way into the net. To describe how Lewangoalski scored for the first time is a bit difficult, since this goal was about fighting, pressing and the inability of the Augsburg defense to finally clear the ball. However, Lewangoalski showed good effort, kept the ball into play and finally left no chance for Augsburg goalie Simon Jentzsch. 1-0 Borussia, the rise of Robert Lewangoalski began and continued shortly before the break when Sankoh was once again not able to clear the ball and the Pole found himself alone at the penalty spot. After seeing the right side of the goal being left wide open, he capitalized and scored for the second time (44th). In the meantime, Perisic nearly had the opportunity to double the lead after a free kick taken by Götze, but Jentzsch found a way to clear the ball (33rd). Dortmund then could have been awarded a penalty after Götze was fouled by Davids (not famous Edgar with the cool glasses, but his cousin) in minute 37. However, Borussia ended the first half with the second trick of Robert Lewangoalski and went in the break with an important 2-0 lead against harmless opponents, key player of the game beside Lewangoalski definitely was Mario Götze who created much trouble in the defense of Augsburg.
Second half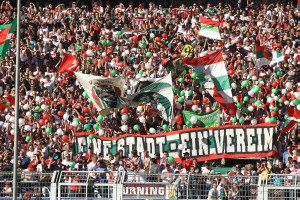 When nobody really doubted about the victory against the newbie of Augsburg at the start of the second half, a penalty was given to them after Gündogan tackled Werner – no doubt about that decision. But then, a miracle happened. Roman Weidenfeller is not known as a famous penalty killer and that's why an attitude of "penalty against us = goal against us" developed over time. However, for the third time in his career, Weidenfeller saved a penalty against Sankoh even though it was not taken badly (48th). Yes, miracles do happen in our temple Westfalenstadion. Sadly, some of the fans present on Saturday were not satisfied with the 2-0 lead of Borussia and the total control of the game and that's why whistles could be heard in the 60th minute. I am not able to put into words how I think about a behavior like that. It's just stupid to boo at your team when it is two goals in the lead. However, some "fans" expect too much from our team and probably wanted to see two-hundred-and-sixty goals by Lewangoalski at that day. Ridiculous!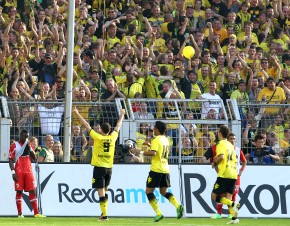 But Borussia answered with another good opportunity for Mario Götze who dribbled his way through the Augsburg defense and found his master in Jentzsch who did a brilliant save in that situation (61st). 14 minutes later, he was without any chance when Lewangoalski assisted Götze with a lob who then lifted the ball above Jentzsch and directly into the goal. 3-0 Borussia, when the match was not decided before that goal, it was after that brilliant one. Lewangoalski did not have enough and finished his hattrick after a cross by Götze and a header (78th).
Frustration rose for Augsburg and especially for Hosogai who attacked Löwe with a brutal slide at the height of the midfield line. For a reason only known to Babak Rafati, the worst referee in German Bundesliga, he was allowed to play on for a couple of minutes but got substituted some seconds later because coach Jos Luhukay knew how happy he could be that his player got away only with a yellow card. Luckily enough, Löwe could continue the match as well with two healthy legs and witnessed the last chance of Borussia seconds before the final whistle when Barrios assisted Lewangoalski but the Pole fired that ball wide. Therefore, Borussia ended that match with a deserved 4-0 victory.
Aftermath
Even with some changes to the team (and a incredible bench with Kehl, Subotic, Kagawa, Barrios, da Silva), Borussia only had small problems with Augsburg who will be relegated if they continue to play like on Saturday. It was not an all-impressive match of Borussia but there was no need to do so. It was an important victory against a small club, nothing less. But something more, since it was the rise of Robert Lewangoalski who will continue to score in around two weeks at the away game in Bremen. At least, that's what we hope for...
Stats
Borussia Dortmund: Weidenfeller - Piszczek, Hummels, Santana, Löwe - Gündogan, Bender - Kuba, Götze, Perisic – Lewangoalski
Subs: Barrios for Kuba (62nd), da Silva for Gündogan (68th), Großkreutz for Götze (79th)
FC Augsburg: Jentzsch - Callsen-Bracker, Möhrle, Sankoh, de Jong - Hosogai - Brinkmann, Baier, Davids, Bellinghausen – Mölders
Subs: Werner for de Jong (23rd), Langkamp for Baier (71st), Reinhardt for Hosogai (82nd)
Goals: 1-0 Lewangoalski (30th), 2-0 Lewangoalski (44th), 3-0 Götze (75th), 4-0 Lewangoalski (78th)
Bookings: Bender, Götze - Baier, Hosogai
Referee: Babak Rafati (Hanover)
Attendance: 80.720 (sold-out Westfalenstadion)
Vanni, 03.10.2011
[[$comments]]