Report
BVB wins first test match 7:0 - Kagawa brilliant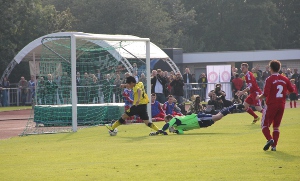 Borussia started the season preparation with a 7:0 victory against a selection of amateur footballers from the Sauerland region. Best man on the pitch was Kagawa Shinji who scored three times. Borussia newbees Löwe, Leitner and Persic made their first appearance in beatiful black'n'yellow
The summer break is finally leaning towards its end and so the BVB addicts could finally get their first fix of the season. So a caravan started from the beer capital into the Dortmund outback called Sauerland. This region known for its thick-headed farmers is inhabited by lots of Borussia supporters (regrettably just as much blue scum around), so Borussia visits it every once in a while for a test match. This time it was held at the Große Wiese (great meadow) stadium in Neheim-Hüsten. Jürgen Klopp brought almost everybody along that is fit to play, only skip Sebastian Kehl and Ilkay Gündogan rather enjoyed a training session at home "for no specific reason, we only thought it would do them good" as the champion-creator explained afterwards.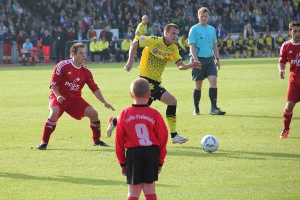 Luckily Japanese sensationi Kagawa Shinji was on board and proved right away that skipping half a year due to a broken foot has not hurt his form at all. Only two minutes played and he dribbled through 3 opponents, played a quick one-two with Kevin Großkreutz, intruded the box and put the ball into the net for the lead with ease. He also provided the 2:0 after a cross by Großkreutz. It is always amazing when you see him win a header against much taller opponents. The 3:0 was scored by Mohamed Zidan and who delivered the perfect pass? Of course it was Kagawa once more. And right before the haltime whistle Kagawa had his next big scene: He saw that the Sauerland goalie was too far out of his goal and he surprised him with a 17 metre lob that was unsaveable. Even if you take into account that he was facing players from lower leagues you could call this first match after so many months of injury outstanding.
The newbees on the pitch made quite a good impression as well. Moritz Leitner showed his good technique and passing skills in central defensive midfield and Chris Löwe was pretty active on the right wing. Only Ivan Perisic on the left offensive wing did not get too many balls as Borussia was playing mostly over their right and so he could only indicate his skills in a couple of scenes.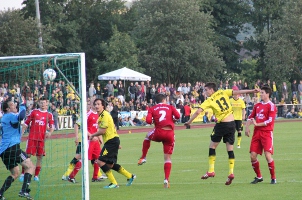 In the 2nd half coach Klopp changed the whole team and now the young Frenchman Damien Le Tallec had his time to shine. He is waiting desperately for a call from St. Pauli because he wants to join them on loan this summer and so he took the chance to be remembered. Just after the break he scored the 5:0 and after 68 minutes headed the 6:0 home as well after a da Silva corner. The final goal was scored by Robert Lewandowski who had seemed a bit shaky in front of the goal before. After a brilliant Götze assist he took the chance to show his signature move and lobbed the ball over the stunned Sauerland goalie. All in all it was a fun match to watch taking into account how early in season preparation this team really is at the moment.
Borussia Dortmund (half 1): Weidenfeller – Kringe, Hornschuh, Santana, Löwe – Bender, Leitner – Perisic, Kagawa, Großkreutz – Zidan

Borussia Dortmund (half 2): Langerak – Piszczek, Subotic, Hummels, Schmelzer – Bakalorz, da Silva – Blaszczykowski, Le Tallec, Götze – Lewandowski

Goals: 0:1, 0:2 Kagawa (2. /10.), 0:3 Zidan (11.), 0:4 Kagawa (43.), 0:5,0:6 Le Tallec (47./68.), 0:7 Lewandowski (75.)

Attendance: 6-7.000 at the Großen Wiese Neheim-Hüsten
Some more photos from the match: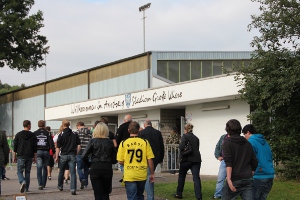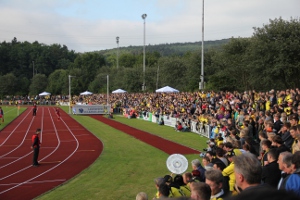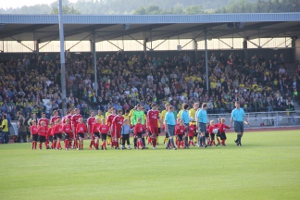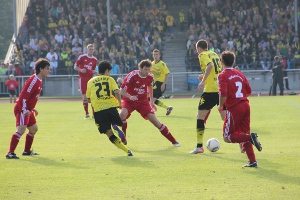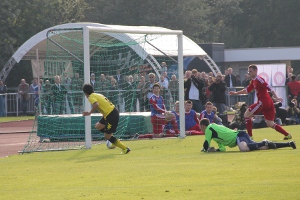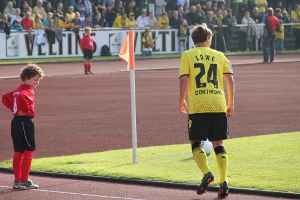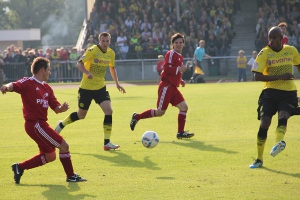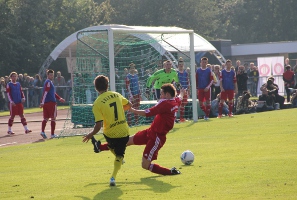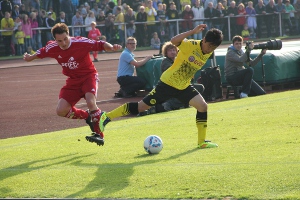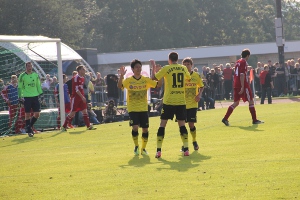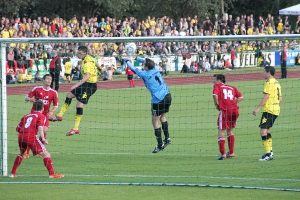 Web 05.07.2011

[[$comments]]