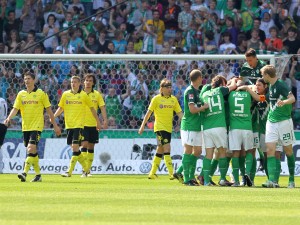 After last weeks celebrations, it was hard to concentrate on this footballweekend as we did it so many other times before. After all, we did it. We are the Championship winners of the season 10/11 and everything else would only be a bonus to what we had already achieved this season. Sure, there were still two records to pack in. For one: the smallest number of goals to get from the other team, as well as the number of the most victories in away games. Let me tell you in advance: we failed both. This fact however was rather disappointing for Roman Weidenfeller for example, it simply sounds more like a personal record. Bremen, on the other hand, still had a lot to gain from this game. They needed a victory in order to stay in the Bundesliga for good. Hence, an important game for them, a rather relaxed game for us. I had never been to Bremens Weserstadion and I have to admit that I don't really need to go there again. The view is terrible, the roof not really existing, the sun almost blew my head off (I guess rain wouldn't have been better) and overall, it was not a pretty stadium. But then again, I went with a few friends of mine who were Bremen fans and we agreed that we would like to see a good and friendly game. Bremen's coach Thomas Schaaf changed his team on only one position by suspending striker Arnautovic for spending more time in bars at night than in his bed, and letting Wagner play. Our Jürgen Klopp, however, sent the same squad on the pitch that we whitnessed last week, at least, nobody could say that we didn't take things seriously.
First half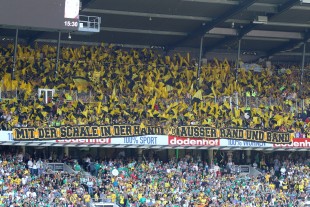 Well, from what it looked like, it came differently. It felt exactly like the team didn't take things too seriously. Maybe it was the lack of practise that they had throughout the past days, maybe it was the hot sun that surely made the game more exhausting or maybe it was simply the satisfaction from last week's game. Whatever it was, it was okay. Let's not blame the boys for taking things easily after working so hard and achieving so much the weeks before. Even though the records with the goals would have been nice, our hopes for that one actually vanished quite quickly. After only five minutes, Werder Bremen used a cornerkick in order to score. While nobody in front of the goal took use of that cornerkick, Silvestre used the ball that came towards him, while standing around 15 metres away, on the right side of the goal. He hammered the ball through everyone who was standing around, looking for the ball in the penalty area, straight into the goal. Weidenfeller had no chance. 1:0 for the hosts of the game. Chances for Bremen followed. Fritz after another cornerkick (10th) as well as Marco Marin, who only hit the goal post - usually our thing- (14th) Other than that, the game was boring. No excitement, no fire, no fueled duels, somehow the game was just rippeling away. To be honest, Bremen at least tried to fight and showed some effort since those three points were important for them, our team however, no real spirit, no real force - but then again: who cares? Still, the game started to be painful to watch. And not only to watch, it began to be boring to be there at all. The mood among the fans was close to nothing at all. I was standing opposite from our Dortmund fans and had a perfect view on them. The flags and the yellow masses were nice to look at, unfortunately though, you could hardly hear anything from them. Every now and then the sound went up and you could hear them sing loud and clear, but I guess I have seen and heard better effort before as well.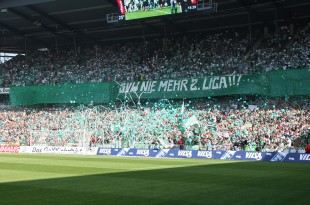 And yet again, us Dortmund fans were greater than the fans from Bremen. Standing on their side, I can tell you that there was basically no effort at all. Standing right there, I was sometimes wondering whether there would actually be some singing and cheering going on, but those moments were so rare that I can't even remember them clearly.
Back to the game, but yeah right, there is not really anything to tell from the game either. It was simply boring. Dortmund was now taking slight control over the game but then again, nothing exciting came out of it. The little breaks in between the game were used by every player in order to drink some water. Behind me, someone was asking whether there was some free beer, since everyone stormed to the benches where the rest of the teams were sitting. It was just hot. Shortly before the break, the eager running (as usually) Schmelzer played a nice cross into the center of the penalty area, but before Barrios could use it, Bremen's defense cleared the ball. Quite weird if you consider the fact that Bremens defense is surely not the best one in the Bundesliga and had witnessed some dark games. Maybe it was their lucky day today. Time for a break.
Second half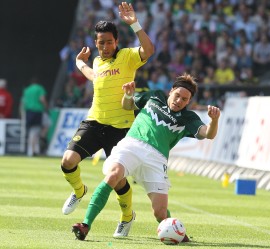 The second half started the same way the first half had started. Dortmund was still a little bit lost, Bremen a bit more motivated. Marco Marin showed that he believed in a second goal and tried to shoot the ball onto our goal from the second row - however not successfully (63rd). Pizarro then showed little Marin how to do things properly. He danced around and through our defense and shot the ball - of course- straight into our goal. 2:0 for Bremen. Record most certainly passé. Our Borussia tried, what I would call half heartedly- to develop some drive in front of the goal, but the always eagerly working Piszczek and Schmelzer couldn't make any difference. The crosses never found a way into the goal, just like the free kicks didn't really work out. At some point, it was a header from Barrios that created some danger for Wiese, but he, however, managed to catch the ball and clear the attack. At some point, it seemed like Bremen were only hoping for no goal against them and shot the ball off the pitch all the time. It seemed like we spent more time throwing the ball onto the pitch or kicking it onto it through a corner kick than anything else. The whole game looked like a game between friends. Bremen had enough, Dortmund didn't need more. As simple as that. To make a long story short: I was glad when the game was over.
Highlights and Thoughts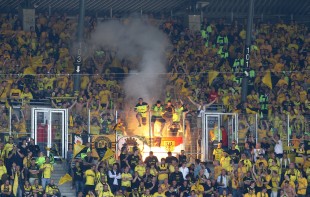 Don't get me wrong, there were not many highlights on the pitch but beside it, the atmosphere was actually quite nice. Memorable moments were the "Scheisse 04" chants from both fan sides when Mainz took the lead of the game. Also the Laola, started by the Bremen fans, was a nice thing to watch. Our Dortmund fans were happy anyway (I guess nobody is able to stop grinning when thinking that we are... oh you know what), and Bremen's fans were happy as well. A good reason to celebrate together. After the game, a nice gesture from Bremen's fans as well. After bremens captain Frings (do you remember him?) had given our Roman Weidenfeller some flowers in order to congratulate for the Championship, Bremen's fans stood up from their seats when our team left the pitch in order to applaud each and every one of them. They were chanting for Dede when he did his warming up-and chanted for our team when they left the pitch. Our team members said thank you by applauding back, doing the thumbs-up gesture, smiling, laughing, applauding. It was a nice thing to watch. Sahin's reaction to the applaus from Bremens fans? A bunch of tears. That's all there is to say about that. All in all, it seemed like a game between friends. Congrats Bremen for achieving the probably smallest goal you had wanted to achieve before the season. You belong into the first Bundesliga. And to our team: you are wonderful anyway, see you next week.
Stats
Werder Bremen: Wiese – Fritz, Mertesacker, Pasanen, Silvestre – Frings – Wesley, Bargfrede – Marin – Wagner, Pizarro
Exchanges: Schmidt for Wagner (59th), Trinks for Marin (77th), Stevanovic for Wesley (87th)
Championship winner BVB: Weidenfeller – Piszczek, Subotic, Hummels, Schmelzer – Großkreutz, Bender, da Silva – Lewandowski, Götze – Barrios
Exchanges: Kuba for Großkreutz (56th), Stiepermann for Lewandowski (76th), Zidan for Götze (76th)
Goals: 1:0 Silvestre (5.), 2:0 Pizarro (63.)
Referee: Günter Perl (Pullach)
Weserstadion: 40.600 (sold out)
Ida, 09.05.2011
[[$comments]]