Archiv
Lukasz Piszczek - From bench player to championship winning cornerstone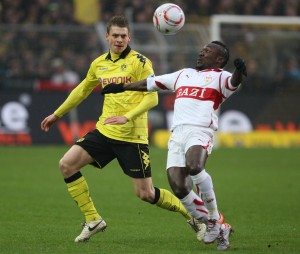 Lukasz Piszczek was not so well known when he joined Borussia. Now he is even famous in the U.S. of A. - at least well-established schwatzgelb.com guest author Derek knows all there is to know about the Polish international on our right wing. We are lucky enough, that he shares his insights with us:
Hummels, Subotic, Schmelzer, Goetze, Kagawa, Super Lucas, Port-a-potty shaggy-cum-shorn Kevin, Grandios Roman, Manni, Kuba, and the mighty Nuri Sahin. The names of the Borussia "young guns" (and their goalkeeping mentor) roll off of the tongue -- or jump off the page -- in article after article about how this swarming, energetic, skilled and youthful squad ambushed the Bundesliga and ripped the Schale from the fat, bejeweled, weisswurst fingers of wealthier, more heralded foes.
And because the squad began their rampage so early in the season -- sharing headlines with the "boy band" silliness in Mainz until the latter had to be peeled off the pitch after their first encounter with the Borussia steamroller -- the plaudits and articles piled up early and often. Attention rightly focused on the mastermind Klopp, Kagawa Shinji, he of the diminutive stature and transfer fee, (but "grandios" performance,) midfield master Nuri Sahin, and the central defenders.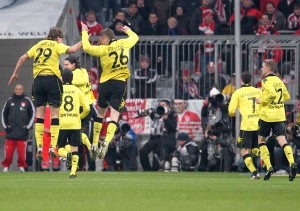 One name that seemed almost never to come up, however -- at least in the English language press to which I was exposed -- was Lukasz Piszczek's. And with some reason beyond a cornucopia of consonants. Early in the season, Piszczek was a bench player. Patrick Owomoyela manned the right back position opposite young Marcel Schmelzer. Moreover, Piszczek began the season as perhaps the least-heralded of the off-season transfers, making his way from relegated Hertha Berlin as a right back...or a midfielder...it wasn't clear, on a free -meaning Borussia paid Hertha as much for him as they paid me to be a fan- nada. The addition screamed "depth"...or didn't really "scream" at all. It whispered.
Here's what football news clearinghouse "Goal.com" had to say about the signing when it occurred: "Bundesliga outfit Borussia Dortmund have secured the services of versatile Polish midfielder Lukas [sic] Piszczek from Hertha Berlin on a free transfer..."Dortmund have qualified for Europa League football next season and head coach Juergen Klopp is eager to add some more depth to his squad in the summer transfer window."..."I think I'll grab something from Kartoffel Lord on the way home."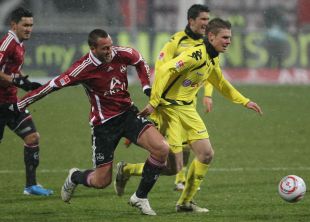 OK, that last sentence wasn't part of the synopsis, but it may as well have been. Granted, Goal.com may not be the first choice portal for well-researched, considered opinion, (and indeed, Piszczek had spent much of the prior season at right back at Hertha, having switched from the midfield the previous season) but the analysis can be translated succinctly as follows: "YAAAAAAWWWWWN." Free transfer. Relegated team. Squad depth. Next article, please. When is Neven Subotic riding a tidal wave of money to Manchester City, anyway?
So Piszczek began the season as a relatively forgotten man. He had talent, sure -- he was a Bundesliga starter, albeit for a dreadful side, and a capped international for the Polish National Team. The Poles are not "der Mannschaft" or "La Furia Roja," sure, but they're no international slouches, either. Piszczek was an international teammate of established Borusse Kuba and the most expensive summer signing, prolific goal-grabber Robert Lewandowski. And he was relatively young, though not for this squad. Another promising sapling for the Borussia orchard, to be sure, but the back-up to the fourth most-heralded of four defenders. Perhaps it's largely a testament to how good the other defenders were (and are,) but the word "afterthought" doesn't seem entirely out of line.
Well, clearly Susi Zorc and Kloppo knew better.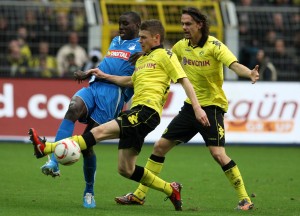 Piszczek went from squad player and spell-check nightmare to the first choice right back in the "Kicker" end-of-season poll. His rocket runs down the right of the pitch were perfect for the BVB philosophy, and he proved himself an accomplished crosser. His "Kicker" grades show a steady progress after his first noteworthy appearance against Kaiserslautern, and he finished with a more than respectable 3,09, along with 7 assists. He was perhaps at his best down the stretch, when Neverkusen sort of, almost, but not really made things interesting. One observer noted his tendency to cut inside on attack from his wide position, likening his role to that of Portuguese star Fábio Coentrão, who is set to join Nuri Sahin at Real Madrid this summer for a cool 25 million Euros.
He did all of this with the spectrue of a controversy dating back to his earliest days in Poland. He was implicated in a match-fixing scandal, one that allegedly saw him as a young player presented with an uncomfortable dilemma -- join teammates or go it alone refusing to participate. Hardly a fair choice.
In any event, those dark clouds cleared with the arrival of the championship, one for which Piszczek could rightly claim he played an important role. As rumors swirl about Dortmund players leaving to join the ranks of La Liga and the EPL, fans can take comfort that the unheralded "squad player" set to play a larger role could be more than just a stopgap. He could be great. He could even be a Lukasz Piszczek.
Derek 06.06.2011
Guest authors express only their own opinion which must not necessarily correspond to the view of the editors of schwatzgelb.com

[[$comments]]