Archiv
Mission: No ball for Ballack!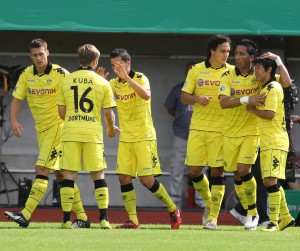 First matchday: Borussia – welcomes Bayer Leverkusen

Let's speak it out loud: Glad all over!
105 days without Bundesliga and Borussia – a terrible time! Yes, we all enjoyed the worldcup, six exciting weeks with many interesting matches and a great atmosphere! But, to be honest, that's not the perfect substitute for matches of Borussia Dortmund, especially in our Westfalenstadion! Surely no one of us will deny it!
But now the weeks without Bundesliga are over and let's have a big round of applause for season 2010/2011!

Borussia's first steps into the new season looked absolutely positive: A 3:0 win in the first round of the cup against Burghausen and on Thursday we saw a 4:0 win against Quarabag Agdam from Azerbaijan for our qualification for the Europa league! This Sunday afternoon we will continue with "daily business": the first Bundesliga matchday and Borussia welcomes Bayer Leverkusen in our Westfalenstadion!

Talking about Bayer Leverkusen during the last weeks means talking about Michael Ballack, who left FC Chelsea London and became now Bayer's new top player. Ballack's non-attendance in Germany's world cup team and the question "will he still remain captain of the German team?" still hit the headlines. But currently we find Ballack also on the front pages of the gutter press. Rumours about a liaison with the girlfriend of Christian Lell his former teammate in Munich is excellent stuff for the yellow press. So with regard to gossip feed, 33 years old Michael Ballack presently seems to be the "German David Beckham". But let's leave the gossip club: Bayer Leverkusen is definitely not only Michael Ballack alone. For many experts the team of Jupp Heynckes is one of the favorites for the top three in the league this season. Indeed Tony Kroos who was on loan returned to Bayern Munich but beside new top midfielder Ballack we find a lot of high class players: Goalkeeper Rene Adler, defenders Sami Hypiä, Manuel Friedrich, Gonzalo Castro, forwards Patrick Helmes and Stefan Kießling only to mention a few.
But Bundesliga chroniclers know: Through the years we always found very popular names in Leverkusen's line ups but the last success of Bayer leads back to 1993 as German cup winner. No wonder that Bayer's nickname in the league is "Vicekusen" due to four vice championships since 1997. Proof enough that a lot of money the mighty Bayer company transferred to its football division is no guarantee for success! Last season Bayer achieved position 4, and opened the new season successfully: 11:1 against Pirmasens in the cup and in the qualification match for the Europa league a 3:0 win against Tawrika Simferopol from Ukraine.

But now it's high time to change from Vicekusen to Dortmund to take a look at our Borussia!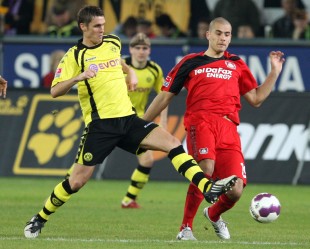 We all are happy about the wins in the cup and for the Europa league qualification. But for all of us it seems to be clear: The match on Sunday against Bayer will be the first serious test for Kloppo's team! Borussia's young guns against Bayer's all-star team!

Yet good news before the kick off on Sunday regarding the number of sold tickets for the Westfalenstadion! For the fourth time in the club's history Borussia sold more than 50.000 tickets! 51.200 season tickets sold, for Borussia's chairman Hans-Joachim Watzke "an incredible credit of trust"! Absolutely right! But beside this new record all of us are curious about the new line up of our Borussia!
After long discussions and a lot of uncertainties now it's final: Nelson Valdez will move from Borussia Dortmund to Hercules Alicante. All the best for Nelson who joined our club for four years! In addition to Nelson also two other long time BVB players left our club: Tinga returned to Brazil and goalkeeper Marc Ziegler is now on VFB Stuttgart's payroll. But a new season means also new footballers! It seems that Borussia's new striker Shinji Kagawa from Cerezo Osaka could be one of the new darlings of the public in Dortmund. His strong performances in the previous matches and especially his two strikes against Qarabag raise our hope that Shinji will have a good time in Dortmund! We also saw three other new team members against Qarabag last Thursday: Defender Lukasz Piszek replaced Owomoyela due to Patrick's stomach flu and in the second half Klopp sent striker Robert Lewandowski and midfielder Mario Götze (former Borussia's U19) on the green. For many experts Mario Götze is one of the most talented footballers in Germany. And for many fans Mario could be a new Lars Ricken. Mario could be a substitute for the injured Kuba. Sadly the Polish international injured a muscle during the match against Quarabag and will not be available for two weeks.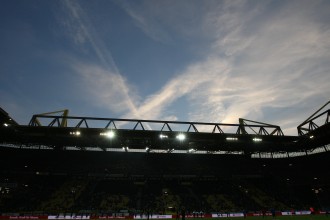 A popular but also a rare guest on Sunday in Dortmund: Germany's national coach Jogi Löw will watch the match on Sunday live in our Westfalenstadion!
And hopefully he will see three points for Borussia! A good start into the new season would be a perfect closure of a successful black and yellow week!

Henry 21.08.2010