Archiv
Wacker, Wacker, eh eh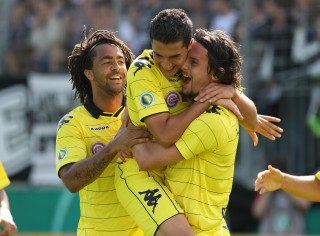 Borussia Dortmund started the new season in style with an easy 3-0 win against Wacker Burghausen. While the black-yellow lads secured the result early in both halfs, there were also periods of lacking concentration. Nonetheless a deserved progress to round two of this season's DFB cup.
Scenario/Line up
The were many rumours and suggestion during the last couple of days, how Borussia's line up this season might look like. Most positions in defence were pretty clear. But there were some final decision to be made in midfield. Sahin and Kehl starting as holding midfielder, leaving Sven Bender on the bench. Maybe the biggest surprise was that new Japanese signing Shinji Kagawa, signed for only 350.000 Euros, started in central midfielder. Kuba was his partner on the right side in favour of Götze. Kevin Großkreutz started on the left wing, just like last season. Up front was Lucas Barrios, who just returned from a national match with Paraguay.
The biggest news on the other side were the dismissal of Burghausen's coach. The new man on the line is surely a big name – Mario Basler, former player of Bayern Munich, Werder Bremen, Kaiserlautern and Hertha BSC Berlin and a former national player. But as he had only a couple of training sessions with the team, his impact on tactics and strategies was not that big.
First Half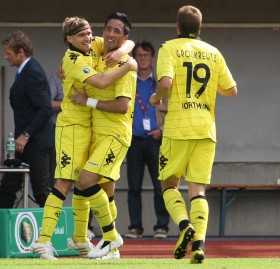 The first two or three minutes the match was a little bit unorganized but our boys found touch quickly. Already in minute 4 Kagawa played a superb high cut-in, which found Lucas Barrios in the middle of the box, maybe 6 or 7 metres in front of Burghausen's goal. The Paraguayan national just continued where he stopped last season and hit with a precise header – 1-0 Borussia! Despite leading so early in the match, it was deserved as Burghausen wasn't able to get any significant ball posession. In minute 13 Nuri Sahin tested Burghausen's goalie Michl with a long distance shot that turned into a corner. The young Turkish holding midfielder of course took the corner kick hinself. And this time it was central defender Neven Subotic who jumped higher than the Bavarian players and hit the ball by head – 2-0 BVB! It seemed that this year BVB wouldn't have any problem proceeding to the next round. And like in the test matches again Kagawa shined. He had a nice approach in minute 18, which he wasted int he end. Only 6 minutes later he set the ball up for Barrios nicely. Nearly half an hour into the match Burghausen had their first "chance", a shot from 25 (!) metres wasn't a problem at all for Weidenfeller. Nonetheless being superior on the pithc the Borussia players somehow lost touch a little bit and weren't going for the third goal. Only a decent approach by Owomoyela in minute 32, but that was it. Still at all a nice performance of BVB.
Second half
Jürgen Klopp made one change during half time break. Kuba stayed in the cabin and Mario Götze, a highly rated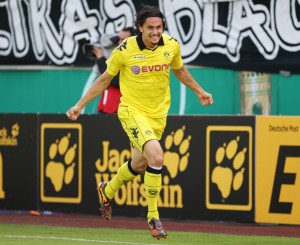 talent, entered the pitch. And indeed only 3 minutes into the second half it was Mario Götze, who paced down the left wing and penetrated Burghausen's box. Instead of trying to hit the goal on his own he played a intelligent pass over to Barrios, who was waiting in front of the goal. Normally an easy task for Lucas, but this time he missed the ball. By deflection Großkreutz had the chance to shoot and scored – 3-0 BVB! If there was any hope for Burghausen to turn this match, it was smashed now. And again Borussia lowered the pace of the match and tried to save energy. New striker signing Lewandowski, bought for 4.5 million Euro, came in for Barrios in minute 56. Being 8 minutes on the pitch he had a first approach when the tanked down the left side. His low shot from 14 metres was some metres wide. And Klopp gave another star player a break and took Nuri Sahin off. Sven Bender took his position. Though it was still Borussia Dortmund who dominated the match the last 20 minutes saw a Burghausen team that finally started to play something like football. Some not that dangerous shots from outside the box weren't any task for Weidenfeller. Even Burghausen's first corner kick in minute was harmless. Mario Basler had a last funny action to present. In the dying seconds he ordered his goalie Michl for a corner kick into BVB's box. But as this one was also wasted, the match ended 3-0 for Borussia Dortmund.
Summary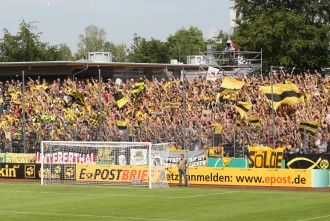 Nothing more than fulfilling our duty was this trip to Burghausen. Of course there were season Dortmund had big problems with the amateur clubs. But this time Burghausen was of no danger. A deserved 3-0 win with some lazy periods especially in the second half. Now it is time to concentrate for the Euro League qualification match at home against Qarabag Agdam.
Statistics
Burghausen: Michl - Brucia, Eberlein, Omodiagbe, Halfar – Burkhard (56. Olumide), Hertl, Holzer, Grübl – Fischer (67. Akkurt), Hess (60. Neumayr)
Coach: Mario Basler
BVB: Weidenfeller [2] - Owomoyela [3], Subotic [2], Hummels [3], Schmelzer [3] - Kehl [3], Sahin [2] (66. Bender) - Kuba [3] (46. Götze [2]), Kagawa [2], Großkreutz [3] – Barrios [2] (56. Lewandowski [3])
Coach: Jürgen Klopp
(Marks: 1=world class, 2=did very well, 3=performance was ok, 4=not enough but not too bad at all, 5=not worth the money, 6=should pay money for playing football)

Goals: 0-1 Barrios (4., header, assist Kagawa), 0-2 Subotic (13., header, Sahin), 0-3 Großkreutz (48., right-footed, Barrios)
Yellow cards: Halfar, Grübl, Brucia / Owomoyela
Referee: Marco Fritz
Attendance: 10.500 (Wacker-Arena, sold out)
jonam, 15.08.2010