Archiv
Happy birthday Borussia!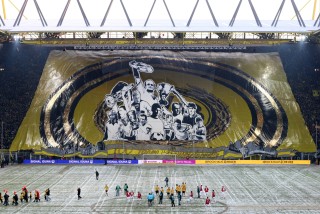 Notorious things happened this weekend. Of course there was Borussia's fourth win in a row, which lift our boys to the fifth spot of the table. But that was only the initiation of a magnificient night, where BVB celebrated their 100th anniversary.
Scenario/Line up
Jürgen Klopp was on the one hand in a comfortable position as he was able to field the same line up like last week, but oin the other hand such important players like Kehl and Hajnal were still missing. So in front of Weidenfeller Schmelzer, Hummels, Subotic and Owomoyela started as a flat four. In midfield Sahin and Sven Bender started a holding midfielder, while Großkreutz took the right and Kuba the left side. Up front it were Zidan and Barrios with Zidan playing something like an attacking midfielder..
On the other side Freiburg coach Dutt this time chose Caliguiri over Jäger in midfield. Beside that it was the same line up that earned a draw against FC Köln last week.
First Half
A nearly sold out Westfalenstadion and temperature below -13°C set the icy stage for this last match of the season's first leg. But just before kick off there was still a real highlight. As a birthday present for our beloved club the supporters had created one of the biggest choreographies of all time. Really impressive! Back to the game: The pitch was frozen to the ground and it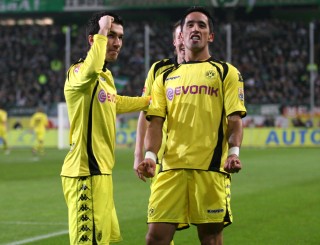 was surely not a real pleasure for both teams. Nonetheless Borussia Dortmund started a little bit more aggressive than Freiburg and quickly earned possession in midfield. In minute 6 Nuri Sahin tried a first vertical pass that was cleared by Butcher. But Freiburg was not willing to be a nice birthday party guest and answered. Only 4 minutes later a fine combination found Makiadi 18 metres in front of Weidenfeller's goal, but his shot went wide. While Borussia somehow lost touch, Freiburg now won more and more ball possession. Though there were minor chances by BVB, Freiburg was more or less more effective. But in moments like these, we can rely on our world top scorer – Lucas Barrios. A superb one-two in minute 19 between Großkreutz and Schmelzer found the latter up and away on the left wing. His nice high cut-in found barrios totally unmarked 7 metres in front of Pouplin's goal. That was really no task for "la pantera" and with a fine header he hit the net – 1-0 BVB! Freiburg tried to give an answer, but now Borussia's midfield and defence tightened up spaces and destroyed any combination of the guests. So a free kick in the 33rd minute by Banovic, which went wide, was the only real approach until the half time whistle.
Second half
The second half started like the first one ended. Borussia Dortmund and SC Freiburg had to fight with the lousy pitch and the low temperatures. While BVB was in the comfortable position to be in front 1-0, it was Freiburg's turn to set the pace. While a shot by Großkreutz in minute 52 was wide, Freiburg raised the pressure. In the same minute central defender Mats Hummels made a mistake and so let Reisinger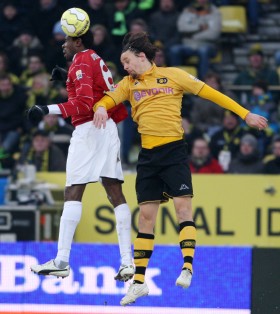 penetrate the penalty box unmarked. For god's sake Roman Weidenfeller reacted quickly and saved Reisinger's shot. And on the other side it was again Kevin Großkreutz. He paced behind a sharp pass and entered Freiburg's box. Guest goalie Pouplin cleared the ball somehow but also took Großkreutz down. A difficult decision for the referee. In the end his decision to deny a penalty seemed more or less alright. The last 30 minutes of this match Freiburg on the one hand tried to create more dangerous situation – with no luck. On the contrary Borussia tried to defend their goal with everything they had. Only a few counter-attacks were initiated. Adding to that a couple of substitutions let the clock tick towards the final whistle. And so in the end this match stayed 1-0 for Borussia Dortmund.
Summary
If any team earned three points it should have been Dortmund. Though Freiburg was trying, they lacked any kind of fire power. At all it was no good match and only the fact that Borussia Dortmund were able to celebrate a nice birthday party made this a good match and result. BVB finish with the fifth spot and will try to defend it throughout the return leg of the season.
Voices
Jürgen Klopp: "That were harsh conditions. Real football was not possible. It was hard work as we forgot to make an early decision. Nonetheless my team is learning quickly. 30 points from 17 matches is a very good record."
Robin Dutt: "I congratulate BVB for winning this match and because of their birthday. But at all our plan was not to give 3 points as a present. My team showed a good performance, but received an early 0-1. We lacked concentration and so lost the points"
Statistics
BVB: Weidenfeller [2] - Owomoyela [3] (74. Dede), Subotic [2], Hummels [2], Schmelzer [2] - Bender [3], Sahin [3]- Kuba [4] (78. Valdez), Großkreutz [3] – Zidan [4] (90. Santana) – Barrios [3]
Coach: Jürgen Klopp
SCF: Pouplin – Cha, Butcher, Bastians, Mendy – Banovic, Makiadi – Caliguiri, Abdessakdi – Reisinger, Idrissou
Coach: Robin Dutt
(Marks: 1=world class, 2=did very well, 3=performance was ok, 4=not enough but not too bad at all, 5=not worth the money, 6=should pay money for playing football)
Goals: 1-0 Barrios (19., header, assist Schmelzer)
Yellow cards: - / Banovic
Referee: Sippel
Attendance: 80.100 (Westfalenstadion)
Here are som more impressions from this remarkable day for our Borussia: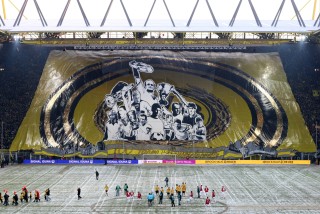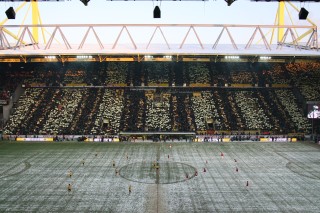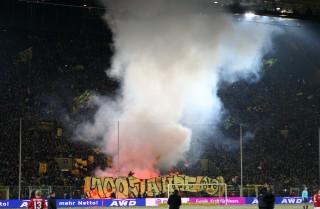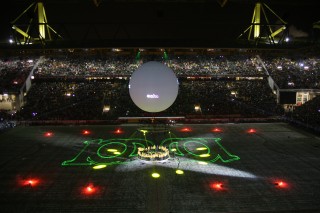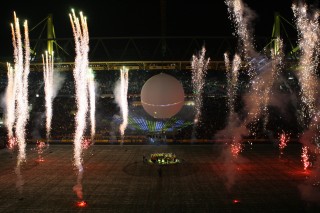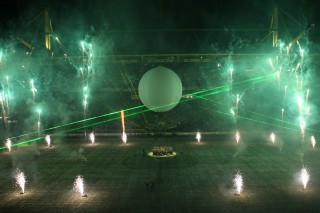 Jonam, 23.12.2009