Archiv
Berlin, Berlin, we're going to Berlin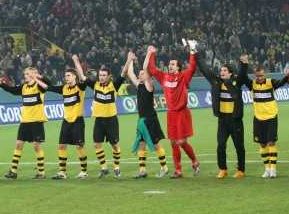 Ok, ok, maybe a little bit exaggerated, but with a hard fight and a more or less lucky 2-1 win over Werder Bremen. In front of 64.100 spectators Dortmund went through by goals of Givanni Federico and Diego Klimowicz. Now the quarter finals are waiting on our way to Berlin.
Scenario/Line up
The elder ones of us might remember. Once there was a Borussia Dortmund team that reached the final of the German FA Cup, called DFB Pokal. And as there are sometimes coincidences by luck, that players became heroes, when the beat Werder Bremen 4-1 in 1989. One of those giants is still an idol at Strobelallee. Norbert Dickel, who scored 2 goals back then, is still our official stadium announcer. That cup win started a period of hyper success in which BVB won everything: championchips, the Champions League and even the FIFA club world cup. But on the other side Borussia wasn't able to reach another DFB Pokal final. Even more we became a team, that found an early exit nearly every season. Many times we lost to Amateur teams of the 3rd or even 4th division.
Borussia Dortmund had a nice trainings camp in Marbella, Spain. Thomas Doll, who got his contract extended till 2010, had most of his players available. Only Weidenfeller and Degen were missing. But even Alexander Frei returned from long time injury and took place on the bench. Roman Weidenfeller was replaced by Marc Ziegler, who had already some matches between the posts this season. On the left back position Rukavina, new signing from Serbia, played instead of Philipp Degen, on the right side Dede started. Our central defence was made up by Amedick and Robert Kovac, while Kehl, Tinga, Kringe and Federico played in midfield. Up front Valdez and Petric builded out attack.
Werder Bremen had to do without some key players. Striker Sanogo is playing the Africa nations cup in Ghana, Frings is missing due to injured cruciate ligaments. Adding to that right back Clemens Fritz was still missing. And as Diego just returned from injury he took place on the bench.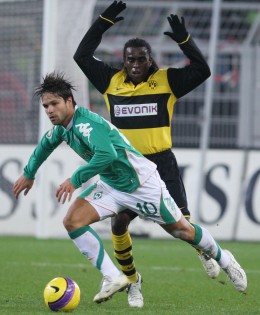 First Half
The game kicked off with some minutes delay. 64.100 spectators joined the match. And it didn't start like some months ago, when Borussia Dortmund trashed Werder 3-0 with 3 first half goals. Instead Bremen were dominating the first minutes. But only some minor chances were created and weren't a problem for Marc Ziegler. By surprise Borussia Dortmund had there first approach in minute 7. A nice play by Florian Kringe found Giovanni Federico on the left side of Bremen's box. From narrow angle the Italo-German midfielder took the ball volley. Unfortunately this one was wide. In return Bremen was close to score the lead. An attack from the right side didn't found any Werder striker but Kring. Florian's desperate clearing move nearly hit the own net and passed the bar by centimetres only! And Werder Bremen was still dominating the midfield and so the whole match. Ony 7 minutes later Ivan Klasnic was in nice position but missed a more or less easy ball. That could have been the lead for the guests. But sometimes, when you waste your chances, the opponent strikes back. And really, in minute 19 Petric got the ball in left midfield, moved to the central and played a very beautiful low pass that cut Bremen's defence into peaces. Federico, who was not offside, was up and away direction Tim Wiese. The tall Bremen goalie was left without a chance when the ball hit the lower right corner of his goal - 1-0 Borussia Dortmund!
Bremen seemed impressed by Dortmund's goal and from this moment on the match was a little bit more balanced. Though most of the attacks were still initiated by Werder, they lacked clear approaches. There was only a shot from more than 20 metres by Daniel Jensen, which was wide. It took until minute 40 until BVB had there next chance. Somehow a duplicate of the first goal, Federico again got the ball on the left side of the box. This time he hesitated to finish but instead wanted to pass to Valdez. Surely a bad idea as the ball was cleared by a Bremen defender. Just before halftime it was again Ivan Klasnic, who wasted his 3rd big chance of the first 45 minutes, when he missed a ball 6 metres in front of BVB's goal. All in all, the lead was not deserved. SV Werder was clearly the better team and created more chances. The difference was our coolness in front of the goal.
Second half
Both teams started without changes. But while Bremen dominated the first 45 minutes, the second half started more balanced. Though Bremen was still having more ball possession, the green-whites weren't able to break into Dortmund's box. In minute 68 guest coach Thomas Schaaf took Baumann of the pitch and finally brought on Brazilian wiz kid Diego. The small, gifted playmaker seemed hyper-motivated and immediately took the lead in Bremen's midfield. It seemed that now the match could really turn. And while Borussia Dortmund's supporters were afraid, that there dream of making the final trip to Berlin could vanish within the last minutes, it was one of our strikers, who was in no one's view, who injected new hope. Diego Klimowicz, written off by many fans, was in middle of the action. Sebastian Kehl in minute got the ball 20 metres in front of Bremen's goal. And like Petric in the first half, he played a nice low pass, that left Bremen stunning. Diego Klimowicz with a perfect sprint got the ball and was unmarked in front of Tim Wiese. He dribbled past the Bremen goalie and had no problem hitting the net - 2-0 for Borussia Dortmund!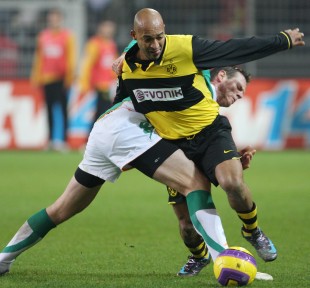 While the masses on the stands were still celebrating and chanting the old song "Berlin, Berlin, wir fahren nach Berlin" ("Berlin, Berlin, we going to Berlin"), it was now referee Fandel who took command of the match. Only 120 seconds after BVB's 2nd goal Sebastian Kehl tackled Bremen striker Rosenberg in Dortmund's box. Though the BVB holding midfielder hit somehow the ball, he clearly knocked down Rosenberg. And so Fandel called a deserved penalty. Diego took the ball and left Marc Ziegler no chance with a fierce low shot into Ziegler's right corner - 2-1! And to make things even worse another 120 seconds later, something like a déjà vu occurred. A long ball forced Amedick and Rosenberg into a running duel. While Rosenberg had no chance to play the ball past Ziegler, referee Fandel saw that Amedick had his hand on the striker's jersey. He didn't hesitate and called another penalty - unbelievable! It was again Diego, who has a next to perfect record from the spot, who took response. This time Marc Ziegler decided for his left corner. And really, Diego changed corners and the ball was cleared by our goalie - still 2-1 for BVB! With this moral breaking saved penalty BVB was on their way to the quarter finals. Though Bremen still attacked, but the high cut inns weren't a problem for Kovac and Amedick. And so Fandel blew the final whistle after 92 exciting minutes of cup football!
Summary
Of course Borussia Dortmund didn't display like a top team. Werder Bremen dominated most of the first half. But in contrast to our offence, they wasted several good chances. Especially our midfield was not well organized. Tinga and Kringe, who had the half left and half right position, drew to the middle too often. That gave Bremen much space on both wings and left Dede and Rukavina without any help. Luckily our offence found the net with one of their few approaches. However, our moral and fighting spirit was ok and we took on the fight. And of course we were lucky in the end that hero Marc Ziegler cleared Diego's second penalty. Now we'll have to wait for Saturday's drawing to see whether we have another cup match at home. And who knows, maybe this season our dream of travelling to Berlin really turns into reality.
Voices
Thomas Doll: "Werder gave us a hard fight, but we played well. It was important to get into the match quickly. That happened with Federico's goal. In part our gameplay was to hectical."
Thomas Schaaf: " We delivered a great match and attacked 90 minutes. We didn't used our chances and beat ourselves today. Dortmund converted both of their chances."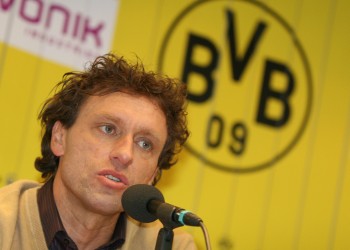 Statistics
BVB: Marc Ziegler (2) - Rukavina (3), Amedick (3), Kovac (3), Dede (3) - Kehl (4) - Kringe (4), Tinga (4) - Federico (3) (70 Buckley) - Petric (2) (90 Hummels), Valdez (4) (66 Klimowicz)
Coach: Thomas Doll
Werder Bremen: Wiese - Pasanen, Mertesacker, Naldo, Tosic - Baumann (68 Diego) - Jensen, Borowski - Hunt - Klasnic (63 Almeida), Rosenberg
Coach: Thomas Schaaf
(Marks: 1=world class, 2=did very well, 3=performance was ok, 4=not enough but not too bad at all, 5=not worth the money, 6=should pay money for playing football)
Goals: 1:0 Federico (19, right footed, assist Petric), 2:0 Klimowicz (80, left footed, Kehl), 2:1 Diego (82, penalty, Rosenberg)
Yellow cards: Dede / Baumann, Pasanen, Naldo
Referee: Fandel
Attendance: 64.100 (Westfalenstadion)
jonam - 30.01.2008