Archiv
Berlin, Berlin - still going to Berlin

After last Saturday's win over Hansa Rostok now all eyes were set on Tuesday's cupclash against TSG Hoffenheim. A team that made his way through minor-league football and is a new addition to German pro-football.
Dietmar Hopp, owner of Software-giants SAP, was born only a few meters away from the football-ground in this tiny village in Southern Germany. He liked the idea of having his own team and put some money into it. As he is a Billionaire some money actually means quite a lot of it. After a bad start to their first second league season they are on the upswing right now and still have shares in the promotion-battle. We might see them again next season. Enough words on Hoffenheim for now.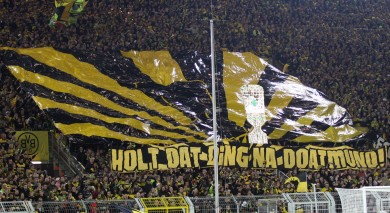 Borussia however had the unique chance to qualify for the semis for the first time in 19 years. Why let it pass against Hoffenheim? Because of our unsteadiness? Because of a flu that before the game also hit Delron Buckley? Some 50.000 supporters did not even think about loosing to Hoffenheim but dreamt of unpacking that plastic banana for a trip to Berlin on April, 19th. Plastic banana? Part of the black and yellow invasion in 1989. When David Hasselhoff still claims that he opened the wall by singing "Looking For Freedom" back on the Berlin Wall it might have also been our army and their chants after winning the cup after the legendary 4-1 against SV Werder Bremen. The hero of that match now is public announcer at the Westfalenstadion and still remembered - by the old - or hailed - by the young - as "Norbert, Norbert Dickel, jeder kennt iiiiiihn, den Held von Berlin". When he stood in front of the Suedtribuene the stands were singing louder than they usually do. A feeling that this might be the last time he can do that before a cup-match as a unique Held von Berlin. On the other side of Westfalenstadium the northstands were filled by some 4.000 Hoffenheim fans, supporters, SAP-workers. One will never know. They even brought a banner. "TSG Hoffenheim Fanatics Heidelberg" - now how sad is that? Those persons had been carted all the way up to Dortmund by some 70 coaches. "Hurra, Hurra, das Dorf ist da" they were claiming. And it was true. The village of Hoffenheim only has 3.000 people living there. A housebreakers dream.
On to the game we go. With Dede back in the starting lineup. His ban only applies for Bundesliga. As Delron Buckley had picked up the flu he was benched and Marc-Andre Kruska got another chance to show his skills in Midfield. Sebastian Kehl was back as a skipper. Cuphero 00 Ziegler in goal with Rukavina, Amedick, Kovac and Dede in front of him. Federico, Tinga in midfield and Frei and Petric as a weapon up in attack. The game started of slow but within a few minutes Dortmund with great support from the stands narrowed in towards the Hoffenheim goal. Federico shots in the first 15 went wide and Kovac was denied by shaky Öczan in goal after a 20m-shell. But then Tinga found Federico. He again prove of what he is capable to do. A magic goal. From 18m the ball looked to go wide up until the last seconds when it took a bend right inside the top of the net. The fears of getting an early goal vanished and three minutes later Tinga destroyed Hopp's dream of Europe. Kehl enlongated a Frei-corner at the near post and the small Brazilian headed the ball home from 5meters. With two goals up after 23 min everything seemed set for the Semis. But our defense tried to bring Hoffenheim back into the game. Amedick and Kovac trying hard to make life uneasy for Ziegler. A Löw-lifter nearly got over Ziegler but Dede was their to clear the ball away from the goal. The following corner was not worth mentioning. As all of the other 10 corners for Hoffenheim were. It was not until Dr.Felix Brych exclusively saw an Amedick foul that Hoffenheim got close to scoring. Brych later on claimed Amedick had pulled Ba. Copado was given two tries to score. He used both of them. At least Brych only awarded one goal to Hoffenheim.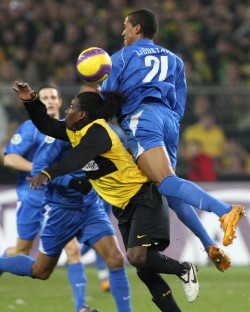 Second half began as first half ended. Dortmund had slowly given away the match and now were relying on counter-attacks. Ziegler had some work to do to keep his goal clean. And Hoffenheim now also looked for another penalty. But a few divers later, Brych awarded a free kick to Dortmund. Kruska had ran into a Hoffenheim fist. Nasty stuff. From the right side of the field´Alexander Frei circled the ball in. Petric escaped and managed to place a nice header into Hoffenheim's goal . With the two goal advantage back in hand Dortmund now stopped playing. Unlucky Amedick tripped over the grass and put Copado in a nice postion only a minute after the goal. But he found his master in Ziegler. The 31-year old now rose to Borussia's best man and showed his skills. His best save might have been in minute 82 when he fished a Salihovic-freekick out of the top-corner. Borussia who brought on Klimovicz, Buckley and Hummels did not manage to materialize one of the many counter-attacks. And so the game ended in joy. It was 3-1 to us and now we are only one step away from Berlin.
Guided by Dede some of the teams sat down on the wet pitch to celebrate a Humba with Suedtribuene. Others left the pitch and were actually booed after. But those were the only dark tones on a blacknyellow-colored cup night. A great atmosphere inside a stadium electrified with the thoughts of Berlin.
Voices
Thomas Doll: "We are very happy to have qualified for the semis for the first time in......"
Josef Schneck (Dortmund spokesperson): "Glad to repeat it again, Thomas, 19 years!"
Thomas Doll: "Ok, 19 years. We had a very good start to the match. But then missed out to calm the game down. We lost to many balls and duels in midfield. Second half was a lot of light and a lot of darkness. Again we couldn't take control of the game and also did not finish our counter-attacks. A big thumbs up to Marc Ziegler. His saves made us live through the dark parts. All in all it was a deserved win. We have now won six out of our last nine matches. We wanna keep that momentum for a while now."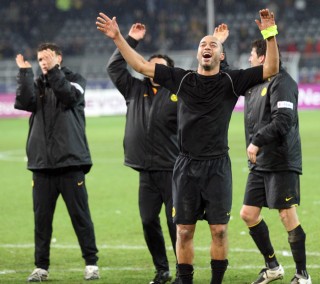 And our players, how did they do?
Marc Ziegler: Great performance. Likes to fly through the air a lot. As long as he does it like yesterday he shall be flying for a bit longer. (9)
Antonio Rukavina: Worked hard, solid defense. Not to be seen in offense (6)
Martin Amedick: Oh Amedick that was nothing. Nervous. A lot of bad passes. (3)
Robert Kovac: A bit better than Amedick. (5)
Dede: Lot of uncome mistakes. Won the duel against Selim Teber. Some light more darkness (5)
Tinga: Did not shy away from duels. Set up one goal and scored one goal. (7)
Marc-Andre Kruska: Young Kruska is out of form. He does not use his body anymore, tends to hide from the ball (4)
Sebastian Kehl: The flu got him down. Set up the second goal. Could not take command however (6)
Giovanni Federico: As always hard to judge. You don't see him and then he scores (7)
Mladen Petric: Looked a bit weak. Back in midfield later on he had some nice ideas. Scored his third cup goal making it 14 in all competitions (7)
Alex Frei: He wants it. He gets nothing. His freekick found Petric. After his long break still lacks liveliness. Looked egocentric at times (6)
Diego Klimowicz, Mats Hummels and Delron Buckley can't be judged.
They came into a confused team that was waiting for the final whistle
(marks ranging from 1=first round to 10=cup winner)
And here is how they played:

BVB: Ziegler - Rukavina, Amedick, Kovac, Dede - Tinga, Kehl, Kruska - Federico - Frei, Petric
Hoffenheim: Özcan - Ibertsberger, Janker, Compper, Löw - Gustavo - Teber, Copado, Carlos Eduardo - Obasi, Ba
Subs: 70. Hummels and Buckley for Federico and Kruska, 76. Klimowicz for Kehl - 57. Salihovic for Löw, 70. Ibisevic for Copado, 81. Weis for Ba.
Goals: 1:0 Federico (20., Tinga), 2:0 Tinga (23., Kehl), 2:1 Copado (38., pen. , Amedick fouls Ba), 3:1 Petric (54., Freekick Frei).
Corners: 3:11 (Halftime 2:3)
Shots at Goal: 6:7 (4:3)
Referee: Dr Felix Brych (München)
Bookings: Amedick, Tinga, Frei - Teber, Gustavo, Löw, Salihovic.
Spectators: 55.400
Weather: rainy, 8°C


steph - 27.02.2008