Archiv
Another dramatic match!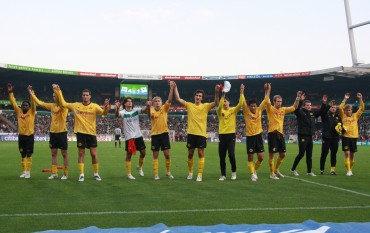 Jürgen Klopp promised more "high-voltage" matches when he was introduced as Borussia's new coach. And surely he delivered. After heartbreaking matches against Schlacke and Udine this time it was a 3-3 thriller in Bremen. 3 (!) goals were scored within the dying minutes.
Scenario/Line up
Jürgen Klopp made only 1 change compared to last week's 1-1 draw against Hannover 96. Hajnal was missing due to an muscle injury. He was replaced by striker Alexander Frei. All in all we played a 4-3-2-1 tactic with Valdez and Kuba being attacking midfielders.
Thomas Schaaf fielded Sanogo and Jensen. They replaced Prödl and injured striker Rosenberg.
First Half
As the first half was not plastered with highlights we concentrate on the few arousers. Though Werder Bremen was dominating the first 20 minutes, they weren't able to create any chances as Borussia Dortmund's defence stood rock solid. And so it was Kuba who had the first approach at all. And what a approach that was! Somehow he got the ball 6 metres in front of Tim Wiese's goal. With a last effort he tipped the ball past Wiese. Unfortunately the Bremen goalie slightly touched the ball, so that it rolled slowly direction goal line. Frank Baumann and Frei stormed towards the ball. The Bremen skipper kicked the desperately out of the goal and even hit Frei. But at all the ball bounced back into the field and so this one was wasted. A shot from narrow angle in minute 35 by Özil was then the last highlight of this half.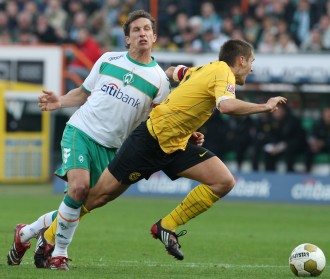 Second half
Let's jump directly into the second half. Bremen had a first early approach in minute 48 when a free kick taken by Mesut Özil forced Weidenfeller to leave his goal and clear the ball. Nonetheless Borussia Dortmund was still in business. In minute 59 Sebastian Kehl tanked through Werder's defence, entered the box and was then taken down by Frank Baumann. No doubt, that was a penalty! Alecander Frei took the ball and converted in a cool manor - 1-0 for BVB! As BVB's defence was really performing well today, the black-yellow supporters were now dreaming of three points in Weserstadion. But strangely our defence was now not really concentrated anymore. Only 10 minutes after our lead Bremen answered with a header by Frank Baumann and it was suddenly 1-1! And only 180 seconds later it was again Borussia Dortmund. A corner kick for Werder ended in a BVB counter attack. Zidan with a fine long pass that found Kuba pacing direction Bremen's box. Only Hunt was able to follow him and attacked Kuba within the box. Kuba fell to the ground but immediately stood up again and played a superb pass that found central defender Mats Hummels storming into the box. And the youth national player had now problem hitting the empty net - 2-1 for BVB! And this time it looked like we could finish with three points. But in minute 88 Borussia brought Bremen back into the match when a distance shot by Boenisch seemed no threat for Weidenfeller. Unfortunately he lost the ball and Pizarro acted quickly and scored the equaliser - 2-2! No enough? No problem! In the first minute of overtime a high pass found again Pizarro who doubled his score sheet and made it 3-2 for Bremen! No happy end for BVB? No baby, in the third (!) minute of overtime Kringe played a last low pass into Bremen's box. Wiese with a mistake and the ball bounced back directly in front of Mohamed Zidan. The Egyptian national player hammered the ball into the net and it was finally - 3-1! What a second half!
Summary
One point in Bremen is surely a good result. Though it is somehow frustrating as without Weidenfeller's mistake we could have earned two more points. All in all it was a deserved draw though. We have no three matches against not so strong team, Hertha BSC Berlin, 1. FC Köln ans VfL Bochum. If we keep up performing like during the last weeks, we should be able to earn 6 or 7 points out of these matches.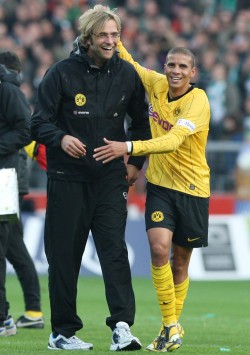 Statements
Thomas Schaaf: "We should have ended this match with three points. While Dortmund scored the equaliser we really slept. During the next weeks we need more concentration."

Jürgen Klopp: "We really fighted more than played football, but in the end we can be satisfied with one point. During the first half we were a little bit too defensive, but then we got better into the match. At least it was an extraordinary Bundesliga match!"
Statistics
Werder Bremen: Wiese - Fritz, Baumann, Naldo, Pasanen (65. Boenisch) - Frings - Jensen (62. Hunt), Özil - Diego - Sanogo (64. Hugo Almeida), Pizarro
Coach: Thomas Schaaf

BVB: Weidenfeller [3] - Lee [3], Subotic [3], Kovac [2] (52. Hummels [3]), Schmelzer [3] - Tinga [3], Kehl [3], Kringe [4] - Kuba [3], Valdez [4] (79. Klimowicz) - Frei [4] (64. Zidan)
Coach: Jürgen Klopp

(Marks: 1=world class, 2=did very well, 3=performance was ok, 4=not enough but not too bad at all, 5=not worth the money, 6=should pay money for playing football)

Goals: 0-1 Frei (59., penalty, assist Kehl), 1-1 Baumann (68., header, Boenisch), 1-2 Hummels (72., right-footed, Blaszczykowski), 2-2 Pizarro (88., right-footed, Boenisch), 3-2 Pizarro (90., left-footed, Hugo Almeida), 3-3 Zidan (90., right-footed, Kringe)

Yellow cards: Naldo, Frings, Fritz - Tinga, Zidan

Referee: Kempter

Attendance: 42.100 (Weserstadion, sold out)