Archiv
Finish the week successfully in Bremen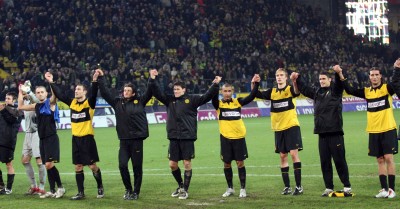 After a terrific week which started with wins against Rostock and Hoffenheim and almost ended with Sebastian Kehl's signature there is still one heavy task which might decide where Borussia heads to in this season: The match against Werder Bremen.
Pre-match issues:
Reading the first lines suggests that we are fully on track: We have reached the semi-finals in the DFB Cup, furthermore one of the most important chains in the team (surprisingly) decided to stay for some more years. In addition, we are currently on rank 5 of the second round table of 07/08. Stop dreaming. We are 11th in the overall table, being 7 points away from Europe and 8 points from relegation. Looks like a boring rest of a season...
But hold on! A series of wins can push us up (or down!) quickly so that we could then expect a bit of excitement until May. And that's where we are heading to: The Bremen match will show whether there is a tiny chance of a series (that has not occurred in Dortmund for quite a long time). Psychologically, we will also be able to see if the team still believes in Bundesliga or if they just think of going to Berlin and fix Europe this risky way.
Borussia:
Doll will probably rely on the team which more or less convincingly won the cup-fight against Hoffenheim: Marc Ziegler's defence will be completed by right defender Antonio Rukavina who may make it difficult for Philipp Degen to get back into the starting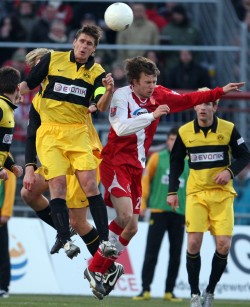 grid. While the central defenders will be Kovac and Amedick, Delron Buckley will still have to compensate Dede's red card. The midfielders will be Kehl, Kruska, Tinga and Federico in order to build up the game and feed Petric and Frei as forwards. Notably, Kuba will get back into the team but will sit the bench at the beginning of the match.
The opponent:
Werder would definitely be on rank 1 if they had not that many injured players. Okay, that's my thesis. But as for tomorrow, the team looks fine in spite of the fact that Diego will be missing due to his red card. Thus, the team will consist of the defending Fritz, Mertesacker, Naldo and Boenisch while the midfield is made up by Özil, Borowski, Jensen (in Diego's role) and Baumann. The attackers are Rosenberg and Sanogo both of whom our defence needs to be aware. By the way, it will probably be our defence which will decide with how much points we will get back to Ruhrpott. Keep in mind that we have scored quite a good amount of goals in past matches - but did not gain a lot as our competitors did too. So, Robert and Martin: Concentrate on your performance, guys!
Line-ups and figures:
BVB:
Ziegler - Rukavina, Amedick, Kovac, Buckley - Kehl - Tinga, Kruska -
Federico - Petric, Frei
Werder:
Drobny - Chahed, von Bergen, Simunic, Fathi - Ebert, Dardai, Gilberto, Lucio - André Lima - Pantelic
Stadium:
Weserstadion (capacity: 42,358)
Kick-off:
3.30pm