Archiv
1:1 or: A snail decides not to come forward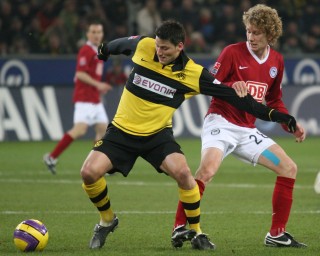 The crowd in Westfalenstadion, actually used to not experiencing highly attractive football, was even bored this Friday, when both Borussia and Hertha acted uninspired and sometimes clumsy. Therefore it was the referee who unsuccessfully tried to boost the people's excitement. Saying this, a draw is fair but the lack of concentration definitely made us lose an important match.
First half
As you might conclude from the beginning, the first real chance was to come only after 19 minutes of awful football between two competitors whose strategies were rather destructive. Pantelic tried a nice shot from 18 metres but Ziegler nicely saved it. After half an hour, Borussia started to actively participate in Friday's match. Frei kicked a corner deeply into the penalty area where Wörns jumped higher (!) than everyone else but his header was just saved by Drobny. The team's gameplay improved from now. Ten minutes later, Buckley (whose performance was again quite solid) gave in a cross to Valdez whose header slightly failed the target. And shortly after, it was again Buckley who gave in a precise ball into the penalty area where Sebastian Kehl was free enough to score by head (45th).
A lucky strike provided us the lead and Hertha did not seem to opt for total domination against us. Thus, one would have expected that a win was likely but let's check this out in second half's section.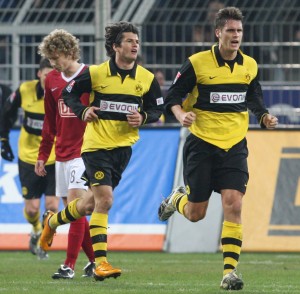 Second half
While our team came out of the cabin and thought about how to save the lead until Babak Rafati finally blows the whistle, Berlin started to play. Thus, it was no surprise that von Bergen serves Pantelic who was unmarked and easily scored from 10 metres against Ziegler who left his place between the posts. (50th) Note that both Amedick and Wörns - who were quite solid until that moment - acted like nervous chickens since they both concentrated on von Bergen.
The most exciting situation of the match took place some minutes later (and had nothing to do with nice combinations or perfect gameplay). It was Babak Rafati. His assistant advised him to send Coach Lucien Favre away. Then, Rafati marched onto the pitches and shows Pantelic a red card. Doubting his decision he got back to his assistant who was telling him again that it was Favre to leave - and not Pantelic. Thus, he got back to the pitch, apologized to Pantelic and sent Favre away...Please keep in mind that this situation required the match to be stopped for at least 2 minutes. In the end, the total injury time was just a minute!
Let's get back to football though there's not much to say. Marc Ziegler had the opportunity to show that he is quite skilled. In the 58th minute, Skacel tried a difficult ball from 15 metres but Ziegler saved it nicely. And one more "highlight": A free-kick from Frei found Klimowicz's head but the ball marginally failed the goal. (75th).
If you expect some more decisive situations we will have to apologize. That is almost all we got.
Final Thoughts
We are constant in missing chances to. Think about it: Being on rank 13, we are 9 points away from the fifth rank. Is it because the team saves its energy for the DFB-Pokal? Maybe. But being a football player is a job and the players' primary task is Bundesliga. Thus, one must expect the team to try harder.
Even though, this match could have been one with a bit more cleverness. Pantelic's goal was no magic, it was rather bad management in our defence since both Amedick and Wörns just concentrated on von Bergen. You'll have to win such matches if you are ambitious. Let's see whether the team might understand that for the following matches. But as for now, the remaining 11 matches will probably not look totally different.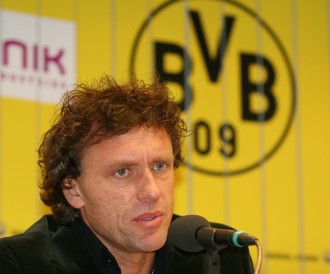 Statistics and marks
BVB: Marc Ziegler (2) - Rukavina (4), Amedick (3,5), Wörns (3,5), Buckley (3) - Kehl (4), Tinga (4) - Valdez (3), Federico (5) (Klimowicz (4), 70th), Petric (4,5) - Frei (4)
Coach: Thomas Doll

Hertha BSC Berlin: Drobny - von Bergen, Simunic, Fathi - Chahed, Lustenberger (66. Mineiro), Kacar, Skacel - Raffael, Ebert (89. Piszczek) - Pantelic (86. Okoronkwo)
Coach: Lucien Favre

(Marks: 1=world class, 2=did very well, 3=performance was ok, 4=not enough but not too bad at all, 5=not worth the money, 6=should pay money for playing football)

Goals: 1-0 Kehl (45., header, assist: Buckley), 1-1 Pantelic (50., right-footed, von Bergen)

Yellow cards: Klimowicz / Chahed, Raffael, Skacel

Referee: Babak Rafati

Attendance: 69.400
Domi, 09.03.08