A short look back before advancing
Tonight could be the night! Who would have thought that Borussia could make it to the next round in this group after the draw? Who would have thought that Borussia would be the leader in this "group of death" going into the fifth game day? Who would have thought that Borussia would have the possibility to advance to the next round with one more match day to go? However, Borussia proved all of them wrong. Two great victories at the Westfalenstadion, two draws away at the Etihad and the Santiago Bernabeu. And speaking of the Bernabeu, we would like to take a look back to the match against Madrid since schwatzgelb.com editor Henry had a great time in Spain. And to be honest, this great match and this amazing atmosphere deserves another look...
Borussia's match in Madrid now is several weeks ago and there are absolutely no doubts: It was a really great match of our BVB against one of the world's best and of course also most expensive teams. Complaints about Real's late equalizer are useless. Let us be honest, in the second half Madrid was the better team and after 90 minutes it was a deserved draw for both.
A lot about the match and our team was written in the meantime. Estimations about how many BVB fans supported our club in Estadio San Bernabeu varied between 4.000 and up to 10.000 fans. Impossible to say which indications are the right ones but beside Borussia's stand in Bernabeu there were fans in black and yellow nearly everywhere in the stadium.
For me and my four friends having been stayed 3 days in Spain's capital city some comments of our taxi driver who took us back to the airport will probably keep in our minds for the next time:
"How many fans from Dortmund were in Madrid?" he asked. "I'm a great Real fan, but guys, you were really fantastic! On TV you couldn't hear the Real Madrid supporters, you could only hear the people from Dortmund!" What a big compliment and long before the kick-off in San Bernabeu it was impressive walking across Madrid's Plazas, visiting El Prado or some of Madrid's excellent bars or restaurants: Borussia fans everywhere you look! We all remember the great atmosphere in Berlin before the cup final this year in May. And it's no overstatement that Madrid was very similar. At Plaza Santa Ana, a nice place to sit outside and to enjoy the sun (the weather was perfect on matchday) an accordion player had quickly found out the right chords of the legendary "BVB Waltz". It took only some minutes until the melody sounded better and better and all Borussia fans chanted this old song. The distance between Dortmund and Madrid is nearly 2.000 km but the feeling was like being in Dortmund's "Kreuzviertel" with a lot of pubs, nearby the Westfalenstadion. And we can't trust our eyes when we looked up to a balcony at Plaza del Sol, one of Madrid's central points. A big black and yellow flag was fixed at the balustrade, as well a big surprise for all passing Real fans. It is Important to mention that all conversations with Real fans were always very friendly. Also some Atletico and Barca fans came to us, patted us on the back, saying: "All the best for Borussia! We'll cross our fingers for you!" That's the best example for the never ending rivalry between the clubs in Spain. I think it would be the same when Borussia fans had met an Arsenal fan in Dortmund on the same day when the London team had to play in Gelsenkirchen's gym.
One last sentence to Madrid's police and security staff: They were not only dressed in black and yellow they were also a perfect example for friendliness and tolerance. Even when a Borussia fan entered the big fountain at Plaza del Sol and had a bath when the crowd cheered to him "sit down, sit down" it was no reason for them to interrupt this event.
Football and celebrating parties are some items which usual belong together. It's very often noisy and very often connected with beer. But all these celebrations will not last forever. And if no one will be hurt and nothing will be damaged let's accept it for some hours. Madrid was a very good example for perfect pre-match and after-match celebrations.
Thank you Madrid! Thank you for great hospitality and a lot of friendliness!
But now, let's focus on the hard challenge of playing in Amsterdam. Thinking back at the first game day of this year's Champions League, every supporter of Borussia will be reminded that the match in the Westfalenstadion was a very tough one. Roman Weidenfeller did a brilliant job and saved us the match until Robert Lewandowski eventually scored the late winner just minutes before the final whistle. Of course, it was an important victory to start with into this amazing group of champions. What followed in the European Competition were even greater performances by the black and yellows. But it would be a terrible mistake to underestimate Ajax Amsterdam after the performance they presented in Dortmund a couple of months ago. They still have a great, young team with a lot of potential and will make it difficult for us to gain the one point we need to advance to the group stage. Of course, the officials of BVB stated before the match that it is not possible to go for a draw so an open match can be expected.
What can be expected as well is a great atmosphere in the Netherlands. Needless to point out the rivalry between German and Dutch teams, the supporters will be highly motivated to stand their ground in the AmsterdamArenA, giving the 22 players on the pitch a even greater touch of adrenaline. Even though the condition of Sebastian Kehl is not fully clear, he traveled to Ams
terdam with the squad and could be an option if he could make it in time. Marco Reus, who was not one of the starters against Greuther Fürth, can be expected to be back in the line-up after gaining some rest. Götze should find his place behind Robert Lewandowski and the third place in the midfield can be taken by Großkreutz, Perisic or Kuba... Not an easy decision for Jürgen Klopp. Ajax will miss Ryan Babel due to a shoulder injury. Question marks are left behind Vermeer and Alderweireld.
The AmsterdamArenA will be sold out with nearly 50.000 supporters. It is time to do what only a few people would have expected after hearing the results of the group stage draw a couple of months ago. It is time to finally prove that Borussia has the quality to make it in Europe. It is time to advance to the next round. Go on, Borussia! Go your way and make it happen!
Possible line-ups:
Ajax Amsterdam: Vermeer - van Rhijn, Alderweireld, Moisander, Blind - de Jong, Poulsen, Schöne - Boerrigter, Eriksen, Fischer
Borussia Dortmund: Weidenfeller - Piszczek, Subotic, Hummels, Schmelzer - Gündogan, Bender - Reus, Götze, Großkreutz – Lewandowski
Referee: Pedro Proenca (Portugal)
Location: AmsterdamArena (sold-out with 49.491 seats)
Henry/Vanni, 21.11.2012
schwatzgelb.de
BVB-Photos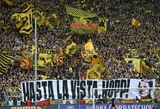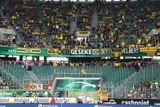 More Up-to-date photos: www.bvb-fotos.de