Duty fulfilled!
A few days before the important Champions League match in Amsterdam, Borussia beat newbie Spielvereinigung Greuther Fürth with a solid performance and also had the opportunity to save some energy after the match had been decided after 45 minutes since Borussia was 3-1 ahead and did not need to give everything they could in the second half. During a long season, matches like this are important. The opponent does not seem to be a big challenge, an important match is up next and there is the danger of underestimating the league opponent while already focusing on Wednesday. However, the team did a great job, gained the three points and even shortened the lead of Bayern Munich who drew in Nuremberg. Furthermore, the blue-white scum is only one point away now after they lost to Neverkusen in the Saturday night game.
Before the match
After a totally useless national friendly, the German nationals of BVB came back without any injuries. However, coach Jürgen Klopp who was in charge of the double winner for the 250th time decided to give Marco Reus a break. Jakub Blasczykowski found his way back in the starting eleven after six weeks of injury and after gaining some match practice for Poland on Wednesday. Surprisingly, Ivan Perisic was one of the eleven starters as well. Perisic complained about his role in the squad over the last week and was criticized by Klopp for speaking about his problems in the press and not in the direct conversation with him. However, Klopp seems to separate the behavior of his players and their performance and quality since Perisic found his way on the left side of the midfield while Mario Götze played right behind Robert Lewandowski.
The double-six was formed by famous two-headed Milkay Bendogan once again, "Manni" Bender and Ilkay Gündogan. Furthermore, Neven Subotic was back in the squad while Felipe Santana needed to take a seat on the sideline.
The guests from Greuther Fürth unfortunately (yes, this is quite ironic) missed famous GErald Asamoah, former Scheisse player and one of the fan favorites (yes, irony once again) in Dortmund. Kleine and Pekovic missed the match because of send-offs during the last weekend and Ndoye, Mikkelsen, Fall and former Borussian Tyrala were injured and not able to compete for the cloverleafs. Greuther Fürth brought some thousands fans to the once again sold-out temple Westfalenstadion, maybe a little surprise but it was the first chance to play in Dortmund so it remains to be seen if they will be coming in masses next year as well if they manage to stay in the league. The Südtribüne was packed, everyone was ready... and the match started not only with one bang, but with several.
First half
110 seconds had been played when Ivan Perisic made his presence felt for the first time. He took a central free kick from about 25 meters which could quite frankly had ended up in the net, but Fürth's goalkeeper Grün was there to make the save. However, Borussia kept on going for the early lead and got it one minute later when Mario Götze made his way through two defenders with a mixture of luck and excellence. Götze then assisted Lewandowski who only needed to shoot the ball into the empty goal. 1-0 Borussia after just three minutes. Just like in Augsburg one week earlier, Borussia seemed to be the team which is more awake.
But while everyone was still celebrating, our defense was not awake, but asleep. Zillner assisted Stieber with a nice deep pass through the Dortmund defense and Stieber beat Weidenfeller with a lob to equalize the score one minute after Dortmund got the lead. Some minutes later, Ivan Perisic went to the ground in the penalty area of Greuther Fürth, but for some reason unknown to me, referee Drees did not decide to call the penalty. However, the whistle sounded in minute 14 when Kuba – who did a good job and was missed over the last weeks – was fouled by Nehrig. It was the right decision to award Borussia the penalty in this situation even though I am pretty sure that the foul against Perisic was more obvious than that one. However, never mind, Lewandowski scored from the point with a pretty good shot and brought back the lead for Borussia. It was the first penalty Lewandowski shot in the Bundesliga and the seventh goal of the forward during this season. What a start!
Borussia continued to storm the opposing goal during the first half. Lead by Mario Götze who seemed to love playing football this afternoon, the next opportunity saw Kuba taking a shot from 16 meters, but missing the goal (19th). Ten minutes later, a great attack with a brilliant combination of Götze and Kuba followed over the right side and Kuba finished it almost perfectly, missing the goal only by a few inches (31st).
However, Fürth was not completely out of the match and had the big opportunity to equalize when Sararer's nice shot from the left edge of the penalty area only hit the right post. In this situation, Borussia was definitely lucky (39th). Luck was not a factor two minutes later when Kuba's great pass saw Götze being through the defense and only goalie Grün was left to beat. Götze curved around Grün and then let Schmidtgal slide into nowhere just to double the lead with a brilliant goal shortly before half time. Nice job, Mario!
Second half
Like I stated in the beginning of this article, Dortmund saved energies during the second half. And why not? With a solid two-goal lead, it is not wrong to think about the tough away match at Amsterdam on Wednesday. Some little chances were still to be seen, like Kuba's nice solo through the defense in minute 58 when his final shot was saved by keeper Grün. I think there is no need to point out that Kuba and Götze were the central players of this match, both of them showing an impressive effort. And by saying so, I even leave out Robert Lewandowski whose two goals were important as well. Basically, that's all there is to say about the second half. Solid game control of Borussia, some nice chants on the Südtribüne... that's it, folks!
Aftermath
Borussia seems to find his way back into Bundesliga.
On Saturday, an away victory at Mainz – which will be hard to get – could mean taking the second place back because Scheisse 04 is playing Frankfurt at the same time. However, we need to focus on Amsterdam first. It is the next opportunity to make the next round possible. Go your way, Borussia!
Stats
Borussia Dortmund: Weidenfeller - Piszczek, Subotic, Hummels, Schmelzer - Gündogan, Bender - Blaszczykowski, Götze, Perisic – Lewandowski
Subs: Reus for Götze (66th), Großkreutz for Gündogan (73rd), Leitner for Kuba (83rd)
Greuther Fürth: Grün - Nehrig, Sobiech, Mavraj, Schmidtgal - Fürstner, Zillner - Stieber, Prib, Sararer - Azemi
Subs: Edu for Azemi (73rd), Nöthe for Zillner (82nd)
Goals: 1-0 Lewandowski (3rd), 1-1 Stieber (4th), 2-1 Lewandowski (15th, penalty), 3-1 Götze (42nd)
Referee: Drees (Münster-Sarmsheim)
Bookings: Lewandowski, Perisic - Azemi, Schmidgal
Attendance: 80.645 (sold-out Westfalenstadion)
Vanni, 18.11.2012
schwatzgelb.de
BVB-Photos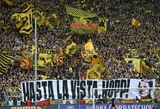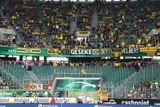 More Up-to-date photos: www.bvb-fotos.de