Black and Yellow Guys on the Road - International Results - Kuba back on the Pitch
Two days ago, eleven players from Dortmund started trips with their national teams to clash with the best football players all around Europe. Beforehand we have got some pleasant news for you. Midfielder Jakub Blaszczykowski returned into the Polish starting XI against Uruguay and was replaced in minute 73. Here are the final results of yesterday's matches:
Blaszczykowski, Lewandowski, Piszczek.
Poland - Uruguay (14/11/12 in Gdansk - Friendly)
1-3
Perisic.
Croatia - Croatian representative league team (14/11/12 in Rijeka)
Unknown
Götze, Gündogan, Reus, Hummels, Bender.
Netherlands - Germany (14/11/12 in Amsterdam)
0-0
Bittencourt, Leitner.
U21 Germany - U21 Turkey (14/11/12 in Bochum)
1-1
By now no injuries are known, hopefully all players will return well. Fürth is next..!
derjungemitdemball, 15.11.2012
schwatzgelb.de
BVB-Photos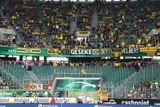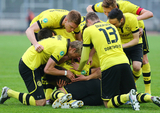 More Up-to-date photos: www.bvb-fotos.de