Never forget where you come from! Vol. 2 - Borussias hard fight against relegation in 1986
Maybe you have read Humpi's report some weeks ago about Borussia Dortmund's financial crisis in 2005/2006 and the hard way to our consolidation until now. Today let's go back in time again and our journey through the previous years will lead us into the middle of the 80's, back to 1986. BVB's development through the 80's was characterized with a lot of ups and downs, regarding financial aspects but also on the green. In the table Borussia's positions were until 1986:

1980/81 - Number 7
1981/82 - Number 6
1982/83 - Number 7
1983/84 - Number 13
1984/85 - Number 13
1985/86 - Number 16


You see, a downward tendency since 1983 and then in May 1986 the nightmare for every Borussia Dortmund fan: Only at position 16 in the league, BVB had to play two relegation matches against Fortuna Köln (Cologne's smaller football club beside the 1. FC), number "3" in the second league. To beat the team from Cologne was the only way to avoid the way into "Zweite Bundesliga" for the second time after BVB's relegation in 1972.

I confess I wasn't in Cologne for the first match against Fortuna in Cologne's former "Müngersdorfer Stadion". Usually Fortuna Köln played their home matches in Cologne's "Südstadion", but for this match the club from former mighty president Jean Löring, a person with a lot of financial engagement for "his" Fortuna, moved to Müngersdorf. On May, 14th 47.000 viewers saw a 2:0 win of Fortuna Köln. Was this the beginning of a disaster for our Borussia? Maybe, but we put all our hopes on the second match in our Westfalenstadion! Unfortunately I had booked a city trip to Rome when Borussia welcomed Fortuna Köln for the second leg in Dortmund. The booking date was at the end of 1985 and who could know in December 1985 how dramatic this season should end?
So on May 19th when Borussia tried to equalize Fortuna Köln's two goal advantage I was sitting in a bus on the way back from Rome. No mobile phone or smartphones existed in 1986 so the waiting for the current score in Dortmund was pure torement for all other Rome returnees sitting in the bus like me. We all were Borussia fans and now on this fated day for our Borussia we all had to sit in this bus, a lot of kilometers away from Westfalenstadion. On highway 45 at the area around Siegen, the bus driver received a live broadcast of the match. The first half was over and we all turned to pale. 0:1! Bernd Grabosch, also scorer of a goal in the first leg scored again for Fortuna Köln. Now Borussia had three goals to equalize, was this the end for our club?
Today we all know that wasn't the end! In minute 54 a goal for Borussia Dortmund, Michael Zorc scored a penalty to 1:1. Then in minute 68 the magic Marcel Raducanu: 2:1. Borussia gained the lead. But that wasn't enough, time was running out and the in the last seconds of the match we heard the radio commentator calling: "…a shot from Anderbrügge… goalkeeper Jarecki parried … but there's Dortmund's Jürgen Wegmann … he hits the ball….Goal! Goal! Goal!" A goal for Dortmund in the last second, scorer: Jürgen Wegmann! He of all people saved us from ruin on this day. All the weeks before he got a chorus of whistles from Dortmund fans, when he announced that he will change from Borussia to Sch…e! All forgotten in this moment! In our bus was partytime! Free beer for everyone in our bus and our driver and other passing drivers honked their horns. We've got it and we will get another chance to avoid relegation. Luckily the away goal of Fortuna Köln in Dortmund didn't count double like in the European Cup. So the total result of both matches was 3:3 and a third match was necessary.
The location for this third match was the "Rheinstadion" in Düsseldorf, now the location of Düsseldorf's new constructed ESPRIT arena. When I returned to work one day after the match in Dortmund a colleague (a fan of blue scum Sch…e) told me: "I was in Dortmund to cheer for Fortuna Köln. I'm so sad, that you won 3:1 due to Wegmann's last minute goal!" Unbelievable! The blue scum visited our match in our Westfalenstadion to watch us die. One of many reasons why this club and Borussia Dortmund never will be friends! Anyway Sch…e fans got their right punishment two years later when the club went direct into second division at the bottom of the league. But let's go back to more enjoyable topics!
For my friends and me it was no question: We all would drive to Düsseldorf to cheer for our Borussia! The primary planned day for the third match in Düsseldorf was May 23rd. But what happened? Fortuna Köln's management presented health insurance certificates for 13 members of their squad and applied for a new date of the match. Borussia's protests were in vain. To show that these sick certificates are only part of Fortuna's strategy, Borussia's squad, president Reinhard Rauball, coach Reinhard Saftig and his team and a lot of Dortmund fans travelled on May 23rd to Düsseldorf and entered the empty stadium. "Fortuna where are you?" chanted Dortmund's fans, but no one came.
A new matchday was fixed: May 30th. 50.000 viewers saw Borussia's final duel against Fortuna Köln in Düsseldorf. We all know the very happy end for our club: Defender Dirk Hupe scored Borussia's 1:0 in the first half and in the second half we saw seven further goals for the black and yellows. An impressive 8:0 win and to demonstrate that he was a Borussian until the last minute, Jürgen Wegmann scored a penalty goal in minute 83. Borussia stayed in the league and finally it was the proof that certificates from the doctor and best wishes from a suburban club in Gelsenkirchen could not stop our club's way into a better future. After the match most of Dortmund supporters spend a lot of hours in Düsseldorf's legendary Altstadt, celebrating the successful third match which enabled us to stay in the league.

Looking back after 26 years on that happy May 30th this was for sure a turning point in Borussia's chronicle. The 80's continued with some successful UEFA cup matches and the cup win in 1989:

1986/87 - Number 4
1987/88 - Number 13, six UEFA Cup matches
1988/89 - Number 7, Cup winner
1989/90 - Number 4, four UEFA Cup matches

So all you bellyachers or croakers presenting your scathing criticism for example after our defeat in the last derby: please look back to the headline "never forget where you come from!" Let's never forget the bad times we experienced in 1986 or 2005/2006. Other clubs would be glad featuring a similar success story like Borussia Dortmund!

And finally here is Borussia's lineup from the third relegation match in Düsseldorf. Some of them continued their careers in Dortmund and Michael Zorc is still working as a successful manager for his club. Others changed the club during the next years. The very next season goalkeeper Eike Immel moved to VFB Stuttgart and as written above Jürgen Wegmann played one year for the suburban club in Gelsenkirchen before he returned from Bayern Munich to Dortmund.

Borussia Dortmund: Immel – Pagelsdorf, Storck, Hupe, Bittcher, Zorc, Raducanu, Kutowski, Anderbrügge, Simmes, Wegmann.

Substitutions: 70. Loose IN – Bittcher OUT.

Goals: 0:1 Hupe (minute 17), 0:2 Zorc (minute 46), 0:3 Anderbrügge (minute 49), 0:4 Storck (minute 61), 0:5 Simmes (minute 66), 0:6 Wegmann (minute 83, penalty), 0:7 Zorc (minute 89), 0:8 Pagelsdorf (minute 90).

Henry, 14.11.2012
schwatzgelb.de
BVB-Photos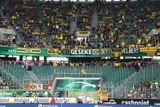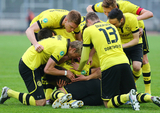 More Up-to-date photos: www.bvb-fotos.de