Black and Yellow Guys on the Road - International Matches
After eleven Bundesliga matchdays and intense weeks with the clashes against Madrid, Aalen and Augsburg, it is time for international matches. Allthough the date is completely dubious, eleven players from Dortmund will participate in international friendly matches. No breathing space at all for our young squad! Here is a brief overview which of our players are facing matches with their national sides, when they are about to return and who they will compete with. Take a look:
Blaszczykowski, Lewandowski, Piszczek.
Poland - Uruguay (14/11/12 in Gdansk - Friendly)
Return: 15/11/12
Perisic.
Croatia - Croatian representative league team (14/11/12 in Rijeka)
Return: 15/11/12
Götze, Gündogan, Reus, Hummels, Bender.
Netherlands - Germany (14/11/12 in Amsterdam)
Return: 15/11/12
Bittencourt, Leitner.
U21 Germany - U21 Turkey (14/11/12 in Bochum)
Return: 15/11/12
Marcel Schmelzer (Germany) and Neven Subotic (Serbia) had to cancel their travels due to small injuries. Schmelzer suffers from a calf injury and Subotic has got some problems with his adductors. Both will most likely be able to play against Fürth on Saturday.
derjungemitdemball, 13.11.2012
schwatzgelb.de
BVB-Photos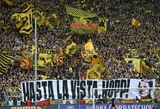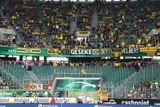 More Up-to-date photos: www.bvb-fotos.de