Two Australians played for BVB II - short interview with Mitch Langerak
Interesting news for the Australian supporters of Borussia Dortmund. Today, the second squad of BVB played against Stuttgarter Kickers on the ninth day of the third division. Mitch Langerak was one of the starters and unfortunately, he did not look good in a situation where he went for a save but cleared the ball right in front of an opposing player who hit the equaliser after 68 minutes. The match ended in a 1-1 tie.
Furthermore, Mustafa Amini got his first opportunity to play for Borussia in a competitive fixture. He was brought in after 64 minutes. After the match, we talked to Mitch Langerak about the game, how he saw the equaliser and what he thinks about playing for the second squad of the double winner.
Vanni, 16.09.2012
schwatzgelb.de
BVB-Photos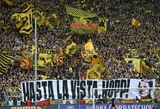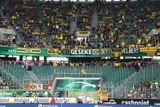 More Up-to-date photos: www.bvb-fotos.de