The Yellow Wall Podcast
This past summer, while in Germany visiting family (I currently live in the USA), I made a much needed pilgrimage to Dortmund. I made the obligatory trip to the fan shop, where I spent way too much money, but was happier for it. I also made my first ever stop in to see the Borusseum; Dortmund's club museum. It was a great experience seeing the history of the club that I've supported since I was seven come to life with great old match footage, historical artifacts and getting up close to the trophies won over the decades. This short, one day trip to hallowed grounds was crucial for me in once again making it clear just how important a club Borussia Dortmund have been in the past and are today.
Immediately, ideas started to gather in my head and once back home in Colorado I put pen to paper (it was more like fingers to a keyboard, but you know what I mean) to flesh out some of my ideas. Blogs and websites already existed and to improve upon those would be impossible. There was, however, one area that was lacking. Though there are a few podcasts available that deal with the Bundesliga and German football in general (many more in English than in German surprisingly enough), there were virtually no podcasts focusing just on singular clubs. These club focused podcasts are very popular both in the US and also in the UK. Given the recent successes and the growing popularity of the Bundesliga abroad, I decided it was time to launch an English language podcast solely focused on Borussia Dortmund.
I figured this idea had merit, but I wanted to chat it over with some friends that also happened to be deeply involved in football media. I laid out my plans to Jon Hartley and Terry Duffelen, two veteran football podcasters (The Sound of Football, The Bundesliga Show) and writers, for whom I had written some articles for in the past, and even had the pleasure of a guest appearance on The Bundesliga Show. Both were more than enthusiastic for the idea and we immediately began to brainstorm on formats, as well as getting other people involved as co-hosts, which led to both Matthew Gerrard and Rob Turner coming onboard as co-hosts. It is here that I must give credit to naming the podcast to someone other than myself. Though I had many suggestions, none of them really stuck or conveyed the passion and importance of Borussia Dortmund and its supporters. It was Jon Hartley who, in a moment of brilliance, suggested The Yellow Wall, which in its simplicity encapsulated everything that is BVB.
The Yellow Wall has never been intended to be a show with self-proclaimed "experts," but rather of a group of supporters with a deep passion for their BVB, wanting to put out a show for other supporters. True, we're all somehow involved in football media and do analyze and report on football, but at our hearts we are fans. The intent of The Yellow Wall is to give pertinent information and discussion about Borussia Dortmund to a growing English speaking audience interested in German football in general and the BVB in particular. We review the matches that happened, preview upcoming matches, discuss general topics and news surrounding the club, and also highlight some of the history and past greats of Borussia Dortmund.
Another aspect of the podcast that is very important to me is that we wish to create a community that is brought together by this great club. Though I am German (and American), I have lived most of my life outside of Germany. The Bundesliga (and of course the BVB) always acted as that tie back home to my country. Though many (if not most) of our listeners are not German, this sense of community and belonging should never be neglected as it is one of the great social effects of football.
I welcome any and all of you to stop by and have a listen at http://www.tyw.bundesligalounge.com/. You can also listen and download the pod from iTunes. We also have a Twitter feed to follow for some fun chat and information (@Yellowwallpod), as well as a Facebook page that we are hoping to build upon for the future (Yellow Wall Pod).
Matthias, 20.11.2012
Guest authors solely express their own opinions which must not necessarily correspond to the views of the editors of schwatzgelb.com.
BVB-Photos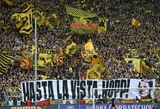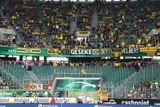 More Up-to-date photos: www.bvb-fotos.de