Welcome to Dortmund Fürth, please leave without any points!
No, I don't really like Greuter Fürth, to be honest. But there is a logical explanation for that. How would I like a team that has welcomed Gerald Asamoah with open arms? Basically impossible. Let's have a flash back to the Cup Semi Final last year in March, probably one of the most dramatic games of last season and a game where a hero was born. The 90 minutes of that game were tough. Fürth were currently on top of the second Bundesliga back then, gave us quite a hard time and the suspected difficult semi final almost turned into a desaster shortly before the finishline.
90 minutes turned into 120 minutes and when all of us had already resigned, accepting the following penalty shootout and the probably resulting consequences, Gündogan hammered the ball- well- against the post, from there it went straight back onto the keepers head and into the goal. What a moment. I think everyone really went mental at that point, the whole Dortmund team included. And what followed were a few amusing moments for the media and every Dortmundfan. Permanent-Victim Gerald Asamoah accused our Dortmunder Jung Großkreutz on having said something that was either racial or of such cruciality that it cannot be said out loud ever again. He did not fail to point that out in every interview afterwards. Also, Fürth's coach Mike Büskens did not fail to emphasize on his disappointment concerning Großkreutz, who apparently had attacked him, a former Schalke player, as well.
After this, every Dortmund supporter well wondered wether every former Schalke player had suddenly found his super emotional side or whether the justified disappointment over the game was mixed up with some sort of quarrel that might have been over the top- but then again, this is football- not ballet. And Mr. Asamoah does well by not saying anything, since he had opened his mouth very widely quite a few times as well and the things that came out were not too nice. But all of this is pretty much eight months ago and today we find ourselves in the first Bundesliga game against Fürth, ever, since they actually made the relegation and are now in their first Bundesliga season ever.
After the unnecessary national team games during the week, pretty much every of our players came home rather well again and is ready to give it all again in order to keep the three points at home. On a positive note also: our Kuba has collected some playing experiences again on Wednesday and will surely be in the squad again on Saturday. Whether he will be on the first line-up is a decision Jürgen Klopp will make wisely. There is a tiny question mark behind Subotic, but if he misses out, Santana will replace him.
Come on Ballspielverein, keep those three points at home and we will be there to support you. As always.

Possible Lineup

Ballspielverein: Weidenfeller - Piszczek, Subotic (Santana), Hummels, Schmelzer – Bender, Gündogan – Großkreutz (Kuba), Götze, Reus – Lewandowski

SpVgg Fürth: Grün – Nehring, Sobiech, Mavraj, Schmidtgal – Fürstner, Prib – Sararer, Edu, Stieber – Asamoah

Referee: Jochen Drees

Westfalenstadion: 15:30 cet.

Ida, 16.11.2012


schwatzgelb.de
BVB-Photos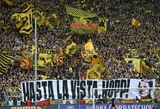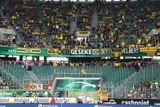 More Up-to-date photos: www.bvb-fotos.de