News from the sick-bay: Blaszczykowski, Bender and Hummels out for weeks
Borussia Dortmund has to pay a high price for the point won at Hanover. Three important players won't be able to play in the upcoming weeks.
Jakub "Kuba" Blaszczykowski partially tore two ligaments in his left ankle and will be missing for the next six weeks. This is extremely bitter, as the Pole was in superb form this season and had his share in almost all of Borussia's goals.
Mats Hummels suffered a heavy contusion on his right midfoot and will not be able to train with the team in the next two weeks.
Sven Bender took another heavy hit to the head and suffered a heavy cranial and eyeball bruise, he will also be missing for the next two weeks.
With Ilkay Gündogan already injured and the big games against Scheisse 04 and Real Madrid coming up these are worrying news. Let's hope that the international break will work in our favour and the doctors do a proper job to get at least some of them back to match fitness in time for the Derby.
We wish Kuba, Mats, Sven and Ilkay a speedy recovery.
Web 08.10.2012
schwatzgelb.de
BVB-Photos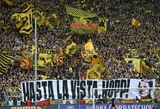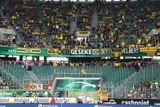 More Up-to-date photos: www.bvb-fotos.de