Kagawa Shinji rejected contract extension
Kagawa Shinji will not sign a new contract at Borussia and is likely to leave the club in summer. BVB sporting director Michael "Susi" Zorc confirmed today that Kagawa turned down the BVB offer to extend his contract. "Kagawa does not want to extend" Zorc told sky 90 and therefore he is likely to be sold in summer. "That's a case of commercial sense" said Zorc. Kagawa's contract runs out in 2013 and so Borussia has to sell him before that if they don't want to see him leave for free next year. The transfer fee asked by Borussia is believed to be around €15m+X and that would be a huge commercial success since BVB payed only €350k for Kagawa two years ago.
Nonetheless it would be sad to see the offensive midfielder go, since he is among the best of Borussia's young-guns. He had a fantastic start at BVB scoring 8 goals in his first half year, before breaking his foot in an international match for Japan. His start into this season was a bit rocky because he was clearly not in the best shape at the beginning, but meanwhile he is back at the top of his game and a leading factor in Borussia's offence with 13 goals and 11 assists. Interest from EPL giants Manchester United and Chelsea London has been repeatedly reported and since the EPL is much bigger than Bundesliga in Japan, Kagawa never denied, that it was his dream to play there someday.
From a BVB supporter's perspective he should have taken a bit longer to fulfill his dream, but one should hold no grudge against the player for making this move. He has always performed the best he could and had a big share in two championships and if Borussia will get their asking price in the end, Kagawa would be amongst the biggest transfer successes this club has ever had. Also the fact that Borussia already signed a successor in advance makes the loss easier to bare. Dortmunder Jung Marco Reuss has played his best matches for VfL Mönchengladbach in COM. He is a different type of player but he should be able to fill the position just as good.
Farewell Kagawa Shinji, we wish you the best of luck at your next club. Players come and go, the mighty Borussia will always remain.
Web 29.03+1.2012
schwatzgelb.de
BVB-Photos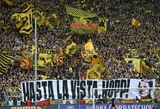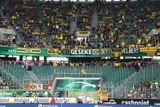 More Up-to-date photos: www.bvb-fotos.de